Green Goddess Shares Plant Faves
Learn more about the plants used in Mary Steenburgen and Ted Danson's Ojai garden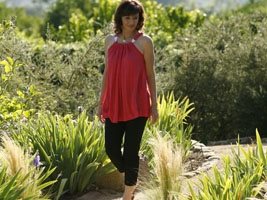 Photo by: Jack Coyier.
It takes a special kind of plant palette to holds its own next to the dramatic natural setting of Ojai. Just ask Jessica Thompson and Kimberly Ainsworth of Ojai-based Green Goddess Gardens. The women designed and installed an array of distinct and complementary areas at Mary Steenburgen and Ted Danson's property, following landscape architect Pamela Burton's initial concept and hardscape design.
Like Burton, their style combines native California flora with attractive and durable, drought-tolerant plants from various Mediterranean regions. They use organic and sustainable methods to create a naturalistic landscape setting suitable for its site. "We love using plants that bring life to the garden with color, texture and aroma," Thompson says.
Because they live and work in Ojai, the women have a lot of experience with perennials, grasses, succulents and shrubs that are both frost-resistant and tolerant of Ojai's 100-degree-plus summer temperatures. While observing the many microclimates on Mary and Ted's property, Green Goddess Gardens adjusted some of the planting schemes, using varieties uniquely suited for Ojai's Zone 9a habitat.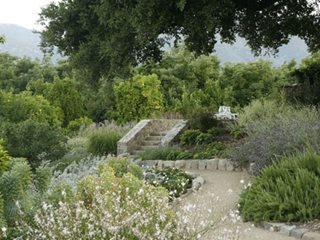 Photo by: Jack Coyier.
Their palette satisfies Mary's desire for a "lush and soft" appearance while ensuring that the garden can endure the seasonal weather extremes of Ojai. It's no coincidence that the nearby mountains are reflected in the garden's romantic tapestry of purple-blue flowers and feathery or bold textures of silver, burgundy and lime-colored foliage.
"Because of her background, Mary has historically loved cottage-style gardens," Ainsworth explains. "This garden in Ojai has helped her become more familiar with drought tolerant and Mediterranean plants." And it's a dreamy escape that draws Mary and Ted outside as often as possible.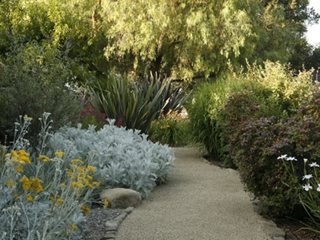 Photo by: Jack Coyier.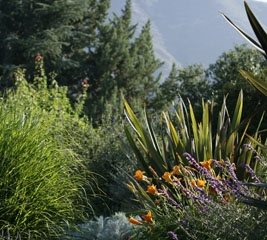 Photo by: Jack Coyier.
Here are a few of Green Goddess Gardens' favorite plant picks:
Geraldton waxflower (Chamelaucium uncinatum), an Australian native evergreen shrub with needle-like leaves and tiny sprays of pink flowers. The cultivar 'Lady Stephanie' softens either side of Mary's lower garden path.
Indigo spires sage (Salvia 'Indigo Spires'), Germander sage (Salvia chamaedryoides) and Allen Chickering

Catmint (Nepeta x faassenii), soft, fragrant and with a spreading habit, this hybrid of a European perennial is also heat resistant. It has a romantic, informal habit that satisfies Mary's request that her garden look "tumbly."
Coast rosemary (Westringia fruticosa), an Australian evergreen shrub that has gray-green needle-like foliage and produces small, white flowers. It is drought-tolerant but has a delicate habit that looks soft and dreamy.
California meadow sedge (Carex pansa), a low-growing California native grass that is sometimes used as a lawn alternative. Thompson and Ainsworth planted it along the perimeter of Mary and Ted's oval lawn to create a transition to the perennial border.
Garden penstemon (Penstemon 'Apple Blossom'), a hybrid of the native penstemon, this cultivar plays nicely with ornamental grasses for a meadow-looking appearance.
Silver grass (Miscanthus 'Adagio'), native to parts of Japan, China and Korea, this lovely grass has narrow green blades that produce pink plumes.
Feather reed grass (Calamagrostis x acutiflora 'Karl Foerster'), a tall, graceful cultivar of a Eurasian native grass, Karl Foerster lends height and movement to the landscape.
Fountain grass (Pennisetum setaceum 'Eaton Canyon'), originally from tropical Africa and southwestern Asia, this cultivar gives the garden a fluffy burgundy texture that contrasts with lime-green and silver foliage.