A New Dawn: The Garden of Tony Duquette
The garden and home of the late Tony Duquette continue to flourish. Hutton Wilkinson leads us on a tour.
We here at Garden Design have an enduring fascination with Dawnridge, the legendary Beverly Hills, California, home of Tony Duquette (1914-1999), one of the 20th century's most prolific and influential designers. We asked contributing editor Paul O'Donnell to talk to its present owner, Hutton Wilkinson, longtime business partner and friend of Duquette. Wilkinson not only preserved the house and garden but managed to transform the estate into an ever-evolving laboratory of ideas. Here, Wilkinson reminisces about his relationship with Duquette and his continuing vision for the home and its magnificent garden.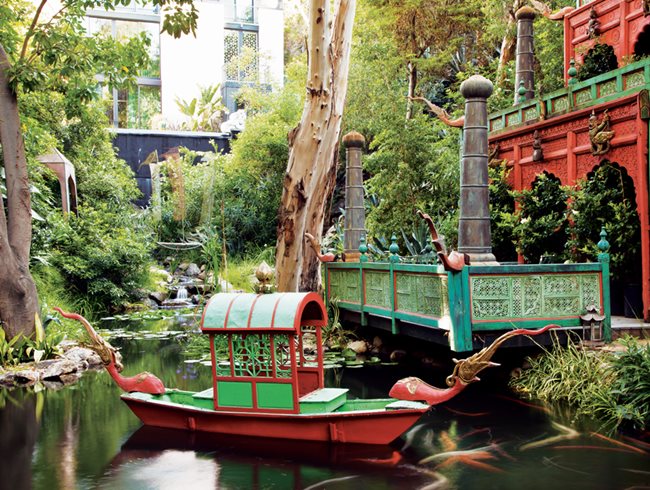 A Vietnamese wedding boat painted in Tony Duquette's signature colors of coral and turquoise floats on a koi-stocked pond, some specimens of which are 3 feet long. The three-arch pavilion at the far right is covered with ornate carved screens from India. Photo by: Dominique Vorillon.
I started working with Tony Duquette when I was still a teenager. I first saw Dawnridge, which is now my home, sometime shortly afterward. The land then was still covered in sagebrush and native scrub with pine trees and eucalyptus reaching to the upper story. Tony and his wife, Elizabeth, built the house in 1949 but moved to Paris soon afterward, so they hadn't done much with it. Their neighbors filled in the canyons to build their tennis courts and swimming pools, but Tony and Liz kept the topography as it was. Then, not long after I went to work for Tony, the house next door to Dawnridge burned down and he and Liz bought the land. That's when we began moving the jade trees and other succulents that remain in the garden today from his ranch in Malibu.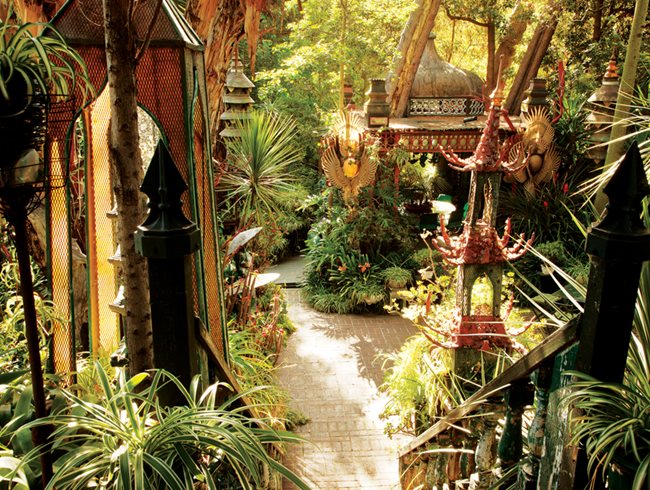 The one-acre estate of Dawnridge is built on a series of terraces, and this view reveals the one situated at midlevel. Among its most striking elements are the pagoda structure with a fanciful onion dome, detailed statuary fashioned from iron and wire, and oil drums cut into sculptural forms. Photo by: Dominique Vorillon.
Tony was not a terribly demanding plantsman. He had no interest in the one perfect rose. Instead, he liked to use masses of one plant to repeat patterns. For one of his client's parties, he once flew in every available anthurium plant in Hawaii and constructed a 20-foot tree out of them. The plants we brought over from Malibu were local species that originally grew in the Chavez Ravine, which became the site of Dodger Stadium in the mid-1950s. The native vegetation was dug up for the stadium's foundation, and Tony went to the worksite for a few days running, gathered all the plants they discarded and loaded them into his truck.
Today that approach of his would be called sustainable, and Tony would be praised as a champion of the indigenous. The truth is that Tony was a recycler before anybody thought to approach design that way. Tony made his name in Hollywood in the '40s and '50s as a set decorator and costumer and as a designer who composed ravishing, idiosyncratic interiors. In the homes he decorated for his friends and clients he used what was at hand, turning cast-off materials into art — and he built the garden at Dawnridge the same way. Long gone now is a sort of frieze he put on one of the follies that was made from skateboards he'd gotten from a company that went out of business. The virtue in it was not really environmentalism but, rather, Tony's inventiveness and restlessness. It was Tony being Tony.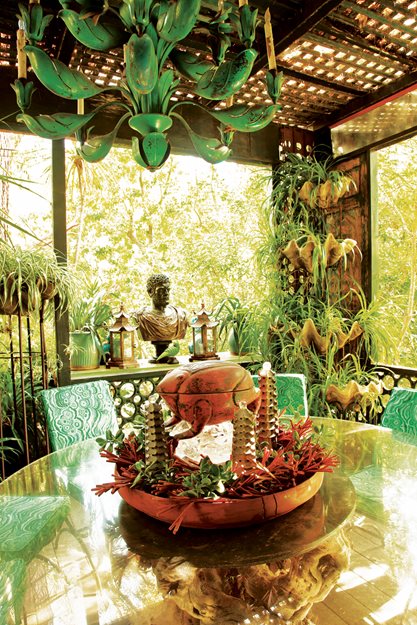 The treehouse pavilion is filled with classic Duquette—his Palmer chairs covered in a malachite print, plant stands made from cast clamshells, and a metal chandelier Duquette designed for Elizabeth Arden. Photo by: Dominique Vorillon.
The wonderful thing about working with native plants is that they grow readily without a lot of care. You just stick them in the ground and they go. What Tony liked about them was all their different shades of green. He painted his garden with plants.
What really makes the garden a work by Tony, though, are the structures. Tony loved pavilions, which I think came from his love for birdcages — not caged birds, but the actual cages. He would have loved to live in one with a metal roof adorned with little tassels.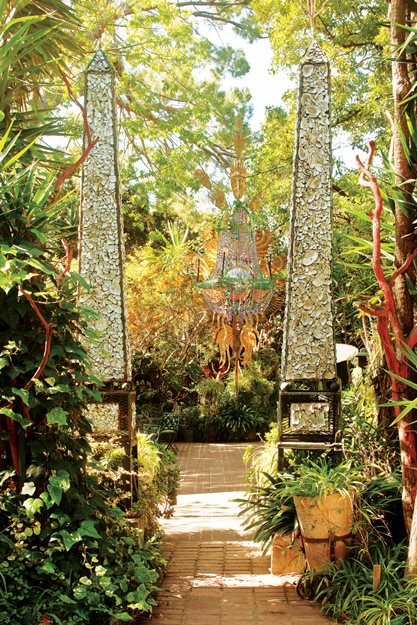 Duquette came by his nickname, Tony Abalone, honestly. Throughout the garden, abalone shells appear as decor. Here a pair of obelisks is covered in crushed abalone, framing a chandelier centered with a glittering disco ball. Succulents, cactus, agapanthus, yucca, and pine trees fill the garden. Photo by: Dominique Vorillon.
There's a treehouse with a round table inside that is typical of Tony's style and the whole spirit of the garden's construction. Its dome came from the film The Gazebo, a black comedy from 1959 that starred Glenn Ford, while the metal wall panels, with their energetic pattern of circles, are made from the temporary landing strips used in World War II. In the same way, the property's other little houses, all with an Eastern feeling akin to small pagodas, are collections of materials — old windows from a Chinese house, parts of Victorian mansions, a roof from Thailand, a cast resin piece of a movie set. They are well-put-together, but they are almost sculptures more than buildings.
Tony took parties very seriously. The garden would be transformed when he entertained — he lit up every tree and bush. Everything had to be brought in from warehouses; he'd hang chandeliers and order special tablecloths. There was usually some kind of exotic entertainment — Balinese or flamenco dancers, for instance. The waiters had to be in costume.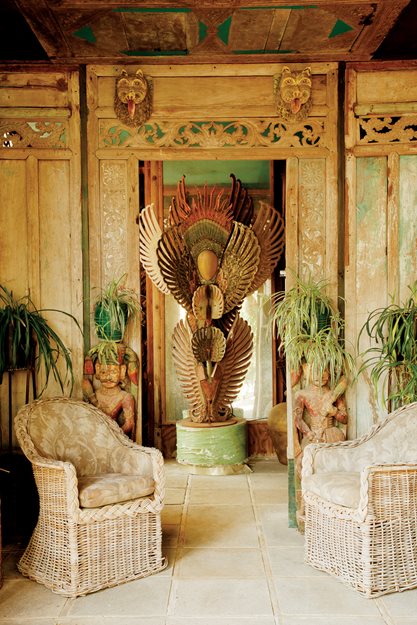 Also situated on the grounds of the ranch is an indoor/outdoor room covered in patinated wood panels from Thailand. Within is a carved statue depicting the phoenix rising from the flames and flanked by two Balinese figures supporting spider plants on their heads. Photo by: Dominique Vorillon.
You'll often hear people say "over the top" when they talk about Tony's style because of his repetition of patterns and use of strong color. Any description of those parties seems to prove the point. But his design actually demanded a lot of control. If you look at one of his chandeliers, it's a simple piece of wire with some twigs bent into it. Everything is greater than the sum of its parts. So the effect is not overwhelming but intriguing.
Tony took me on as his business partner because we shared that aesthetic. I was more organized and businesslike than he was, perhaps, but from the start we were on the same plane. I bought the house to save it but also to preserve the property as a living place. So many historic homes in Los Angeles feel dead. We have something like 1,000 pots scattered around the property, and we keep them planted and we move them around. I keep fish and turtles in the ponds. And I constantly give parties.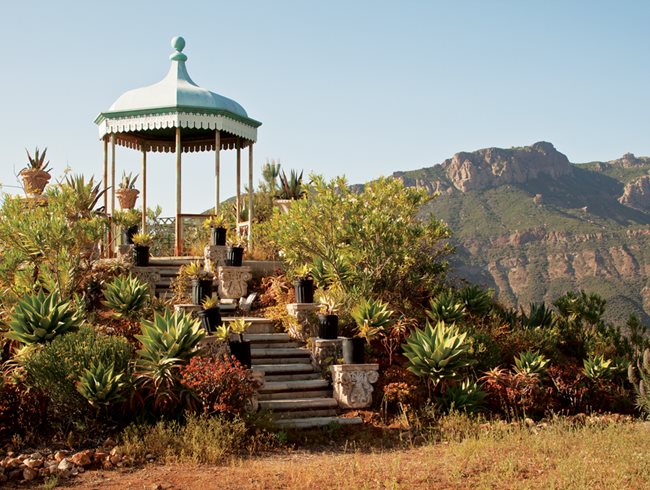 In addition to Dawnridge, Duquette and his wife, Elizabeth, purchased this 100-acre ranch in Malibu, California, in the 1950s. It is fertile again following a fire in 1993. The property takes in spectacular open views of the Santa Monica Mountains, particularly Boney Mountain, on the slopes of which the couple's ashes were spread. A pavilion from the 1959 film The Gazebo occupies a mound covered with low-maintenance, drought-tolerant cactus, yucca, and succulents. Photo by: Dominique Vorillon.
Tony is a design icon. He was the best at what he did. His archives should be saved and his memory preserved, but it's just as important that this living, growing design of his be allowed to thrive.