Open Invitation: Beverly Hills Glamour
Judy Kameon transforms a Beverly Hills midcentury modern glass-and-concrete house's garden into an elegant and comfortable space.
Cheri and Naren Shankar's 1959 glass-and-concrete home, a pristine example of midcentury modern design set on a hillside in Trousdale Estates, a development in Beverly Hills, could not have been more perfect—inside. "We completely fell in love with the house," says Cheri, a political and animal rights activist. "The clean lines, the indoor-outdoor feel of it. But then you'd look outside and think, 'Wow, that's kind of pitiful.'" Out front, generic, water-hogging grass covered a steep slope; in back, an impressive pool and fountain were obscured by an overgrown hodgepodge of fast-growing plants. "There was nothing to draw you into the yard," says Naren, a television writer and producer. "The whole space felt unbalanced and closed off." So the Shankars lived with it until finally they just couldn't, and teamed up with a landscape designer armed with a vision—and a few simple rules—to transform an unruly mess into a special setting.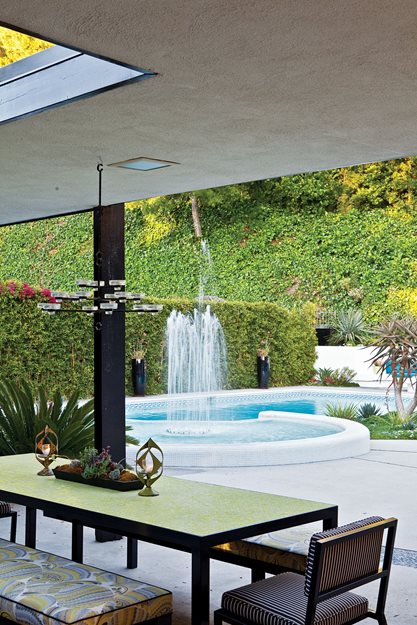 An outdoor dining set by Plain Air, with chairs covered in fabric by Holly Hunt and benches covered in fabric by Trina Turk. Photo by: Gemma & Andrew Ingalls. SEE MORE PHOTOS OF THIS GARDEN
Trained as a painter, Judy Kameon has an eye for color, composition, and pattern, and a sense of adventure. At their first meeting, when Cheri mentioned that she wanted a fire pit at the end of the pool—a space overgrown by a wall of bamboo—Kameon immediately scrambled into the thicket, Cheri alongside her, to see what it concealed. "I felt like I'd discovered a treasure chest," says Kameon. "There was this great curved wall centered on the pool. I said, 'This is your seating area!'"
The actual groundbreaking began in the front, where Kameon removed a patch of lawn and echoed the house's white walls and black trim by creating a black-and-white garden filled with succulents. "It's important to have a focused plant palette," says Kameon. Determining that palette requires stepping back and considering the whole. "For instance, look at your house color, the trim, what's on the patio—all the different elements that make up the outdoor space."
Kameon's creative interpretation of black and white features whitish-gray Cleistocactus strausii; ivory Euphorbia ammak 'Variegata'; silver Artemisia 'Powis Castle' and Plectranthus argentatus; and black-tipped Agave parryi var. truncata. The setup not only satisfied Cheri's unconventional streak, it also respected her eco-consciousness, subbing a low-water alternative for a previously thirsty one. For Kameon, removing or reducing a front lawn also gave them a chance to do something unique. "You want the front of your home to present beautifully year-round," she says. "You're not going to stop traffic with just a green lawn and a few plants dotted around."
Custom fire pit and bench by Elysian Landscapes. Photo: Gemma & Andrew Ingalls. SEE MORE PHOTOS OF THIS GARDEN
In contrast to the front's reserve, Kameon and the Shankars decided to amp up the glamour out back. Both the grand pool and fountain recalled a time in Trousdale history when Rat Pack fabulousness prevailed (literally: Dean Martin and Frank Sinatra were Trousdale denizens), so once the bamboo was gone, a loungy seating area and dramatic fire pit seemed a natural fit. "There was something quite glamorous about having this very commanding, over-the-top fountain as the focal point of the whole back garden," says Kameon. The curved retaining wall was built up and out to give it more presence against the towering hillside behind it, and a built-in bench and cove lighting were added. Previously—and perversely—there was no space for poolside chaises, so a patio was added to comfortably fit a pair. As for the chaises, Cheri and Kameon chose two vintage loungers that Cheri had recovered in striped fabric. "Outdoor furniture is so often an afterthought," notes Kameon. "But you want things that are going to not only look good but be comfortable and functional."
The back garden's colors were inspired by elements of the home's interior—specifically a set of stylized bird prints by modernist artist Charlie Harper. Kameon was so taken by the vibrant hues—acid yellows, persimmony oranges, shimmery bronzes, and Mediterranean blues—she pulled them into the plants and furniture. Oranges bloomed in kangaroo paws, Anigozanthos 'Orange Cross', Euphorbia tirucalli 'Sticks on Fire', and a wall dotted with glossy planters filled with succulents. Bronze showed up in Phormium and the chaises' striped upholstery; blue took root in Agave 'Blue Glow', Senecio serpens, and the tufted cushions in the seating area; and yellow glowed in the flowers of Euphorbia × martinii and the custom tile dining table and benches upholstered in whimsical Trina Turk fabric.
White Architectural Pottery vessels planted with sansevieria. Photo: Gemma & Andrew Ingalls. SEE MORE PHOTOS OF THIS GARDEN
As for choosing the composition of plants, Kameon looked for a balance of texture, form, scale, and color (in both flowers and foliage). "You want to hit all those notes so when flowers are out of season you still have points of interest," she says. "In terms of scale, it's important to have varied heights and silhouettes—it's nice to have strappy things against moundy things or leafy things." Dynamism also came into play at the Shankars', where waving grasses were added to provide movement in contrast to the static forms of the succulents.
Another factor in the garden's genesis was Cheri's love of birds, so Kameon chose plants to attract them—along with bees and butterflies—with Epidendrum orchids, kangaroo paws, lavender, and salvia. The results were immediate. "Now there are bees and ladybugs, hummingbirds, bushtits, finches, and mockingbirds here all the time," says Cheri. Kameon also made sure to rodent-proof the space using preventive methods, encasing the roots of plants (gophers' number one target) in gopher baskets and planting trailing rosemary (gophers' number one turnoff). "Peaceful coexistence was our goal," Kameon says.
Related: How to Keep Gophers Out of Your Garden
While the gophers are reserving their applause for the transformation, the Shankars are thrilled. Hardly a day passes when they're not by the pool, which now offers a gorgeous view of the house and a perfect setting for dinner parties. "It's elegant without being stuffy," says Kameon. "Which is a reflection of the people who live there."
Sourcebook:For information about Judy Kameon's landscape designs, or Plain Air outdoor furniture (elysianlandscapes.com; plainair.com; 213-380-3185). Find glossy planters at (architecturalpottery.com; 858-385-1960)
See more Southern California gardens