Going Beyond the Straight and Narrow
A sliver of backyard space is transformed into a multifunctional outdoor living area
With every square inch serving a purpose, this terraced garden in Portland, Oregon, is an example of how good landscape design can maximize the livability of even the smallest of spaces. Designer Darcy Daniels of Bloomtown Gardens and contractor Tryon Creek Landscape were able to take advantage of changes in terrain to segment the narrow 65-foot-wide yard into different living areas to accommodate all the outdoor activities of a family of four.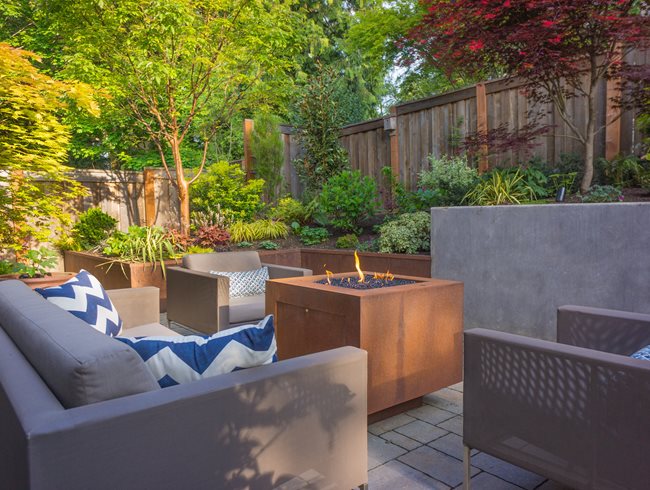 The outdoor living room is a cozy retreat nestled among terraced garden beds. Replacing the boulders with slim retaining walls made of concrete and Cor-Ten steel allowed Daniels to maximize every square inch of space. Photo by: Darcy Daniels.
Before its transformation, the sloped backyard was a bare-bones "builder's landscape," with stacked boulders installed to act as a retaining wall and a grass lawn that failed to thrive due to a lack of sun and poor drainage. "Deciding to remove the boulders and start over from scratch was a pivotal decision and allowed us to consider a more effective and attractive approach for managing the slope and create beautiful and functional living spaces at the same time," says Daniels.
Dividing a garden, even when small, often has the paradoxical effect of making it seem larger. An elevated dining patio, tucked in the upper corner, is wrapped on two sides by raised garden beds framed by concrete walls, creating a cozy, enclosed space sheltered by an overhead canopy. A short flight of stairs leads down to an outdoor living room with deep, cushioned lounge chairs circling a freestanding fireplace. A floor of decorative concrete pavers occupies a spot previously relegated to the failing patch of lawn.
A short flight of stairs leads up to an outdoor dining terrace shaded by a canopy of trees. A trough-style fountain visible from the indoors provides enjoyment year-round. Photo by: Darcy Daniels.
Replacing the bulky stacked boulders with slim retaining walls made of poured concrete and Cor-Ten steel allowed space for terraced garden beds. The incline of the garden faces the home's main living area, making it a focal point throughout the year. A rectangular fountain aligned with the window is a favorite attraction.
Because the entire garden is visible from all areas, the plantings were treated as one flowing composition. Selecting the plant palette for the site was challenging, since it goes from being shady in the winter to sunny and downright hot in the summer, though only for a few, intense midday hours. "The selected plants had to be able to adapt to these sun patterns of shade, shade, BLAST!" says Daniels. "Additionally, plants were chosen with an emphasis on achieving that magical and often elusive balance of high-impact, low-maintenance, and all-season good looks."
Slow-growing, large-caliper shade trees were installed in key positions to lend maturity to the young garden and create an overhead canopy for the outdoor rooms. "By making the commitment and investment in larger trees appropriate to the space, we get the best of both worlds: stature and canopy early in the garden's development and a tree that will work in the space for many years without outgrowing its welcome," says Daniels.
The plant palette was selected for all-season appeal. In spring, the dominant floral show is a hedge of Paeonia 'Smith Opus 1' (Misaka™ Itoh peony). Photo by: Darcy Daniels.
Emphasis is on foliage and texture, but there's plenty of color as well. A hedge of Paeonia 'Smith Opus 1' (Misaka™ Itoh peony) is the dominant floral show in the spring. In summer, two rose varieties ('Julia Child' and 'Knock Out Red') provide long bloom times and are supplemented by Echinacea 'Merlot', Salvia 'Caradonna', and a number of other top-performing perennials. Yellow foliage was used to brighten up the shady spots, including yellow-leaved Acorus gramineus 'Ogon' (grassy-leaved sweet flag), Choisya ternate 'Sundance' (Sundance Mexican orange), and Fatsia japonica 'Variegata' (Camouflage™ variegated Japanese Aralia).
A fire-red Acer palmatum 'Fireglow' (Japanese maple) in the elevated beds is especially beautiful when backlit in the afternoon light. Photo by: Darcy Daniels.
The colors and textures of the hardscaping elements were also given much deliberation. "After considering other finishes for the concrete, we decided on a simple sponge trowel finish and it turned out to be totally right for the mix of materials we went with. The more rustic finish of the concrete was the perfect pairing with steel," says Daniels. "For the TimberTech composite decking, which was used in areas that are quite shady, we chose a gray tone because of its lighter, reflective coloring."
Before its transformation in 2013, this sloped backyard was a bare-bones "builder's landscape," with stacked boulders serving as a retaining wall, a small patch of lawn, and a postage-stamp sized patio. Photo by: Darcy Daniels.
This project was one of eight gardens featured in the 2015 Association of Northwest Landscape Designers garden tour. Darcy Daniels is a Garden Designer at Bloomtown Gardens in Portland, Oregon and founder of eGardenGo, a web app for gardeners.