8 Expert Tips for Stunning Shade Combinations
Take note from Susan Martin, of Gardener Sue's News, who creates stunning plant combinations in her shady Michigan garden.
In her shady West Michigan garden (Zone 6a), Susan Martin is a pro when it comes to creating beautiful plant combinations of plants that thrive with little sun. But when creating combinations, choosing plants that do well in shade isn't her only requirement.
Here, Susan shares other factors she considers when pairing plants. (We think you'll find that these ideas are universal and can be applied to combinations in sunny areas, too!)
1. Repeat Colors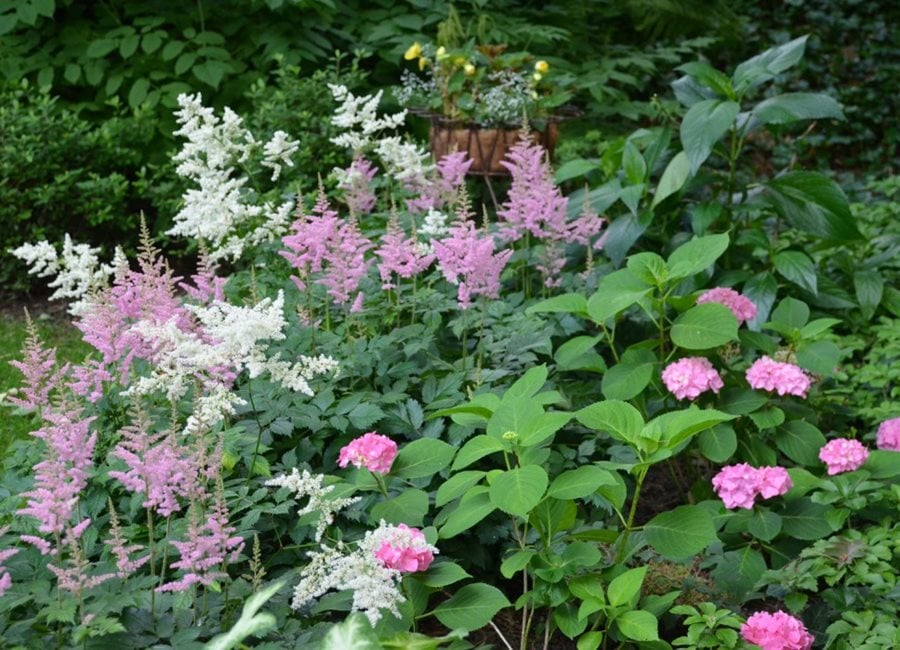 Photo by: Susan Martin.
Consistent color unites a combination, while contrasting textures and flower shapes provide interest. Here, pink and white astilbe and pink bigleaf hydrangea create a dazzling sight in Susan's garden.
2. Craft a Creative Color Echo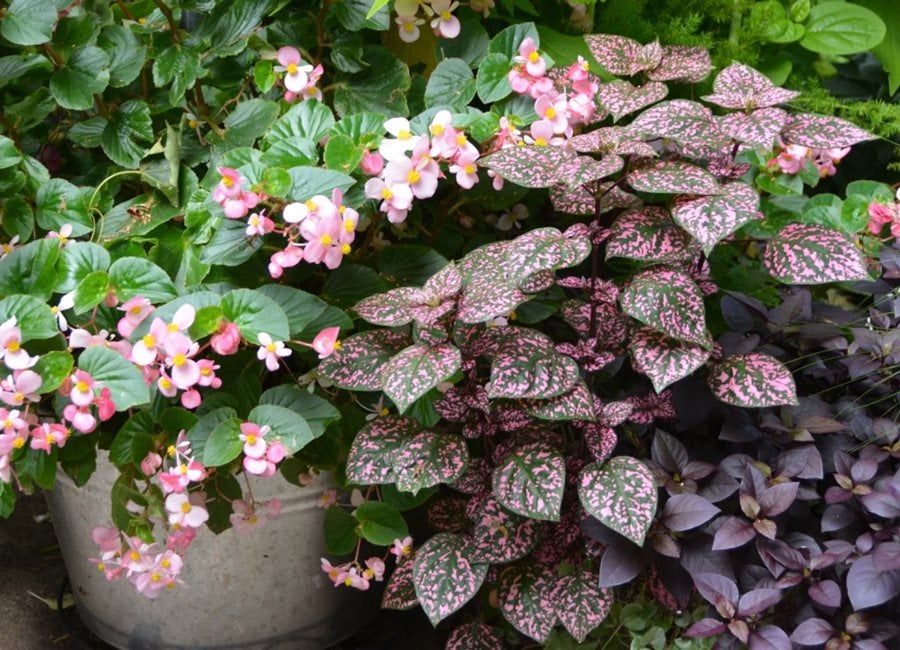 Photo by: Susan Martin
Echo colors in different forms-flowers and foliage-to create an eye-catching vignette. In this combination, Susan echoes the pink BabyWing® Pink begonia blooms with Hippo® Rose polka dot plant. Complementing the pink and green, burgundy leaves of Plum Dandy™ alternanthera ties everything together.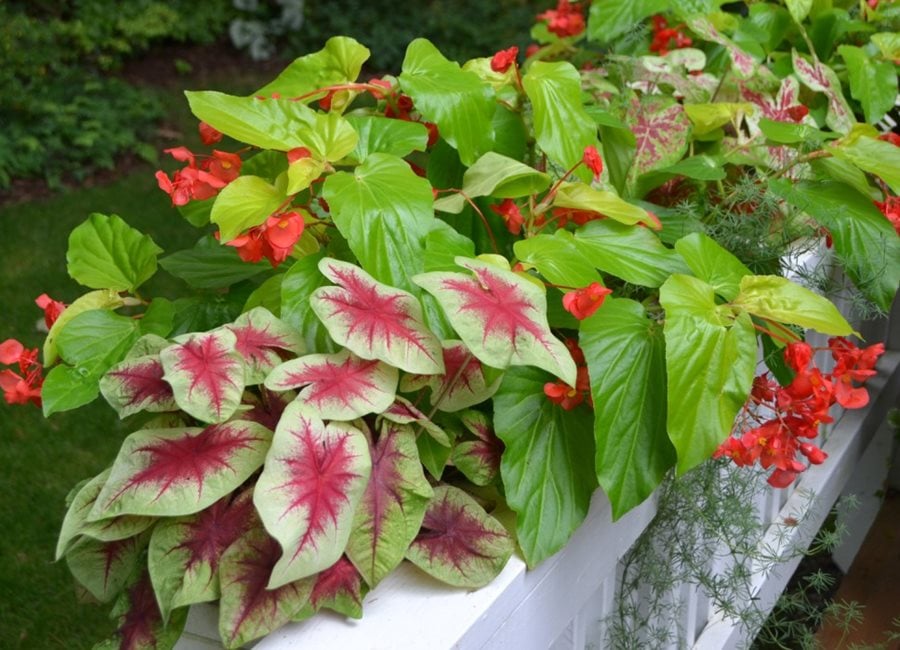 Photo by: Susan Martin
Here, red blooms of 'Canary Wing' begonia are echoed in the leaves of Heart to Heart® 'Lemon Blush' caladium and red-speckled Heart to Heart® 'Raspberry Moon' caladium (behind the begonia). Lacy lotus vine weaves its way through, creating cohesiveness.
3. Create a Contrast of Textures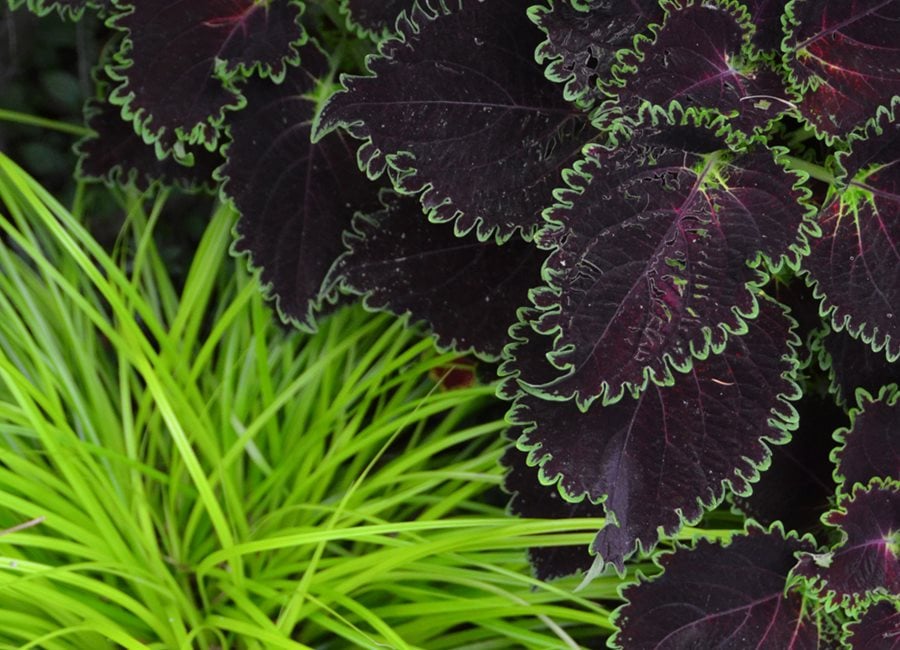 Photo by: Susan Martin.
Strappy chartreuse foliage of EverColor® 'Everillo' sedge makes an unlikely yet fitting companion to the deep burgundy foliage of ColorBlaze® Wicked Witch™ coleus with its ruffly green edges. These two qualities, juxtaposition of textures and color coordination, are a recipe for a perfect pairing.
4. Keep it Low Maintenance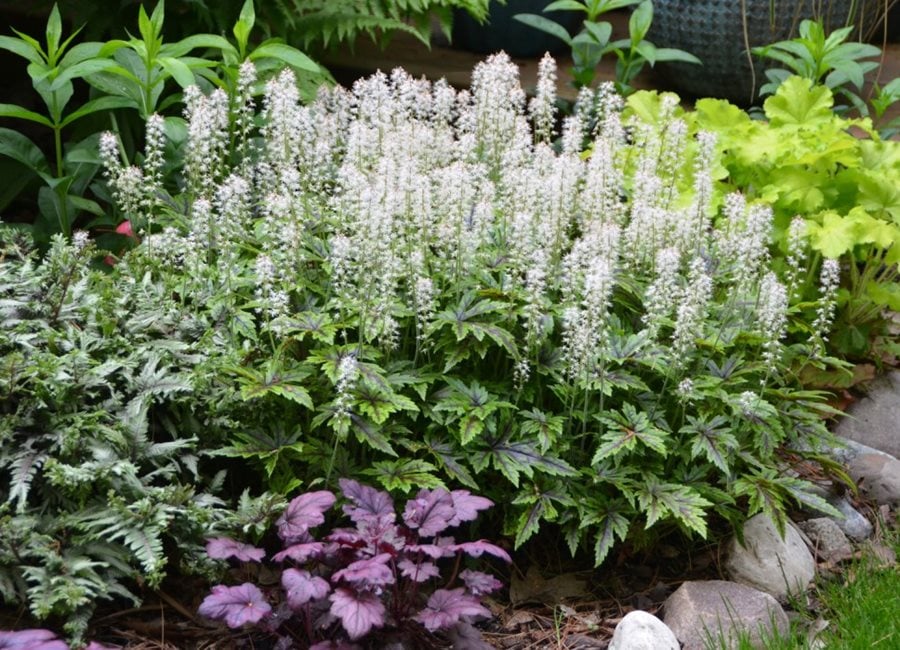 Photo by: Susan Martin.
There's no such thing as no maintenance, but low maintenance is always nice! For some areas of her garden, Susan focuses on plants that don't create lots of extra work. Above, 'Cutting Edge' foamflower offers tall spikes of creamy flowers in the springtime. Deadheading the foamflower is the only maintenance required for this combination that has much to offer even when the flowers aren't blooming—fronds of 'Crested Surf' painted fern, intense purple leaves of 'Electric Plum' heuchera, and bright 'Lemon Love' heuchera (behind the foamflower) all offer visual interest all season.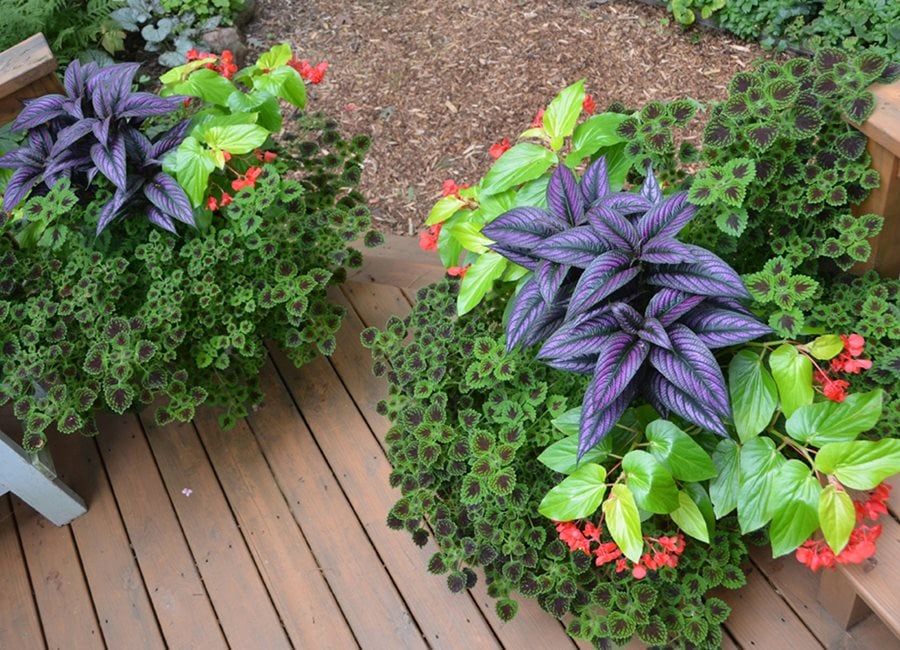 Photo by: Susan Martin.
Here, a mix of plants with varying textures and complementary colors manages to be both visually impressive without requiring lots of upkeep. Striking iridescent purple leaves of Persian shield rise above the chartreuse yellow foliage and red blooms of 'Canary Wing' begonia and ColorBlaze® Chocolate Drop coleus with deep-crimson veined foliage.
5. Attract Pollinators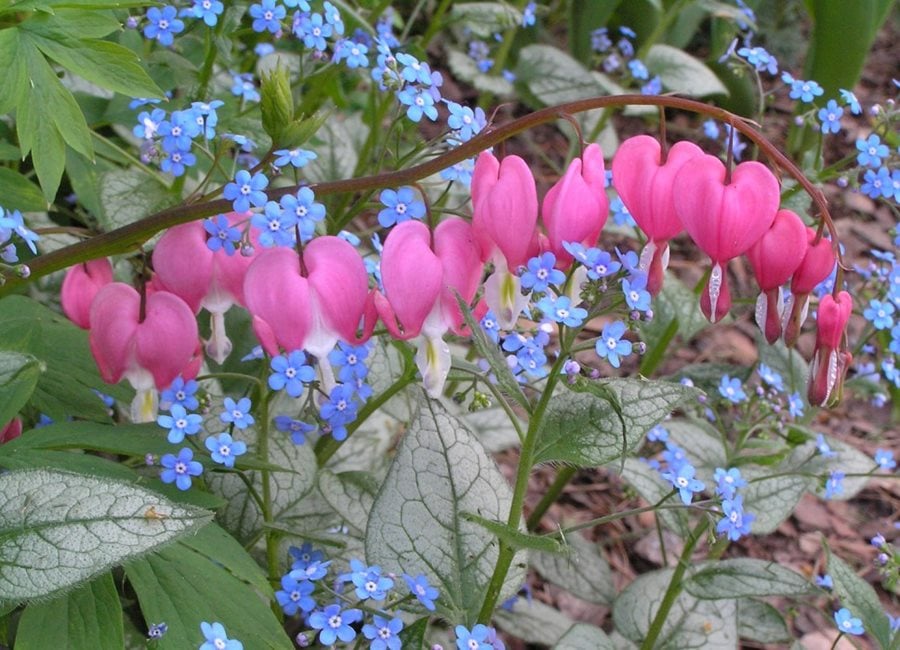 Photo by: Susan Martin.
Including vivid blooms that bring the bees, butterflies, and other pollinators is just one way Susan supports her local ecosystem while also brightening up darker areas of the garden. Here, the pink blooms of Dicentra spectabilis complement the cute true blue blooms of Brunnera in the spring.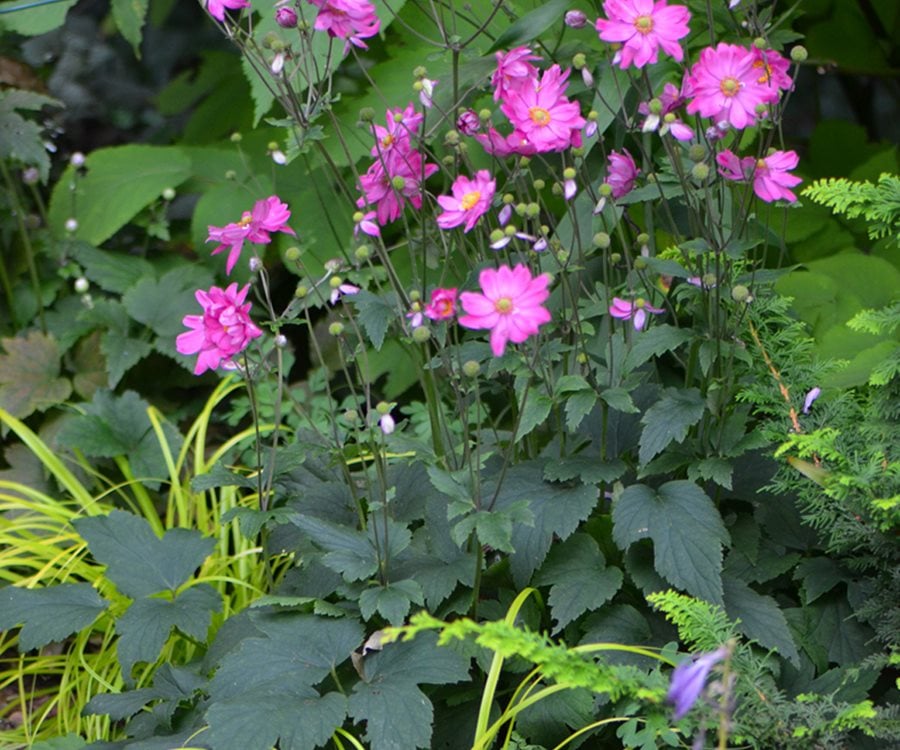 Photo by: Susan Martin.
Pink blooms of Fall in Love® 'Sweetly' Japanese anemone feed bees until first frost. Its foliage—along with strappy bright yellowish-green 'Everillo' sedge in front, Chamaecyparis 'Fernspray Gold' popping in at right, Aralia 'Sun King' behind—offers textural interest all season.
6. Focus on Foliage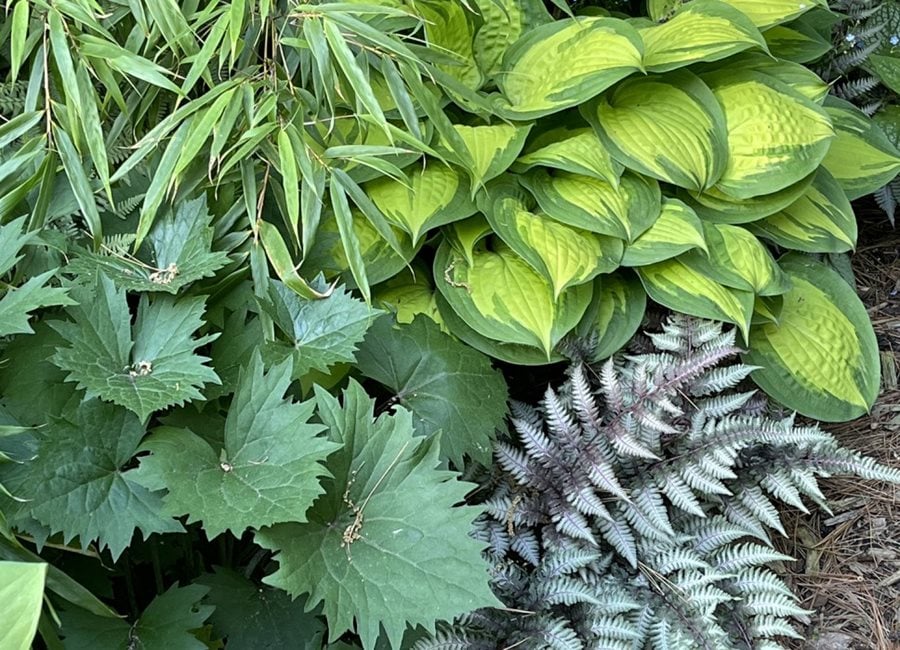 Photo by: Susan Martin.
"I love mixing foliage textures," Susan says. "No flowers are needed when leaves are this interesting." At left, slender leaves of Fargesia rufa (dragon head bamboo), variegated foliage of 'Island Breeze' hosta, silvery green and wine red fronds of Athyrium niponicum 'Pictum' (Japanese painted fern), and large serrated leaves of 'Bottle Rocket' ligularia combine for a stunning show from spring through fall.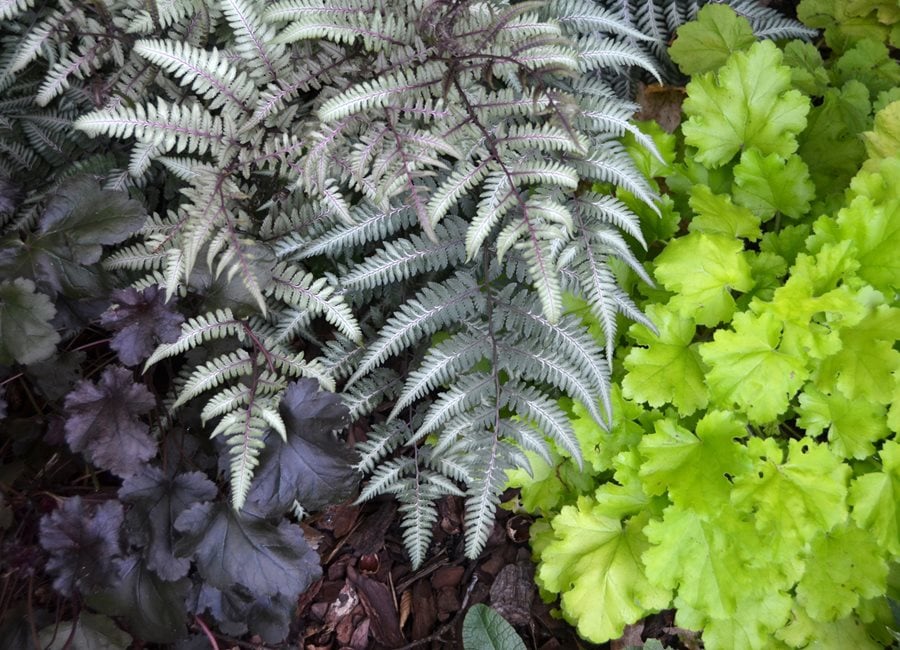 Photo by: Susan Martin.
Silvery-gray and deep-purple-tinged fronds of Athyrium 'Godzilla' (Godzilla Japanese painted fern) hovers over two heuchera: deep purplish-black Primo® 'Black Pearl' and brilliant yellow-green Dolce® 'Apple Twist'.
7. Match Foliage With Flowers
Photo by: Susan Martin.
Matching foliage color to flower color requires an attention to detail when seeking out just the right pairing—but this head-turning effect is worth the effort. Here, Susan has paired 'Age of Gold' hosta with Wedding Party® 'First Dance' hellebore—leaves of the hosta and flowers of the hellebore boast the exact same shade of chartreuse.
8. Consider Lighting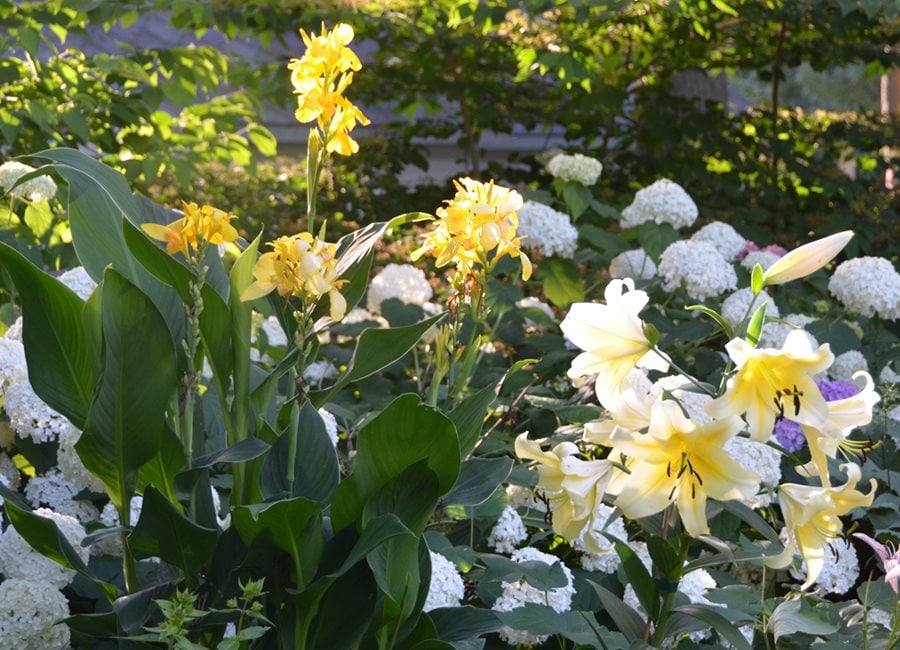 Photo by: Susan Martin.
"This is the golden hour at its finest," Susan says of this combination, positioned in an east-facing border. Lit up during morning and evening sun, the combination of 'Conca d'Or' lilies, Toucan® Yellow canna, and 'Annabelle' hydrangeas provides a picturesque scene with its soft blend of creamy yellows and whites. In addition to its visual perks, the lilies also smell spectacular and are beloved by hummingbirds who visit Susan's garden.
RELATED:
See more of Susan's home garden: 6 Ways to Enhance Your Gardend Experience
And, follow along with Susan on Instagram @gardenersuesnews and Facebook Gardener Sue's News.