New Year's Resolutions for Gardeners
35+ inspiring ways to kick off your gardening year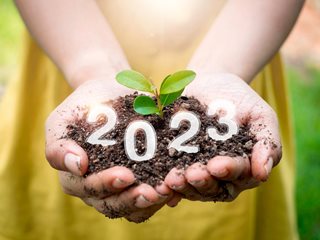 Photo by: tete_escape / Shutterstock.
The start of a fresh new year is here, and like many others, we're thinking about our upcoming year in the garden. What will we do differently? What worked well that we can continue in 2023? How can we make the most of our time in the garden to maximize our enjoyment? We thought it was a good opportunity to share our thoughts and resolutions for the coming year. After all, sharing is one of the qualities gardeners are best known for!
Whether you're someone who makes resolutions or not, we hope these ideas for the coming year inspire you in one way or another. Happy gardening!
CHOOSE PLANTS STRATEGICALLY
CONTINUE LEARNING
Photo by: Dayna Springfield.
CARE FOR POLLINATORS & WILDLIFE
Make your garden more wildlife friendly by keeping local bees fed, attracting local butterflies, and feeding birds.
Invite local wildlife into your garden with one of these 10 ideas — some as simple as adding a bird bath. Get even more inspired with this Delaware garden that invites all forms of wildlife into their yard with a natural-style pond.
Include places for wildlife and beneficial insects to hide out and spend the winter. Layer used pallets and fill the gaps with broken clay pots or roofing tiles, twigs, branches, and dried seed heads. Use your imagination!
MAKE MAINTENANCE EASIER
Photo by: Eveline Brown / Pixabay.
DETER PESTS NATURALLY
NURTURE NATURE
Photo by: Dayna Springfield.
GROW YOUR OWN FOOD
GET INVOLVED
HAVE SOME FUN
RESOLUTIONS FROM A FEW OF OUR FRIENDS
"My gardening resolution for this year is to become a master gardener and start volunteering for my local community through gardening!"
Janey, of @digplantwaterrepeat
"Stop relying on placeholder plants. I have a terrible habit of tucking in something that's less than optimal (either to my eye or for the conditions) while I search for "the perfect plant." I've found those plants stuck in spots a decade (or more) later. There are so many great plants available now that the right plant is out there and there's no need to live with a plant you don't love in a spot for more than a year or two. Get a plant you love in that spot now. When your tastes change or the garden changes, you can move it, but there's no need to live with plants you aren't crazy about."
Erin, of @impatientgardener
"Learn about what flowers dry beautifully (i.e., hydrangea, amaranth, celosia, grasses) to harvest through the season and use for floral arrangements and projects year around! Also, consider starting an indoor grow room to play with plants all winter long! They are easy and inexpensive to set up and they will keep you busy as winter passes by."
Melissa, of @fancyflowerfarmer
"For the 2023 gardening season, we are going to try our hardest to resist the urge to purchase plants and materials months before we are ready to work on the project. We currently have supplies for several projects sitting at the house waiting for us to start working on, which can be overwhelming at times, lol."
Josh & Jose, of @mr.gardeners
A new year means a fresh start and new opportunities, in life and in your garden. Our best to you in the coming year!