2020 National Plants of the Year
Discover 7 exceptional plants to grow in your garden this year
Looking for a sure thing? These outstanding plants are a great place to start! Proven Winners has selected their very best annuals, perennials, flowering shrubs and more for their National Plant of the Year award program.
DIAMOND COLLECTIONEUPHORBIA
Annual of the Year
USDA ZONES 10A-11B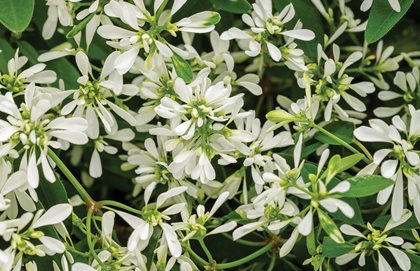 Buy Now
The three euphorbias in this collection produce dainty white flowers that bloom from spring until frost. You can plant them in garden beds and or containers, and they mingle well with other plants. Since they're heat tolerant, drought tolerant, and self-cleaning, maintenance is a breeze. Height and spread of the euphorbia in this series ranges from 12 to 36 inches.
'DENIM 'N LACE' RUSSIAN SAGEPEROVSKIA ATRIPLICIFOLIA
Perennial of the Year
USDA ZONES 4A-9B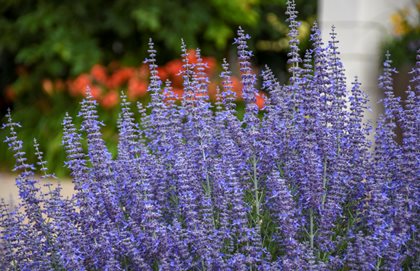 Buy Now
Bring hummingbirds to your garden with lacy-like bluish-purple flowers that bloom from the middle of summer through the middle of fall. This low-maintenance plant's only requirements are well-draining soil, sun, and a pruning in spring. Can reach about 32 inches high and spread to about 38 inches.
GEM BOX® INKBERRY HOLLYILEX GLABRA
Landscape Shrub of the Year
USDA ZONES 5A-9B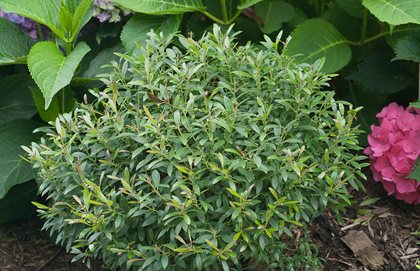 Buy Now
Its dense, ball-shaped qualities make this inkberry look more like a boxwood than a traditional inkberry, which is typically a bit more scraggly. While other cultivars sometimes appear bare at the bottom, Gem Box maintains good branching down to the ground. It can reach 36 inches high and wide, but you can trim it to your preferred size.
---
SHADOWLAND® 'COAST TO COAST'HOSTA
Hosta of the Year
USDA ZONES 3A-9B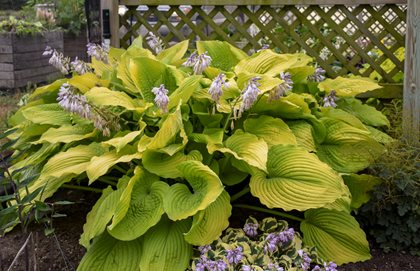 Buy Now
During summer, this hosta's thick, wavy-edged gold leaves become brighter in morning sun. Though its main appeal is its foliage, it produces lovely pale violet flowers in summer. Like most hostas, it should be grown in shade and planted in moist, organically enriched soil. It can reach 30 inches high and has a spread of about 36 inches.
OSO EASY DOUBLE RED®Rosa ×
Rose of the Year
USDA ZONES 4A-9B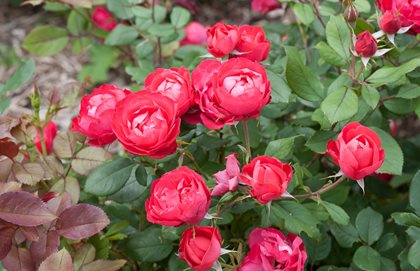 Buy Now
Deep-red roses sit atop long stems, helping them rise above the foliage to create a notable display. Deadheading isn't required—the blooms just keep on coming. Since this rose bush has foliage that's resistant to powdery mildew and black spot, it looks good all season. The shrub can reach 48 inches in height and spread.
INVINCIBELLE® RUBYHYDRANGEA ARBORESCENS
Hydrangea of the Year
USDA ZONES 3A-8A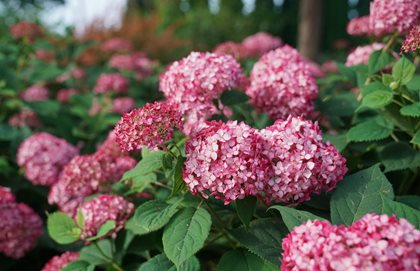 Buy Now
Ruby red and silvery pink florets make a spectacular display on each flower head of Invincibelle Ruby smooth hydrangea. Sturdy stems, dark green foliage, and the fact that it's a strong rebloomer makes this a must-have hydrangea. Height and spread can reach 48 inches.
---
BLUE CHIFFON® ROSE OF SHARONHIBISCUS SYRIACUS
Flowering Shrub of the Year
USDA ZONES 5A-9B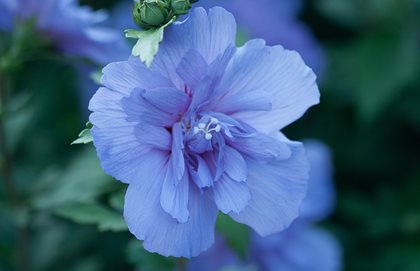 Buy Now
Blue flowers are a rare sight to see, but Blue Chiffon gives you blue lacy blooms atop elegant stems from summer through fall. Its flowers, which attract birds, butterflies, and hummingbirds, have a delicate lacy center, giving it an anemone-like look. This heat- and drought-tolerant shrub gets big, sometimes reaching 12 feet high and 6 feet wide.
2020
NATIONAL RECIPES
Container Combinations
All-Season Performance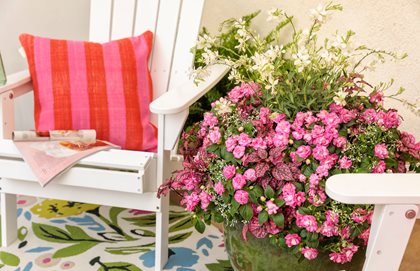 Get Recipes
Growing gorgeous plants in containers is easy when you follow reliable recipes like these. Proven Winners has assembled five flower combinations to keep your outdoor living spaces bright and beautiful all season long.
2019
NATIONAL PLANTS OF THE YEAR
Annual, Perennial, Shrub
Past Winners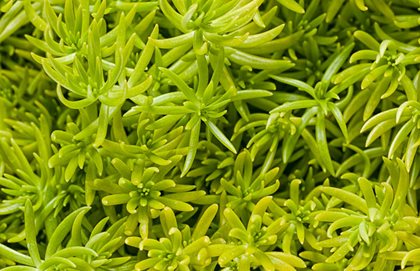 See last year's winning plants:
Lemon Coral® sedum (pictured)
Summerific® 'Berry Awesome' hibiscus
Low Scape® mound aronia
Plus container recipes for spring, summer and fall.
Candidates for Proven Winners' National Plants of the Year are judged stringently by growers, retailers and home gardeners against the following criteria:
Easy to grow
Iconic
Readily available
Outstanding landscape performance
Learn more about these award-winning plants at nationalplantoftheyear.com.