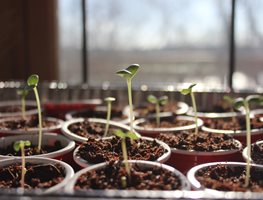 Looking to try your hand at seed saving? Before planting your garden, take note of these considerations.
Our how-to for using milk and water jugs to create your own planters to sow seeds in the snow. Yes, you can start sowing seeds now, even if you're snowed in, and be rewarded with hardy vegetables and flowers in the summer.
Master Gardener John Coykendall says that "saving heirloom seeds is surprisingly easy." If you're interested in giving it a try, read his tips for getting started.
Garden Edibles: Success Secrets
Have you ever wondered how to get those healthy, plump garden edibles you've always dreamed about? Nick McCullough shares his keys to growing a successful edible garden-providing tips on when and how to get started and his top picks for where to purchase heirloom seeds.
Botanic Superlatives: The Most Beautiful Corn
Glass gem corn was bred years ago by a part-Cherokee farmer and master seed-saver. Yes, it's real, and, as an heirloom, its seeds will grow true. Today, glass gem corn seeds are saved at Seeds Trust, who anticipate more available next month. Glass gem is an extreme iteration of corn's natural tendency towards different-colored kernels, as each kernel has its unique genetic set for color and size.