Tips for Saving Bean Seeds
An expert heirloom plant grower shares tips for saving bean seeds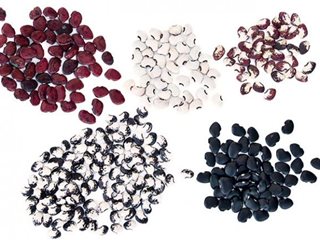 Master Gardener John Coykendall saves seeds of rare and historied vegetables, such as the beautiful beans shown here. Photo by: Josh Endres.
As long as you store them where it's cool, dark, and dry, "saving heirloom seeds is surprisingly easy," says John Coykendall. By growing plants you've had success with in the past, you'll make history repeat itself, deliciously. Here are his tips for saving bean seeds:
At the end of the growing season, let a number of bean pods dry on the vine. Many varieties tend to burst open, or "shatter," scattering their seeds, so you might hold a box or basket underneath your hand as you reach for the pods. The pods also have sharply pointed ends, so handle them from the middle to avoid sticking yourself.
Bring beans inside, clean off remaining seed pod husks, and spread out and let dry for two or three weeks before storing in airtight containers. Coykendall uses canning jars with rubber gaskets.
Some suggest a bedroom closet as an ideal storage spot, but Coykendall puts his in the freezer. This has the added benefit of killing any pests that may be present.
Label your seeds! In the case of heirlooms especially, you should consider yourself a steward and do what Coykendall calls memory banking: record the variety name, the year grown, date harvested, growing conditions, and source of the seed.
The viability of saved seeds is roughly three to five years, depending on conditions, but beans can last much longer. "Freezing can extend that lifespan for a very long time," says Coykendall.