Water Feature Ideas to Elevate Your Outdoor Space
Add a water feature to your yard for beauty and ambiance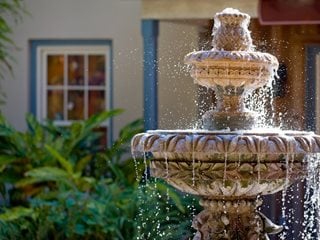 Photo by: Natalia Bratslavsky / Shutterstock
Water is one of the most essential elements, with all life dependent on it for survival. Humans are drawn to spending time near water, whether it's the roar of ocean waves along a coastal beach, the serene lapping of water on a lake shore as the sun is setting, or the rush of a fast-moving stream in a verdant forest.
Adding a water feature to your yard is a way to bring this basic element into your landscape. The soothing sounds of moving water drown out urban noises, helping to create a calming oasis where you can unwind after a long day.
A water feature can be as elaborate as a large pond or as simple as a tabletop fountain. It can be the main backyard water feature, a focal point that draws the eye through the landscape, or a background element. Even if you only have a deck or apartment balcony, you can still enjoy a small water feature. Explore what type of water feature is right for you and how to add one to your yard.
TYPES OF WATER FEATURES
There are many types and sizes of water features made from a range of materials. Here are the main types:
HOW TO CHOOSE THE RIGHT WATER FEATURE FOR YOUR YARD
When deciding what kind of water feature to add, consider the following:
Scale:
How big is your yard? Do you want water to be the predominant theme, or a secondary element? If you have a spacious property, you'll have room for a larger pond or pool. For smaller yards, you might still have room for a pond or pool, but it will have to be scaled down. Choose a water feature that is in scale with the landscape so it doesn't overwhelm or get lost in the design.
Function:
Do you prefer the grandness of a pond, the drama of a waterfall, or the serenity of a small fountain? What do you want to use your water feature for? Swimming, attracting wildlife, as a decorative element, or to add the sound of water?
Budget:
Research the cost of design, materials, and installation. Include the cost of extras such as walkways, structures, decorative boulders, rocks, statuary, seating, plants, and maintenance.
Installation:
The type of water feature you choose will determine the complexity of the installation. A pool, pond, waterfall, or stream will need a pump, plumbing, filtration system, and access to a power and water source. Heavy equipment is necessary to dig the hole for a pond or pool, put down a liner, grade a hillside for a waterfall, and to move dirt, boulders, and rocks.
Maintenance:
A water feature can develop harmful algae, attract mosquitos and require regular cleaning and maintenance. Before you decide on a water feature, research how to keep it maintained. How much time and expense are you willing to devote? Consider the best methods of cleaning and pest control, whether it's mosquito dunks, beneficial bacteria tablets, or other products.
Hire a professional:
For more complex projects, consult a garden design professional who is experienced with installing water features.
DESIGN CONSIDERATIONS
There are many factors when adding a water feature to your outdoor space. Here are some things to consider:
Location:
Where do you want to place your water feature? Though the backyard is most common, you can site a water feature in the front or side yard, too. Consider how it looks from inside your home and the reflective qualities from the surrounding trees and sky. Locate your water feature in an open area away from large deciduous trees, as fallen leaves and other debris can cause algae build-up, clog the pump, or cause harm to fish. Provide some shade, as high water temperatures can promote algae growth and evaporation.
Access:
Make sure you can easily access your water feature for maintenance or repairs. Add pathways and keep the surrounding area free from debris or overgrown plantings.
Style:
There are many different styles of water features, from modern to classic. Choose a style that complements your home and landscape. Include elements that add visual interest and appeal such as a gazebo, decorative rocks, statuary, and plants.
Sound:
Decide what noise level is right for you and your yard. Water flowing from a stream or waterfall can be dramatic and invigorating, while the trickle of a fountain can be soothing and contemplative. A bird bath or small pot with standing water won't have any noise at all.
Safety:
Make sure larger water features such as ponds or pools are safe for children. Install a security fence if necessary. Use materials that won't be slippery to walk on. Provide lighting at night. When including fish such as koi, make sure there are places for them to escape predators.
Plants:
Aquatic plants can help to keep the water clean, attract and support wildlife. Common aquatic plants include water lilies, mosaic plant (Ludwigia sedoides), water hyacinth (Pontederia crassipes), umbrella grass (Cyperus involucratus) and Egyptian papyrus (Cyperus papyrus). Include moisture-loving plants alongside a pond, stream or rain garden such as giant rhubarb (Gunnera), elephant ear (Colocasia), marsh marigold (Caltha palustris), ferns, and iris.
WATER FEATURE IDEAS
RELATED READING