Bird Garden Ideas: The Best Plants for a Bird-Friendly Garden
Turn your yard and garden into a mecca for birds by filling it with the plants, shrubs, and trees that they love.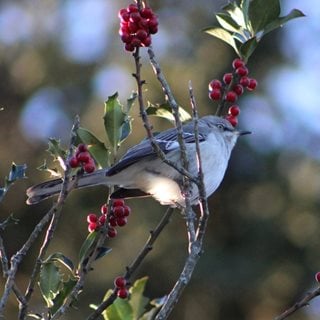 Photo by: Jaclyn Vernace / Shutterstock.
Birdwatching and gardening are hobbies that often (and should!) go hand-in-hand. Besides bringing beauty, movement, and melody to our gardens, birds play an important role by providing natural pest control and dispersing seeds. But have you ever wondered why birds seem to flock to some gardens while flying right past others?
The secret to attracting more winged visitors to your garden is to serve up an all-you-can-eat buffet of seed-, fruit-, and nectar-bearing plants that will keep them well-nourished throughout the year. In addition to giving birds the essential foods they crave, it's also important to create a habitat that provides water, shelter, and nesting places.
Here are 15 plants that are a magnet for birds of all types, from hummingbirds to colorful songbirds, along with design tips for making your garden more inviting for your feathered guests.
On this page:
ANNUALS & PERENNIALS FOR BIRDS
SHRUBS & TREES FOR BIRDS
Join us for our next webinar!
Plant Combinations: Finding the Right Mix
with Dan Benarcik
Thursday, January 25 @ 6PM EST
7 TIPS FOR A BIRD-FRIENDLY GARDEN
Photo by: Gerald A DeBoer / Shutterstock.
Choose native plants. Planting a native garden is not only a great way to make your yard more appealing to birds and other wildlife, it also reduces the resources needed to keep your garden lush and healthy. While you don't need to plant natives exclusively, include at least a few that are brimming with the berries, nectar, and seeds that local birds need to sustain them throughout the year. Find the best plants for the birds in your area using the National Audubon Society's native plant database.
Provide a banquet of berries. Berry-producing shrubs and trees are a naturally occurring food source for many birds, and with good planning, can feed them from midsummer well into winter. To appeal to the diet preferences of a variety of birds, include plants that offer berries in different colors and sizes. See Berries for Year-Round Color.
Be diverse. Variety is the key to creating a backyard haven that birds will return to again and again. "Different species of trees, shrubs, flowers, and plants attract specific birds; the more variety your garden has, the more likely you are to spot an interesting or rare bird up close," says Rachael Lanicci, author of Garden Secrets for Attracting Birds. It's also important to choose plants that fruit or go to seed at different times of year, so birds are assured of a continuous food supply.
Plant in layers. Natural areas tend to have vertical layers that provide something important to different bird species, according to the Morton Arboretum. Some birds prefer the canopy of tall trees, others perch in understory trees, and many build nests in shrubs or find shelter in vines and groundcovers. In your own backyard bird refuge, include as many of these layers as possible by including plants, shrubs, and trees of different heights.
Avoid the use of pesticides. Insects are the primary source of food for many bird species and are critical for feeding their young. In addition, many pesticides contain chemicals that can be toxic to birds and other wildlife.
Give them shelter. Not all birds fly south for the winter. There are many non-migratory birds, such as blue jays, woodpeckers, and chickadees, that rarely stray far from one area. To help these homebodies stay warm during harsh winters, create natural roosting sites by building brush piles and allowing protective plant thickets to develop. Dense evergreens, such as junipers and arborvitae, can also provide essential protection. Adding a few birdhouses is another simple but effective way to provide shelter during the winter and safe nesting sites in the spring.
Provide water year-round. Birds depend on water for drinking, bathing, and staying cool. But during periods of drought or during the winter when ponds and puddles are frozen, a birdbath can be a vital source of water. If you're buying a birdbath for the first time, choose one that has a shallow bowl with a depth of 2 to 3 inches so birds can take a sip without getting drenched. Or you can make your own simple birdbath using a cake pan or flower-pot tray (follow these easy DIY instructions from the National Audubon Society). To keep the water from freezing in winter, consider buying a thermostatically controlled birdbath heater.
Colocasia leaf bird bath. Photo: Proven Winners.
See how to make this beautifully textured concrete bird bath using large colocasia leaves as a mold.
RELATED:
24 Hummingbird Flowers
25 Butterfly-Garden Plants
How to Make a Butterfly Garden
The Best Perennials for Pollinators
20 Fragrant Flowering Plants