Getting Rid of Grub Worms Naturally - Gardening Advice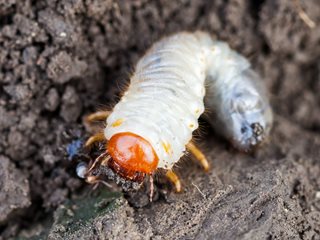 Photo by: vvoe via Adobe Stock.
Q: I have grub worms all over my garden and I hate to use pesticides. Are there any natural methods to get rid of them?
Answer 1: There are a couple of methods you can use. Milky spore disease (Bacillus popilliae) is a naturally occurring pathogen that only affects beetle larvae and will kill grub without harming you or your garden, but it can take several years to become effective. While you wait for the Milky spore to become effective, try predatory nematodes. I've also heard of people keeping ducks or birds in the yard to ingest the grub, although this seems like a maintenance HEAVY sol'n.
Answer 2: I have been very successful controlling grubs by using only organic fertilizer once in the fall and once in late winter. Synthetic fertilizers tend to kill beneficial nematodes. The best fertilizer i have found (I have tried a lot) for lawns is Plant Tone. I use 1 large bag for 3,000 sq. ft. I live in zone 7 and have fescue (for now) grass. Hope this helps!
Answer 3: Go online to some place like Arbico and order nematodes. They come on a sponge (invisible to naked eye) you soak in water, put in sprayer and spray your dirt. They will multiply (yah) over time and you will not have any more grub problems. Also, they have nematodes that seek and destroy flea larvae too. Works great. Did my yard last year, my dogs never have fleas unless we go someplace else. The nematodes for grubs work equally as well. Had em in my compost pile, wiped em out. No more grubs! Buy nematodes on Amazon.
Answer 4: We once had a terrible time of it with grubs. Because we love birds, we just happened to put up 5 houses for house wrens, one in front yard, one in each side yard, and two in back--strategically placed so they would not see each other's houses, being so territorial. Since we did this, house wrens have nested every summer in every house. We have no more grubs, squash bugs, or tomato hornworms. It is almost unbelievable...but true. We never use pesticides of any kind and haven't for 18 years. We cannot prove that the house wrens eliminated all these insect pests, but watching them flying to and fro ALL DAY with insects in their beaks makes us believe that they are a gardener's best friends. Since grubs are the larvae of the June beetle, we assume that the house wrens are eliminating the beetles. This site also has very good info: http://organicgardensite.com/bugs-harmful/june-bugs/