Holiday Decorating Ideas from Garden Design
10 Christmas decorations for indoors and out that will add to the festive feel
The holidays are here, so we've been on the hunt for tasteful décor to get into the spirit of the season. From live trees that you can plant in the ground when the holidays are over to an inexpensive solution for adding a little sparkle to your garden, here are a few of our favorite finds.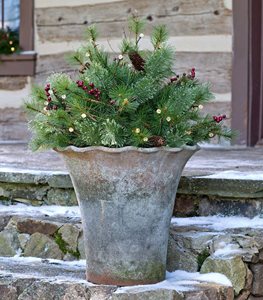 Plow & Hearth
Pre-Lit Urn Filler
While filling your urns with fresh greenery sounds amazing, sometimes it just doesn't happen. That's why we love this pre-lit urn filler that allows you to instantly create a festive holiday focal point. Plus it can be used year-after-year!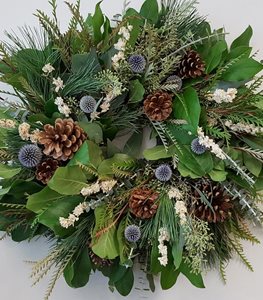 Pottery Barn
Fresh Winter Wreath
This made-to-order wreath features salal, seeded eucalyptus, gravellia, pine cones, larkspur and echinops. The color palette stretches beyond the holidays so you can enjoy it all winter.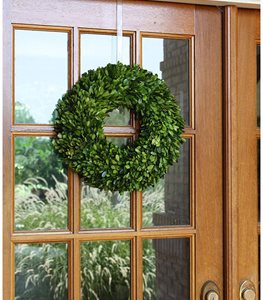 COCOMIA
Preserved Wreath
Multiuse is always nice, and we love that this preserved boxwood wreath is not limited to use only in the winter holidays—we can picture using it all year long. Even though it's made from real boxwood, it's been treated to last for years. Several customers have commented on its vivid color. The wreath is 16 inches in diameter.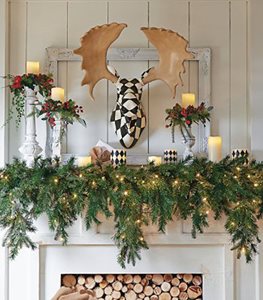 Grandin Road
Faux Garland
If you're looking for a garland to use year after year, this 6-foot garland—a mix of faux Fraser and Balsam tips—will make an attractive addition to your holiday décor repertoire. Lights come spaced throughout the full garland, so that part of the work is done for you.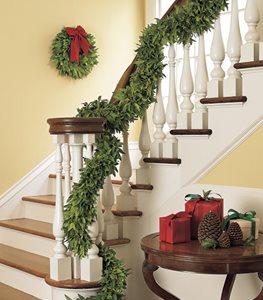 Williams Sonoma
Fresh Garland
This fresh garland is made of boughs of California bay laurel interwoven with wire so you can you shape it around a mantle, bannister, doorway, or other location. We love that in addition to visual appeal, this full garland adds a pleasing aroma reminiscent of the holiday season. It will dry in place beautifully, and you can even use the dried leaves in cooking if you so desire. It's available in 6 and 12 foot lengths.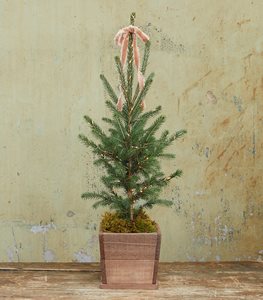 Terrain
Fresh Tree
We think this adorable black hill spruce looks like an elegant version of the classic Charlie Brown tree and is a quick and easy way to add a festive feel indoors. Standing at approximately 20 to 24 inches high (it's a live tree so sizes will vary), this cutie would make a perfect decoration for a windowsill or any spot that gets sunlight. It comes with a light strand, velvet ribbon and moss for the top of the soil.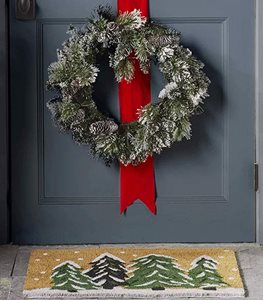 Calloway Mills
Doormat
A doormat is a simple way to add a little holiday flair, and this one has a design that's perfect all winter long. It's made of natural coir, which is durable and also naturally mold and mildew resistant. Although you should keep it in a covered area for longevity, the consensus among customers is that the mat is durable. One customer's review: "Great quality and great price! It has lasted three snowfalls already and heavy traffic."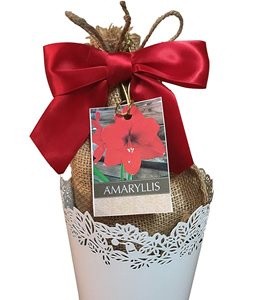 Daylily Nursery
Amaryllis Kit
Sometimes reaching as large as 8 inches across, Amaryllis blooms are truly a treat—so it's lucky for all of us that they are fairly easy to grow! This kit comes with everything you need, including a decorative pot and growing instructions.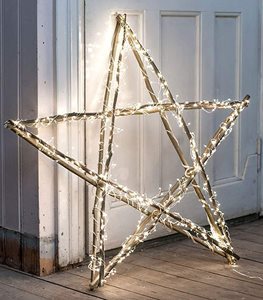 Norsis Home and Garden
Flexible Lights
Miniature LED lights are a simple way to add a pretty little twinkle to your garden. The 33-foot copper strand is flexible, so it's easy to wrap around just about any object (we think it would look stunning wrapped around a bare tree's trunk and branches). Customers describe the wire as "thin and inconspicuous" and the lights as giving off a "warm glow."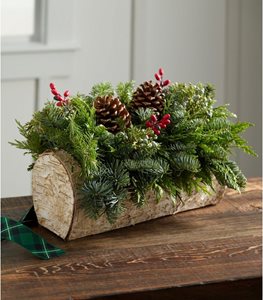 L.L. Bean
Fresh Centerpiece
Add some greenery to your holiday table with this arrangment featuring fresh Noble fir in a birch log centerpiece. We love that the greenery is sustainably harvested to help protect local forests.
When you purchase products through links on our site, we may receive an affiliate commission. Thank you for your support.