Holiday Decorating Ideas from Garden Design
13 Christmas decorations for indoors and out that will add to the festive feel
The holidays are here, so we've been on the hunt for tasteful décor to get into the spirit of the season. From live trees that you can plant in the ground when the holidays are over to an inexpensive solution for adding a little sparkle to your garden, here are a few of our favorite finds.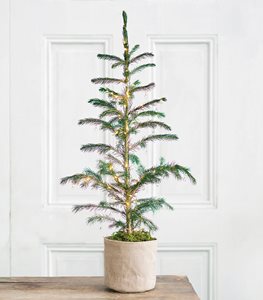 Terrain
Fresh Tree
We think this adorable Norway spruce looks like an elegant version of the classic Charlie Brown tree and is a quick and easy way to add a festive feel indoors. Standing at approximately 24 to 32 inches high (it's a live tree so sizes will vary), this cutie would make a perfect decoration for a windowsill or any spot that gets sunlight. It comes with glass raindrop-shaped ornaments, a light strand, and moss for the top of the soil.
Bonus: Plant it outdoors when the holiday season is over. Be sure to give it time to adjust to outdoor temperatures and wait for the ground to thaw before planting.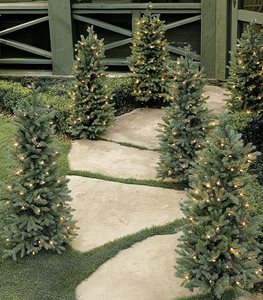 Ballard Designs
Faux Tree
These faux blue spruce trees receive rave reviews from customers who say they look surprisingly realistic and hold up well. One customer who uses them outdoors speaks to their authentic appearance and quality: "I have decided to leave them where they are until spring to give the outside some sparkle! The weather hasn't seemed to bother them at all." The trees come pre-wired with white lights and have an attached 6-inch ground stake, so you can easily place them in the ground. There are two sizes available: 3 feet and 4 feet.
Tip: If you'd like to use the trees indoors, try this approach from another customer: Insert a lump of modeling clay into a simple decorative canister and stake the tree into the clay. Top dress with dry moss. Voilà!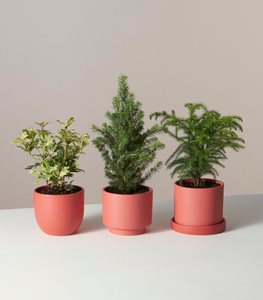 The Sill
Holiday Houseplant Trio
Deck the halls with The Sill's seasonal plant picks including an Olive Holly, Alberta Spruce and a Norfolk Island Pine. Each plant comes potted in a unique earthenware planter, available in multiple colors including softer versions of the typical festive green and red.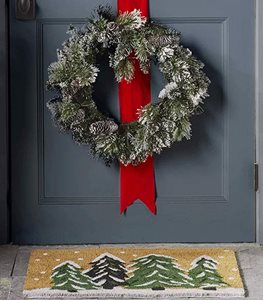 Calloway Mills
Doormat
A doormat is a simple way to add a little holiday flair, and this one has a design that's perfect all winter long. It's made of natural coir, which is durable and also naturally mold and mildew resistant. Although you should keep it in a covered area for longevity, the consensus among customers is that the mat is durable. One customer's review: "Great quality and great price! It has lasted three snowfalls already and heavy traffic."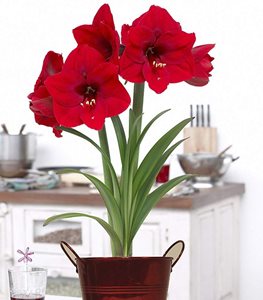 Van Zyverden
Amaryllis Kit
Sometimes reaching as large as 8 inches across, Amaryllis blooms are truly a treat—so it's lucky for all of us that they are fairly easy to grow! This kit comes with everything you need: a large red lion amaryllis bulb, a 5- by 7-inch metallic red cachepot, a 5-inch nursery pot, planting medium, and growing instructions. The kit comes from Van Zyverden, a 100-year-old family owned and operated bulb company.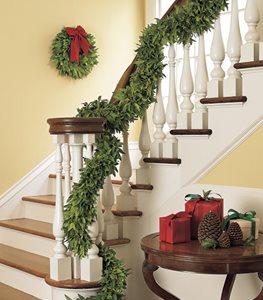 Williams Sonoma
Fresh Garland
This fresh garland is made of boughs of California bay laurel interwoven with wire so you can you shape it around a mantle, bannister, doorway, or other location. We love that in addition to visual appeal, this full garland adds a pleasing aroma reminiscent of the holiday season. It will dry in place beautifully, and you can even use the dried leaves in cooking if you so desire. It's available in 6 and 12 foot lengths.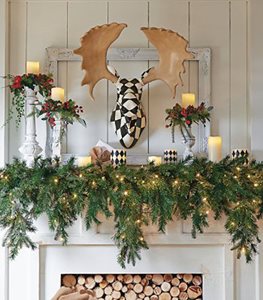 Grandin Road
Faux Garland
If you're looking for a garland to use year after year, this 6-foot garland—a mix of faux Fraser and Balsam tips—will make an attractive addition to your holiday décor repertoire. Lights come spaced throughout the full garland, so that part of the work is done for you.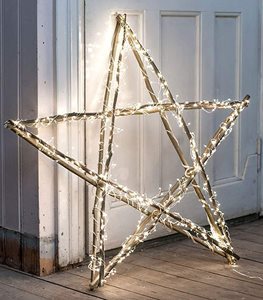 Norsis Home and Garden
Flexible Lights
Miniature LED lights are a simple way to add a pretty little twinkle to your garden. The 33-foot copper strand is flexible, so it's easy to wrap around just about any object (we think it would look stunning wrapped around a bare tree's trunk and branches). Customers describe the wire as "thin and inconspicuous" and the lights as giving off a "warm glow."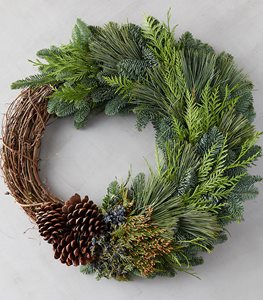 Terrain
Fresh Wreath
This classic holiday wreath's base is made of fresh grapevine, and it is adorned with Noble fir, pinecones, pine, cedar, and juniper. It can be used indoors or out, but it will last longest in cooler temperatures. The wreath is 20 inches in diameter.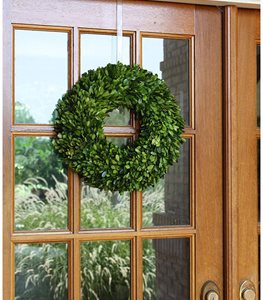 COCOMIA
Preserved Wreath
Multiuse is always nice, and we love that this preserved boxwood wreath is not limited to use only in the winter holidays—we can picture using it all year long. Even though it's made from real boxwood, it's been treated to last for years. Several customers have commented on its vivid color. The wreath is 16 inches in diameter.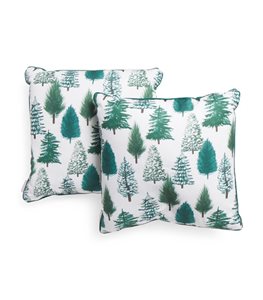 T.J. Maxx
Outdoor Pillows
Throw these outdoor pillows on a bench or chair on your front or back porch to add a touch of comfy seasonal décor all winter long. We adore the evergreen pattern…and the price!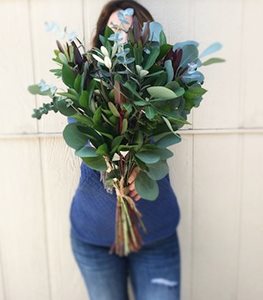 Kendall Farms
Fresh Greens - Centerpiece
This variety of fresh greens from Kendall Farms, would make a lovely centerpiece when placed in a festive container. Gorgeous in its simplicity, this bunch can stand on its own; berries or branches would also make a nice addition to the mix. Feeling creative? Try arranging the materials along a table runner.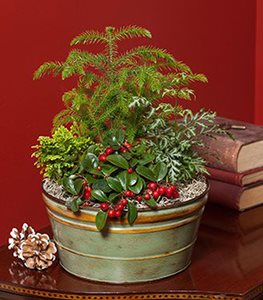 White Flower Farm
Holiday Dish Garden
When you order this miniature holiday garden, White Flower Farms will send you the pieces to build it yourself, giving you the opportunity to say "I made that!" to holiday visitors. It comes with a 10-inch metal cachepot with bulb plant linter, potting soil, decorative moss, 1 wintergreen, 1 Norfolk Island pine, 1 silver lace fern, along with planting and care instructions.