Holiday Centerpiece Guide: Notes from a Flower Farm
Step-by-step instructions for creating five gorgeous floral arrangements for your holiday table
Growing up in Seattle, my family's Scandinavian Christmas Eve produced a table loaded with salmon, lutefisk, Swedish meatballs, glögg, and fruit soup. The cookie table was piled high with spritz, krumkake, and fattigman. Sugar and spice, just as some relatives are naughty and some are nice—that's what I think winter holiday gatherings are made of. (Click here for Saveur's list of Scandinavian recipes) But however the party may ultimately unfold, for me, hosting winter parties means an excuse to buy and forage for lots of greens and flowers. For the various dinners I'm having this season, I've come up with five different centerpieces. We've linked to each of the individual slide shows here, with step-by-step instructions for creating a similar centerpiece at your home.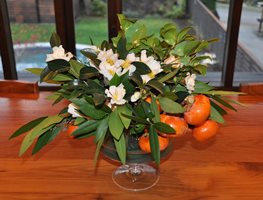 For an unexpected twist on holiday decor, why not elevate the centerpiece into a hanging sculpture? Katherine Anderson, our flower arranging columnist does just that, by hanging marigolds from a large branch.
Our guide to how to create a classic hydrangeas and roses arrangement in simple, short jars.
All photographs by Katherine Anderson.
Marigold and Mint is an organic farm, a retail shop, and a studio. The farm is situated along the Snoqualmie River, about 30 miles east of Seattle and the shop is located in the Melrose Market on Capitol Hill in Seattle, Washington. Founded in 2008 by owner Katherine Anderson, Marigold and Mint reflects her lifetime love of flowers and landscapes. Trained as a landscape architect, she brings her affection for both clean and clear design and intricate patterns to Marigold and Mint.