Ideas for a Mediterranean-Style Garden
Get the look of a Mediterranean landscape in your yard
Published 10/4/2022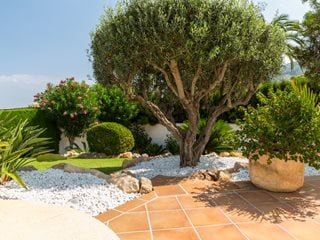 Photo by: Ingrid Balabanova / Shutterstock
Mediterranean landscapes conjure up images of lounging by an inviting pool against a backdrop of brightly colored walls and exuberant plantings. Incorporating the vibrant aesthetics of a Mediterranean garden into your own yard can make it feel like you're on vacation all year round.
The Mediterranean climate is distinguished by hot, dry summers and mild, wet winters. Native plants are adapted to long periods of drought and require little maintenance. With many regions becoming hotter and drier due to climate change, using drought-adapted plants from the Mediterranean and other arid regions has become a necessity.
Even if you don't live in a dry climate, you can still achieve the Mediterranean look, whether in your entire yard, or by incorporating features here and there.
Featured in: Garden Design's Top 9 Garden Trends for 2023 ("Designing Mediterranean-Style Gardens")
WHAT IS A MEDITERRANEAN-STYLE GARDEN?
A Mediterranean garden celebrates the laid back outdoor lifestyle typical of countries such as France, Spain, Italy, Greece, and Morocco, where al fresco dining, leisurely siestas and gatherings with family and friends are commonplace. Sensory experiences are essential, whether it's the intoxicating scent of jasmine, the calming sound of trickling water, or the vibrant colors of painted walls, exotic fabrics and decorative tiles. The style is rustic and casual, exuding a timeless feel and integrating with the natural surroundings.
Explore more landscape design ideas.
WHAT'S IN A MEDITERRANEAN GARDEN?
Mediterranean gardens are designed to respond to the hot climate. They are characterized by shady retreats to escape the blazing summer sun, cooling water features, outdoor seating areas, drought tolerant plants, and gravel to replace water-thirsty lawns.
WHAT PLANTS GROW WELL IN A MEDITERRANEAN CLIMATE?
Mediterranean plants are adapted to survive long periods without summer water and require good drainage to prevent root rot from winter rains. In addition to true Mediterranean natives, these include plants from other places with similar climates such as California, South Africa, and Australia.
HOW TO MAKE A MEDITERRANEAN GARDEN
Photo by: nieriss / Shutterstock
Choose and evaluate your site.
Most Mediterranean plants need full to partial sun and good drainage. Find an area in your yard that gets at least 6 to 8 hours of sun during most of the growing season and amend the soil as needed. Some plants may need a sheltered spot away from wind. Raised beds or a rock garden are good alternatives if the native soil is poorly draining.
Get ideas.
Utilize online resources such as Pinterest to gather ideas. Visit local gardens that include drought tolerant plants to see what will grow in your area. Make a list of elements you want to include such as lounging or dining areas, water features, furniture, accessories and plants. Consider uniquely Mediterranean features such as a tiered fountain, herb knot garden, or bocce ball court.
Create a plan.
Draw a rough sketch to visualize how your finished space will look. If you decide on a major transformation, consult a professional landscape designer.
Consider scale.
Choose materials and features that are in scale with your home and yard. If you have limited space, you can still include a small water feature such as a wall fountain or birdbath. Bistro seating can be substituted for larger furniture pieces. A small arbor or trellis can take the place of a full-sized pergola.
Consider style.
Make sure materials, color scheme, plants, and accessories are compatible with your home's facade. Combine Mediterranean elements with local touches to give your landscape a sense of place.
MEDITERRANEAN GARDEN ELEMENTS
Photo by: Olesya Tseytlin / Shutterstock
Mediterranean gardens are characterized by specific elements that are included in the landscape. Incorporate as many of these features into your yard as you like.
Shade.
Places to escape the heat of the sun are essential to Mediterranean landscapes. Pergolas are a common feature, an elegant extension of the home that provides shade and an intimate space for outdoor dining or lounging. Other shade features can include a courtyard, porch, patio umbrella, shade cloth, or a large tree. Open structures allow for better air circulation and cooling.
Water.
Water is a major component of Mediterranean gardens, a cooling counterpart to the sun-baked landscape. The sound of moving water and the reflective quality is both soothing and invigorating, providing a haven for birds, beneficial insects and other wildlife. Water features can include fountains, birdbaths, pools, waterfalls, or misters.
Outdoor living spaces.
Spending time outdoors is an integral part of the Mediterranean lifestyle. Create one or more seating areas to enjoy a cup of coffee or casual al fresco meals. These areas are generally sited underneath shade features such as a pergola or large tree. Furniture can be as simple as a bench or bistro chair, or more elaborate such as a luxurious outdoor couch sectional or spacious outdoor dining set.
Containers.
Terracotta clay planters, jars, and urns are classic features of Mediterranean gardens. These containers are typically oversized and used as bold focal points in the landscape. Add a splash of color to a patio, staircase, or gravel terrace by grouping together smaller ceramic or terracotta pots that are planted with pelargoniums and other annuals. Make sure pots have adequate drainage holes. For colder regions, choose frost-proof containers or store indoors in winter.
Stone, pavers, and gravel.
Mediterranean gardens incorporate materials found in nature such as warm-toned stone for walls, terraces and paving. Gravel is used for patios, pathways, and as a substitute for water-thirsty lawns. Mosaic patterns are created with stone pebbles or cobbles and were the earliest type of pavement.
Tile.
Brightly colored glazed tiles with intricate patterns are used to adorn staircases, walls, and patios.
Fragrance.
Many Mediterranean plants have fragrant foliage or flowers, including herbs or herb relatives. These include lavender, rosemary, mint, salvia, jasmine, and honeysuckle.
Color.
Because the light is harsh in southern regions, bold and bright colors stand out better than subdued hues. Typical colors used in hardscaping, fabrics, mosaics, and accessories mimic those found in nature: cobalt blue of the sea, rich earth tones of terracotta and reddish-brown, and mustard yellow to echo the sun. These brighter hues are used judiciously as pops of color that are tempered by more neutral tones of gravel, stone, and foliage.
MEDITERRANEAN PLANT DESIGN
Plants used in Mediterranean gardens have certain traits and functions.
Drought-tolerant plants are better able to withstand prolonged dry spells through summer and are lower maintenance.
Plants with foliage interest are commonly used to add color, texture, structure and as a backdrop to other plants. Varieties with silver foliage are commonly used, as the lighter color reflects the sun's heat and helps plants to conserve water, making them more adaptable to hotter climates. These include cotton lavender (Santolina), lamb's ear (Stachys byzantina), olive, cardoon, eucalyptus, and artemisia.
Vining plants such as bougainvillea, trumpet vine, hops, grape, jasmine, and wisteria are used to soften structures such as walls and pergolas, creating a lush living canopy that provides cooling shade.
Clipped hedging and topiaries are a hallmark of Mediterranean gardens, lending year-round structure and color. Plants can include boxwood, silver thorn (Eleagnus), privet (Ligustrum japonicum), oleander and shrubby germander (Teucrium fruticans).
Mediterranean trees add vertical height, structure, and provide shade. These typically include olive trees, Italian cypress, palms, and bay tree.
Waterwise succulents lend bold structure or can be used as a resilient ground cover, depending on the type. These include agave, yucca, sedum, portulaca, and echeveria.
Citrus trees such as lemon or orange add a tropical touch, with scented white blooms, colorful fruits, and glossy evergreen foliage. In colder climates, citrus can be grown in large pots and overwintered indoors.
Ornamental grasses such as blue fescue, carex, and fountain grass (Pennisetum) provide structure, color, texture, and movement.
Ground covers are used as a lawn substitute and to soften the edges of gravel walkways and terraces.
See more plants for Mediterranean gardens..
HOW TO PLANT & MAINTAIN A MEDITERRANEAN GARDEN
Light. Most Mediterranean plants prefer full sun. Choose a site in your yard that gets at least 6 to 8 hours of direct sunlight.
Soil. Mediterranean soils tend to be sandy or rocky. Improve drainage as needed with gravel, sand, or perlite. Don't over-amend with organic matter such as compost or manure, as most plants prefer leaner soil. Clay or poor draining soil may result in root rot. Build raised beds or rock gardens if needed to improve drainage. Apply a gravel mulch around the crown of plants to keep roots cool, suppress weeds, and retain moisture. For containers, use a high-quality potting mix.
Water. For new plants, water regularly during the first growing season until roots are established. After that, provide supplemental water sparingly during the growing season, depending on your normal rainfall. Increase watering during prolonged hot spells. Check potted plants every 1 to 2 days and water when the top 1 to 2 inches of soil is dry. Cacti, succulents, and some native plants may need little or no supplemental water.
Prune. Cut back, prune, or deadhead plants according to individual needs. Prune back lavender and rosemary after flowering to help prevent woody growth.
Join us for our next webinar!
Plant Combinations: Finding the Right Mix
with Dan Benarcik
Thursday, January 25 @ 6PM EST
MEDITERRANEAN GARDEN IDEAS
A patio umbrella provides shade, while a clipped hornbeam hedge, potted palms and succulents lend a Mediterranean look. Designer: JJ DeSousa. Photographer: Janet Loughrey.
Casual loungers in this contemporary garden provide a comfortable place to relax, while accessories offer bright pops of color. Groupings of potted succulents and gravel flooring lend additional Mediterranean appeal. Designer: JJ DeSousa. Photographer: Janet Loughrey.
This gravel patio is used frequently in summer for al fresco dining and friendly gatherings. Colored walls, a water feature, potted succulents, and exuberant plantings complete the Mediterranean look. Gardener: Linda Ernst. Designer: Laura Crockett. Photo: Janet Loughrey.
A cool shaded porch is the site of an intimate seating area. Gardener: Linda Ernst. Designer: Laura Crockett. Photo: Janet Loughrey.
A miniature rock garden includes cacti and succulents, a large potted agave, and bistro chairs to create a Mediterranean feel in this small garden space. Gardeners: Christine and James Mitchell. Photo: Janet Loughrey.
Cooling shade is provided by an eastern redbud tree for this inviting seating area featuring warm earth-toned furnishings. Designer: Vanessa Gardner Nagel. Photo: Janet Loughrey.
Consider adding a unique feature such as this bocci court. Designer: Vanessa Gardner Nagel. Photo: Janet Loughrey.
A traditional color scheme of azure blue and terracotta is used for a backdrop wall and oversized fountain to create a timeless look. Gardeners: Craig Quirk and Larry Neill. Designer: Laura Crockett. Photo: Janet Loughrey.
Plantings of purple lavender and salvia alternate with yellow-flowered santolina, providing a complementary color scheme and fragrance in this Mediterranean-style labyrinth garden. Designer: Laura Crockett. Photo: Janet Loughrey.
Mediterranean features in this garden include a terracotta colored wall and an arbor planted with scented jasmine vine. A turquoise ceramic container planted with agave and spiky dracaena adds structure and a complementary pop of color. Gardener: Sherry Sheng. Photo: Janet Loughrey.
A Mediterranean-inspired stone wall and archway provide a welcoming entryway for this garden. The wall is softened with hand painted tiles and trellises with climbing vines. Gardener: Rosemary Grabowiecki. Photo: Janet Loughrey.
An oversized container in warm earth tones is the focal point in this narrow side yard. Gravel and bricks comprise the landing area, while tufts of carex and other plants soften the edges. Gardener: Susan Fries. Photo: Janet Loughrey.
RELATED READING