Bocce Courts
Bocce courts have become a common sight in private gardens—here's the scoop about how to incorporate one into your garden.
There are a number of theories as to why bocce spread so quickly in America's better backyards. One is that bocce—in which grapefruit-size balls are rolled down a finely groomed court—can be played while holding a wine glass with nearly zero spillage. Not for nothing, as they say in Brooklyn, where Italian gentlemen play the game in public parks, but bocce's popularity closely tracks the meteoric rise of domestic wine consumption. According to Bridgeport, Connecticut, landscape designer Wendy Lindquist, who launched a subsidiary, Bella Bocce, in 2003 to handle the heightened demand, clients commonly ask to add a side terrace or "heckler's court." Any feature with "heckler" in its name suggests that collateral imbibing is going on too.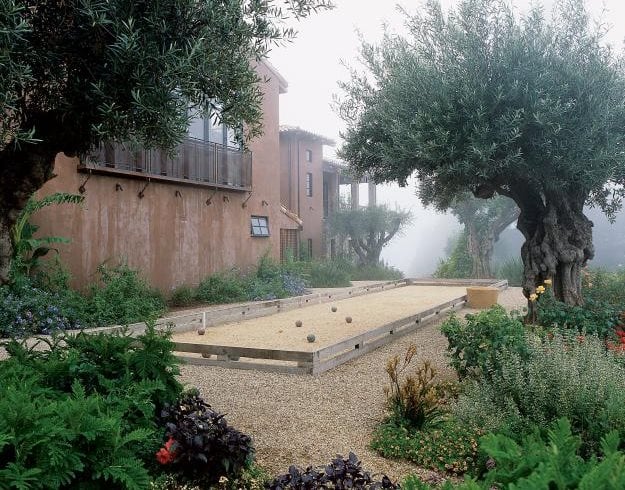 Bocce can be played while holding a wine glass with nearly zero spillage. (Photo by: Dominique Vorillon)
Bocce could not succeed if it didn't also satisfy the gardener of the house. The serene surface provides a natural, and neutral, ground to frame with plantings. At less than half the width of a tennis court, and a third the cost, bocce (or its French cousins, boules and petanque) also delivers a lot of European-style elegance for the buck. And as the building boom mounted through the early '00s, bocce had the virtue of being novel. "People always want something their friends don't have," says Michael Donnellan of Summerhill Landscapes on Long Island's East End, who put in his first bocce court ten years ago.
That impulse likely goes back to the Greeks, who imported some version of the game from Egypt. The Romans, who copied so much of what the Greeks did, gave us the game we know today. A small ball called a jack is tossed to the far end of an 87-by-11-foot court, and players take turns rolling their two-pound balls toward it—or knocking their opponents' balls out of the way. The player with the closest position scores one point for every ball that is closer to the jack than any of his opponents'. Rounds are played to nine points.
The bocce court itself is still Roman in its soul: a minor feat of aquatic engineering, a true surface, and a fun use, as a border around the edges, for old marble pilasters. You are the best judge as to whether to attempt the job yourself, but a minimum requirement is access to a small earthmover, like a Bobcat, and a route for trucks filled with rock to cross your lawn. In a trench a foot or so deep, crushed rock is laid to provide drainage, followed by another layer of smaller-gauge gravel. A porous fabric barrier like weed block, laid between the two rock layers, will keep the "fines," or tiny rock grains that bind the gravel layer from sifting downward. Over the gravel goes the playing surface itself, compacted to about an inch, hard enough not to crater when a ball lands, but soft enough to keep the balls from bouncing.
This court in Ross, California, was designed by David Brewer and features a traditional oyster shell surface. (Photo by: Barbara Ries)
Smashed oyster shell, with its beguiling gray-blue color, is both the traditional and romantic choice for the top layer, but like most romances it comes with a cost: "Oyster shell doesn't last very long," says Donnellan. "The heavier pieces congregate in the corners." Luckily, the bocce boom has given birth to some alternatives, including oyster shell flour—fine, even-crushed shell that requires minimal maintenance. Suppliers of clay for tennis courts now cater to bocce players, but stone dust, available from building supply stores, has become a cheaper and more manageable option. If you don't have any old pilasters handy, edging can run from treated lumber to composite decking to steel.
As poetic as a bocce court is to avid players, not everyone wants a recreational hot spot spoiling the mood of their garden. "They are quite nice when concealed with soft plantings around them," says Connecticut landscape architect Peter Cummin, who also likes to place a court next to a similar feature, like a rock garden. Benches at either end not only provide a convenient rooting section but also allow the bocce area to double as a contemplation garden.
With all the work that goes into it, the plants you choose to go around your court should be easy to maintain. "It's no fun to be hanging around a bocce court thinking about the maintenance that needs to be done," says Lindquist. A shady spot will not only keep guests comfortable, it also gives you a range of well-behaved plants to choose from. Lindquist recommends a menu of Annabelle hydrangeas, hostas, and shade-tolerant grasses such as hakonechloa and calamagrostis.
Even those who like their sports more rough can thank bocce for a resurgence of backyard play. Where once a net for volleyball or badminton was enough, "almost every job we do now has a play lawn," says Cummin, who has installed sledding slopes, hockey rinks, tree houses, and an Indiana Jones-style rope bridge. He has even done his best with horseshoe pits, though he says they are by nature "horrible looking." And, we'd add, horseshoes is hard to play without spilling.
Sourcebook:
For queries about bocce courts, contact Wendy Lindquist, (lindquistlandscape.com or Michael Donnellon (summerhilllandscapes.com