Botanic Notables: Oleander
Adored, feared, and fabled, the oleander is a deadly beauty. Drought-tolerant and easily propagated, it is commonly cultivated in gardens and public spaces in subtropical and tropical regions throughout the world. And it is also considered to be one of history's deadliest plants.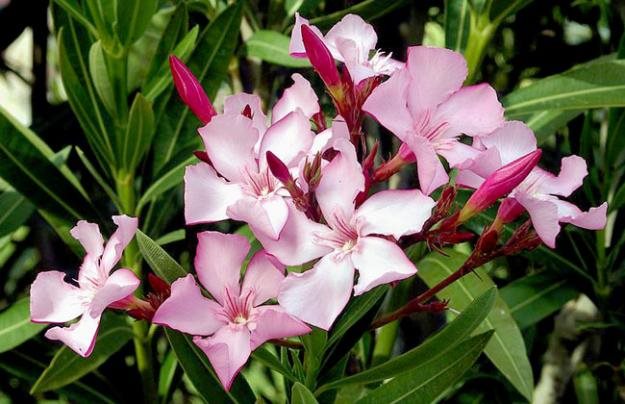 Photo by: Alvesgaspar / Wikipedia.
Blooming pink, white, orange, lilac, and pink, Nerium oleander blossoms are a colorful accent in Mediterranean riverbeds and Los Angeles median strips—and their beauty has been known to stop the heart, literally and figuratively. Every part of the plant contains traces of two potent cardiac glycosides (oleandrin and neriine), which have therapeutic applications, but can be fatal if ingested. While oleander's primary casualties are livestock, a single leaf could be lethal to a small child.
In her book Wicked Plants: The Weed That Killed Lincoln's Mother and Other Botanical Atrocities (Algonquin Books, 2009), author Amy Stewart remarks, "If I were a parent and covering every electrical outlet in the home to protect the kids, I would really have to ask myself why I had an oleander plant growing."
The oleander has been cultivating its reputation for a long time. Its history is marked in ancient fossil records (the Oligocene Era), texts from antiquity (Pliny the Elder), and early modern history (Napoleon is rumored to have lost a hundred troops to a dinner of meat roasted on oleander wood). This last story is probably historical legend, but warnings about the plant have long been part of common plant lore. More recently, a southern California woman was sentenced to death after attempting a combination of oleander and antifreeze to claim her husband's life insurance.
Meanwhile, the evergreen shrub boasts more than beautiful 400 cultivars, and a community of ardent enthusiasts, many of whom discourage concern about the oleander's putative dangers. As one Australian horticulturist reflected: "The bitter taste would be likely to deter most children before any danger was done."