What to Plant With Lavender: 18 Plants
Pair these plants with lavender for winning garden combinations.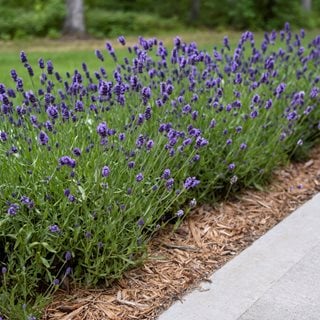 Sweet Romance® lavender. Photo by: Proven Winners
Lavender (Lavandula spp.) is one of the most popular garden plants, grown for its wide array of culinary, medicinal, and ornamental uses. This perennial herb produces aromatic gray-green foliage and slender flower spikes in shades of purple, lavender, blue, pink, or white. Lavender varieties vary in bloom time, from late spring through summer.
Native to the Mediterranean region, lavender is easy to grow when given the right conditions. Plants prefer full sun, lean, well-draining soil, and are drought tolerant once established. This shrubby plant adds structure, color, and fragrance to beds, borders, and containers.
Lavender is a versatile landscape plant, pairing well with many other ornamental plants in mixed borders, waterwise landscapes, curbside strips, herb, and kitchen gardens. Here's what to plant with lavender and how to use these combinations in your yard.
LAVENDER COMPANION PLANTS
Companion plants have similar growing needs and complementary traits such as structure, texture, color, and shape that enhance the beauty of the combination. They may also provide benefits such as repelling harmful pests, reducing garden maintenance, or attracting pollinators. Here are some of the best companion plants to grow with lavender.
WHAT NOT TO PLANT WITH LAVENDER
Not all plants pair well with lavender. Here are some combinations to avoid:
Mint requires rich, evenly moist soil and will not thrive next to lavender.
Camellia has different growing needs than lavender, preferring partial shade and regular water.
Hosta needs partial to full shade in order to thrive. The attractive foliage can burn when placed in the full sun conditions that lavender requires.
Impatiens require partial to full shade, rich soil and moist conditions, making them incompatible with lavender.
Fuchsia prefers rich soil, partial shade and moist conditions, which is different from lavender growing needs.
Is lavender a good companion plant for vegetables?
Lavender attracts pollinators, assisting in crop pollination. It also repels pests that can harm food crops, particularly brassicas such as broccoli, cabbage, and cauliflower. Because lavender plants require less water and leaner soil than most vegetables, plant them in pots or adjacent beds where they can be cared for separately.
RELATED READING