10 Lessons from Famous Gardens
Practical ideas and inspiration you can use in your own garden
Along with offering beautiful grounds to explore, public gardens are full of insights into how homeowners can transform their own gardens. Here are 10 lessons from famous gardens that we hope will inspire you to try something new in your garden this year.
1. Fear not the tall plants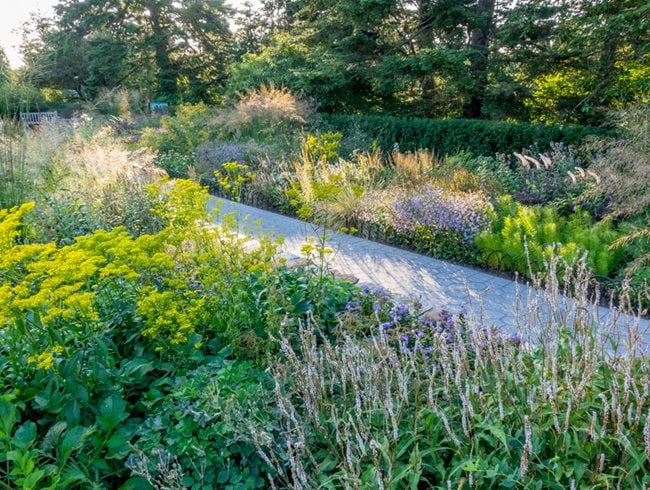 To give patrons planting ideas at the New York Botanical Garden's Seasonal Walk, Piet Oudolf used large plants like yellow Patrinia scabiosifolia, which grows to 70 inches, and golden Molinia 'Transparent', which blooms in back of the far border, reaching 96 inches. White Persicaria amplexicaulis 'Alba' blooms in the bottom right. Photo by Rob Cardillo.
Most gardeners tend to include tall plants at the back of borders, along fences, and behind shorter plants—but by rejecting the notion that tall plants belong in the back, you can create an immersive garden experience. Imagine your own garden. Is there a space that could be enhanced by tall plants? Perhaps you have a pathway along which you could plant 6-foot tall hollyhocks, or a sitting area that you could surround in perennial hibiscus plants (some varieties, such as Purple Pillar®, can reach 16 feet tall).
"Most people with small gardens are afraid of big plants," says garden designer and plantsman Piet Oudolf. At the New York Botanical Garden's Seasonal Walk, Oudolf wanted to provide examples for patrons to take to their private gardens. "When you're enveloped by a garden, it's a much deeper experience. You become more a part of the world around you." However, note that including large plants can be tricky. As some plant varieties get taller they tend to flop over; thus, an intricate support system of carefully selected plants is needed. Although, in its first year, "there's a certain unbalance," says Oudolf, who admits there are some plants that aren't big enough at that point to provide the proper structure; in subsequent years most plants mature to form their own support system.
A few other tall plants to consider for your garden: Joe-pye weed, sunflowers (Russian Mammoth is one of the largest varieties), and delphiniums.
2. Cater to the nose
Scented flowering plants. Clockwise from top left:
Bloomerang® Dark Purple lilac
'Scentsation' honeysuckle
Sweet Romance® lavender
At Last® rose
Photos by Proven Winners.
Smell is an often-overlooked element, but including it can be transformative for a garden. Plants like honeysuckle, lilac, roses, lavender, and jasmine are pleasing to the eyes and nose, and placement is key when it comes to including scented plants. At his garden in Indianola, Washington, plant hunter Dan Hinkley places fragrant plants along paths and on the bluff side of his house so that the scent of the plants wafts up to the patio and then into his home. Even if you don't have strong breezes, you can still place scented plants strategically: Include them on either side of a frequently used pathway for passersby to brush past, in pots next to your front door to greet visitors, or outside a window so you can enjoy the scent even when indoors.
Scented plants you'll love:
3. Celebrate the life cycle of plants
In the Seasonal Walk at the New York Botanical Garden, seed heads of plants like eastern beebalm (Monarda bradburiana) add ornamental value and food for birds. Photo by Rob Cardillo.
By letting plants do their thing and not immediately deadheading them when they're brown and dry, you will not only put less pressure on yourself, but you'll also gain appreciation for the beauty of plants at all stages. Oudolf is a strong proponent for browning seed heads and other plant parts as facets in his designs, considering them just as important as flowers. The dried seed heads of plants such as sunflowers, poppies, Allium, and pincushion flower (Scabiosa) are striking in the late-season garden. Run an experiment in your own garden by letting plants go to seed after they expire, then enjoy the show.
4. Succession plant edibles
Monticello's garden featuring tansy, 'Green Globe' artichoke, scarlet runner beans, tree onions, and tomatoes. Photo by Robert Llewellyn.
To enjoy the fresh fruits and vegetables you love for a longer period of time throughout the year, try staggering your plantings. Thomas Jefferson did this at his garden—Monticello in Charlottesville, Virginia—and was able to enjoy fresh vegetables almost all through the winter. In his General Gardening Calendar, Jefferson advises: "a thimbleful of lettuce [seed] should be sowed every Monday from February 1st to September 1st." Read more about succession planting in this article: Growing Vegetables in Small Spaces.
5. Embrace the beauty of food crops
At the entrance to Tomorrowland at Disneyland in Anaheim, CA, edible zonal geranium 'Elanos Blue' flowers and 'Rainbow' Swiss chard add ornamental value. Photo by Josh Endres.
Edible plants are beautiful too! Incorporate them into your garden the way you would incorporate ornamental plants. Artichoke flower heads, different varieties of kale and lettuce, mint, and fennel blooms are just a few edible plants that are striking in the garden.
At Disneyland in Anaheim, California, the horticulture team uses edible plants in beautiful ways. Adam Schwerner—Disneyland's director of Horticulture and Resort Enhancement—says, "We wanted to highlight the beauty of growing fruits and vegetables where they are visible instead of relegating them to the back of the garden, as is often the case." At the entrance to Tomorrowland, citrus trees flank the walkway, and persimmon, pomegranate, apple, avocado, and cherimoya trees that were taken from an orchard have been placed throughout this area of the park. Under the fruit trees are vegetables like Swiss chard in several colors, artichokes, and purple kale; and herbs such as lavender and rosemary. Some other eye-catching crops to plant in your garden: passionfruit (their flowers are jaw-dropping!), chives, and nasturtiums. It's all about looking at edible plants through a different lens. See several examples of edible plants used ornamentally.
---
6. Be intentional about color
A pair of blue Adirondack chairs next to vibrant blue hydrangeas at Chanticleer in Wayne, PA. Photo by Rob Cardillo
Strategizing about color when planting can make a significant difference in the look of a garden. There's a lot to consider: How do the colors of the various plants in your garden interact with each other? And how do the colors of plants interact with your home and other garden elements such as your fence, furniture, and home?
When it comes to color, Bill Thomas, the executive director and head gardener at Chanticleer in Wayne, Pennsylvania, advises gardeners to be deliberate. "Don't just plant a mix of whatever you see in a catalog," he says. One way the gardeners at Chanticleer strategize when it comes to color is by massing yellow daffodils that repeat the leaf color of a nearby variegated agave. Another strategy is to match blooms to nearby furnishings—a pair of blue Adirondack chairs with a vibrant blue hydrangea blooming close by is striking. "These intentionally designed spaces have impact," says Thomas.
Some ways you can be intentional about the colors you use: If you have a front door with a fun, vibrant color, put some potted plants of the same color or coordinating next to it or on the pathway leading up to it. If you have a planting bed in front of your home that you're thinking about replanting, be sure that the plants you pick don't clash or get washed out by your home's color.
7. Incorporate beautiful edging
Gardeners at Chanticleer in Wayne, PA, used bamboo to edge this pathway in the Asian Woods. Photo by Rob Cardillo.
When adding edging to your garden, choose a material that fits with your style and coordinates with your hardscaping. Edging defines walkways, keeps plants from encroaching on paths, prevents people from trampling plants, and it can even reinforce the theme of a space. At Chanticleer, Thomas says that the gardeners create edging out of materials appropriate for that particular space. For example, in the Asian Woods, the gardeners used bamboo edging; in the Gravel Circle, they used cobblestones.
Additionally, it's important to choose a durable material that you won't have to replace year after year. Plastic edging is inexpensive, but gardeners often become frustrated at the instability of it. Metal edging is subtle and long-lasting; bricks, pavers, and stones are also durable and lend a classic look; wood is beautiful, but keep in mind that it must be treated or it will rot over time.
8. Consider views from indoors
Silverwhite bark of birch 'Mt. Apoi' and fiery red stems of bloodtwig dogwood 'Midwinter Fire' shine above a carpet of low-growing plants. Photo by Richard Bloom.
When planning a garden, most homeowners are inclined to do their planning outside—in the garden. Of course, that's where much of the preparation needs to be done, but not considering how the garden will be viewed from inside your home is a missed opportunity. Adrian Bloom of The Bressingham Gardens in Norfolk, suggests giving yourself great interior views. "Consider views from the windows where you spend a fair amount of time," Bloom says. That might be the kitchen, a favorite couch, or cozy sitting room. If you're lucky enough to have a window in your house that looks out into your own garden, think about how you can improve that view. Seeing a grouping of plants with blooms of your favorite color, a bird bath, or a tree that changes colors with the seasons could significantly impact your mood. If you don't have control over much of the landscape outside your window, consider putting a trellis along the wall next to the window and planting it with a climbing plant.
9. Find what you love…then get more of it
Golden barrel cactus and large weeping Euphorbia ingens along a pathway at Lotusland in Santa Barbara, CA. Photo by Claire Takacs
If you find that a particular plant does well in your region and you love the way it looks, why not plant more of it? That's what the late Ganna Walska did at Lotusland—her garden in Santa Barbara, California—and the results were stunning. "She had this collecting sort of vein," Lotusland's Chief Executive Officer, Gwen Stauffer, says. Visitors to Lotusland can view some of the most impressive collections of plants such as cactuses, succulents, and ferns. There's a portion of the property dedicated to roses and an entire garden filled with blue plants. "She was unafraid to crowd things together, as it brings big plants close to the edges of the walkway. And by doing that, she gave every single garden room its own personality and sense of space," Stauffer says.
Pick your theme, then go wild. Love aloes? Designate a particular spot in your garden to try several aloe species, and see how they do. Love red flowers? Figure out which plants with red flowers do well in your area and pick a spot of your garden to fill with red-blooming plants. The options are seemingly limitless, and experimentation is what gardening is all about.
10. Keep a garden journal
Logging successes and failures in your garden helps inform your future gardening decisions and puts less pressure on you to remember specifics (such as when you planted the seedlings of that tomato plant that provided you with a plentiful bounty!). This isn't a new idea—gardeners have been doing it for years with great success: Thomas Jefferson kept a garden journal for 58 years to keep track of his failures and successes at Monticello. Elsie Reford kept meticulous daily records of her trails, errors, and successes at Les Jardins de Métis Quebec, Canada. Her husband, Robert, even photographed the garden over the years. Though you don't need to go to that extent, even keeping just a simple log is a major step you can take to become a more successful gardener.