Thomas Jefferson's Monticello
Thomas Jefferson was a passionate plantsman—and epicure. A recent book sheds light on the restoration of Monticello's bountiful garden.
On a hot afternoon last summer at Monticello, Peter Hatch walked toward a redbrick colonial pavilion pierced with floor-to-ceiling arched windows, then past neat rows of young okra plants (Abelmoschus esculentus), then he stopped at an edging of tomato plants. Hatch, who spent the past 35 years restoring Thomas Jefferson's legendary garden, was neither leading a group of visitors (nearly a half-million arrive yearly) through the 200-some varieties of plants, nor checking on the progress of the flowering caracalla bean or Texas bird pepper.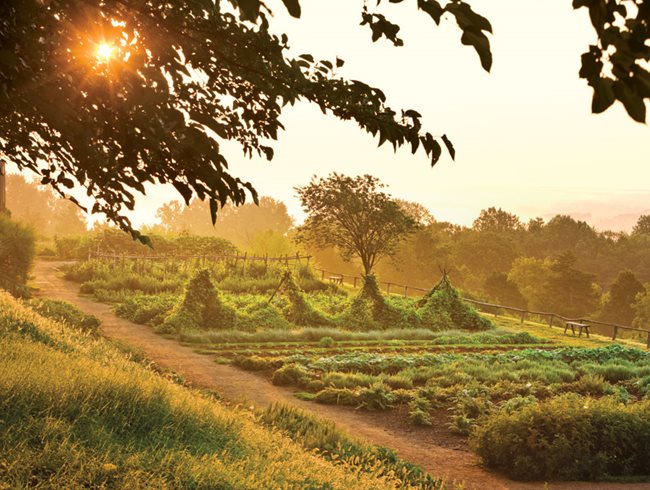 Monticello's garden now features tansy, 'Green Globe' artichoke, scarlet runner beans (on the poles), tree onions, and tomatoes (on the trellis), shown here. Photo by: Robert Llewellyn.

SEE MORE PHOTOS OF THIS GARDEN
Rather, he was hunting for the final ingredient for his lunch. From a vine, he plucked an heirloom tomato, warm from the sun on the south-facing slope. "Although we don't know the exact heirloom varieties that Jefferson grew," says Hatch, whose official title was director of gardens and grounds at Monticello until he retired, "we cultivate a pre-Columbian variety here, popular in the 19th century, called 'Purple Calabash', with a high, rich, acidic flavor to it. It's the sweetest tomato I know, and I just love it on my sandwich."
For decades, the 1,000-foot-long, 80-foot-wide terraced vegetable garden was unattended and covered by layers of dirt. It was known only through writings until archaeologists began its excavation in the late 1970s. With Hatch at the helm, the plot has since been transformed into a thriving approximation of Jefferson's own experimental garden on his plantation estate in Charlottesville, Virginia. During Hatch's tenure as garden steward, he nurtured a number of 19th-century varietals, but his latest perennial is a new book, A Rich Spot of Earth: Thomas Jefferson's Revolutionary Garden at Monticello (Yale University Press; $35). "It represents a culmination of my interest in Jefferson and my taking care of the garden," says Hatch, who can talk at length about Jefferson's experimentations with then-unknown varieties of okra, peppers, sweet potatoes, lima beans, peanuts, eggplant, tomatoes, peas, and asparagus, which Jefferson "adapted to a specially created growing site shaved from the southern side of a mountain and situated in a microclimate."
The book is particularly timely given the growing importance of the farm-to-table practice. From the rooftop plots of urban restaurants, to Michelle Obama's organic White House garden, to the slew of suburbanites replacing grass yards with corn and kale, easy access to sustainably grown organic produce has become an increasing imperative in the face of impending public health issues and ecological concerns—not to mention epicurean satisfaction. Jefferson, in his dedication to nurturing such a varied—and tasty—garden, which fed dozens, stands out as a founding father of the farm-to-table movement.
Jefferson was fond of sesame, which is shown growing here (on the left). He also grew 'Red Calico' lima beans (on the right). After sampling sesame oil, he wrote, "This is among the most valuable acquisitions our country has ever made." He grew it for decades, but it is not commonly farmed here today. Photo by: Robert Llewellyn.

SEE MORE PHOTOS OF THIS GARDEN
A testament to Jefferson's relevance today and to the impact of Hatch's endeavors, the foreword of the book was written by chef Alice Waters, one of the most devoted and celebrated proponents of organic, locally grown produce. "Peter's vibrant and enthusiastic passion for preserving Thomas Jefferson's farming legacy at Monticello reminds us all of the time-tested continuity and historical roots of this kind of agriculture," she writes. "We desperately need to reconnect ourselves to the pastoral self-sufficient tradition that Jefferson built; nothing is more vital than returning this tradition to the very heart of American culture."
Waters previously prepared a dinner at Monticello for 250 guests, including several high-profile chefs, using many ingredients gathered from the on-site garden. Meanwhile, Michelle Obama, another vital voice of the farm-to-table movement, has visited Monticello for inspiration twice over the past few years. Hatch gave her a small Marseille fig tree that Jefferson grew, and it now flourishes in the White House garden.
Hatch is quick to point out that his work has been more a matter of restoring "the spirit" of Jefferson's garden than actually replicating it. "It's less a testament to Jefferson as a wizard horticulturist than a reflection of his indefatigable optimism, his love of good, healthy food, and his unrelenting expansionist tendencies, which are at the core of the American experience," he says. In his quest for a highly diverse, well-rounded garden, Jefferson tirelessly experimented with nonnative varieties. "He kept planting and planting and planting. If something died, he'd plant something else. He planted the wine vineyards six different times alone."
Thomas Jefferson tended the vegetable garden at Monticello with famous verve, exchanging seeds with correspondents across the world and continuously experimenting with plants to see if and how they would grow in Charlottesville's climate and soil.

Jefferson also adored carrots and established a yearly quota of 10 bushels for the plantation garden. The root vegetable—orange as well as yellow—was featured in numerous dishes at Monticello, including porridge.

Dacus carota is pictured here. Photo by: Robert Llewellyn.

SEE MORE PHOTOS OF THIS GARDEN
Of the some 330 varieties and 99 species of vegetables and herbs that Jefferson attempted to grow, Hatch estimates that about 15 percent of the original varieties and species are now in evidence. "Sure, we can grow purple cauliflower that he wrote about, but we're not sure of the variety," says Hatch." His Marseille lettuce is one example of something we can't even find today. But in terms of the bones and structure of this garden, were Jefferson to return here, he would find what he sees to be familiar."
Hatch has taken much direction over the past few decades from Jefferson's 66-page "Garden Book Kalendar" (sic), a candid diary of Jefferson's garden victories and failures from 1766 to 1824. In addition to providing valuable tasting notes, he documented where plants were located and the dates they were sowed, transplanted, and served. Above all, it's a lesson in perseverance for those tending vegetable gardens today. "Few gardeners wrote about failure as often as Jefferson did," says Hatch. "When something failed, he would often find a new place on the property to grow it, perhaps a lower, wetter, cooler place, which is what he did with cabbage."
His unrelenting efforts, Hatch explains, also translated into a serious bounty. "He kept planting so that there would be a continuous harvest," he says. "That's a good lesson a lot of gardeners today don't follow. He said it was important to 'sow a thimble-full of lettuce every two weeks.'"
While the garden fed Jefferson's family, staff, and slaves, as well as members of the local community, today the produce is used for events at the historic monument and given to employees.
One of the strongest traditions that remains is the holistic, sustainable approach to pests, weeds, watering, and fertilizing. Natural pesticides are used, as are irrigation and composting. Jefferson was really "America's first foodie," says Hatch. Today, that not only means seeking out the most delicious food available, but cultivating it in a way that ensures the well-being of the land for generations to come.
This article was published in the Sept/Oct 2012 issue of Garden Design as "Founding Farmer."
RELATED:
Top 20 Public and Botanical Gardens in the U.S.
Growing Tomatoes