20 Beautiful Blue Flowers for Your Garden
Turn your garden from blasé to blue-tiful with easy-to-grow perennials, annuals, and shrubs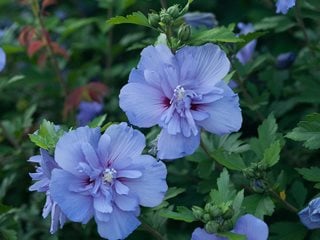 Blue Chiffon® rose of Sharon. Photo by: Proven Winners.
Dutch painter Vincent Van Gogh may not have been a gardener, but he was clearly an admirer of blue flowers, perfectly capturing their beauty in his famous painting Irises (1889). Perhaps as an artist he knew Mother Nature's secret to producing "true" blue flowers, which is actually a blend of plant pigments that reflect light in such a way to create the illusion of natural blue. (Even flowers can benefit from the right lighting!)
Making up less than 10% of the flowering plant kingdom, plants with blue blooms are a rarity, but you still have many options. This elite color group includes a wide range in shades ranging from sky blue to deep indigo and growth habits from groundcovers to large shrubs. And if you plan carefully, your garden will be singing the blues from early spring through late fall.
RELATED:
Garden Color Schemes
24 Purple Flowers to Brighten Your Garden
32 Red Flowers for a Gorgeous Garden
34 Yellow Flowers for Your Garden
How to Start a Flower Garden