Suburban Sanctuary: A Garden for Food and Wildlife
A Pacific Northwest gardener creates a suburban sanctuary for growing food and nurturing wildlife.
Published 8/4/2022
When Allison Ronney decided 3 years ago to renovate her 1/4-acre property, her primary goals were to create a pollinator haven and a small vegetable garden that was functional yet beautiful to look at. Her suburban Bellingham, Washington yard (USDA Zone 8a) borders a nature reserve, which is a verdant habitat for birds and other wildlife.
The property was littered with small boulders and overgrown with blackberries and native ocean spray shrubs (Holodiscus discolor). Allison cleared the blackberries and other weedy vegetation, and the rocks were excavated to build a terraced wall. "I try to use what's already here to augment the natural landscape," she says.
See below for Allison's design tips.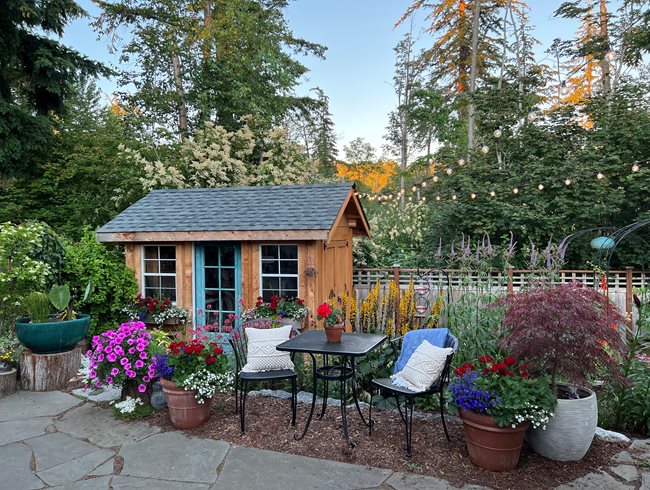 The stone patio and seating area were designed to be viewed and enjoyed from the house. Decorative touches include containers and window boxes planted with cheerfully colored annuals.
A miniature water garden planted with aquatic varieties is one of several water features. "I didn't want an in-ground pond that required a lot of maintenance. Placing water features in different spots around the yard helps to attract a variety of birds and other wildlife," Allison says. A log pedestal is one of many natural features from the property that are integrated into the landscape.
Allison divided the yard into garden rooms, each with a different function. This serene Japanese garden was sited off the back porch in one of the few areas with shade. A bubble fountain provides the soothing sound of trickling water that can be enjoyed from the porch or inside the home. An adjacent fenced dog run provides a place for pets to play. (Read more about garden rooms.)
Because the native soil was rocky, raised vegetable beds were essential. The four beds produce an abundance of tomatoes, zucchini, potatoes, broccoli, cauliflower, salad greens and herbs. An adjacent seating area with a fire pit is a favorite place to lounge on summer evenings.
Found at a garage sale, a 1940's bicycle is one of many vintage objects that Allison incorporates into the garden. "It reflects my passion for bicycle riding," she says. A basket planted with bright yellow coreopsis complements the blue bicycle frame.
The wedge-shaped property presented a challenge when it came to designing the different garden rooms since nothing is square. An odd shaped secluded corner became a secret garden with cozy seating that is illuminated at night with decorative solar lanterns.
In the vegetable garden, Allison combines function with beauty to create this imaginative vignette. Blue Lake pole beans are trained on an arbor that arches over a wooden tub planted with rhubarb. The curved shape of the arbor contrasts with the straight fence lines, while bold rhubarb foliage sets off the smaller heart-shaped bean foliage to create an engaging scene.
An old cement birdbath was repurposed into a low-maintenance succulent garden that needs little or no supplemental water. The birdbath is topped with a classic urn planted with more succulents and spiky dracaena for additional height and Victorian flair.
A vintage copper teakettle repurposed into garden decor creates an element of whimsy. The kettle is planted with annual bidens and creeping zinnia (Sanvitalia procumbens) that provide months of cheerful summer color.
Lavender, a favorite plant of pollinating bees, is harvested to share with friends and hung to dry. Allison uses the dried lavender buds to make Christmas gifts such as scented sachets and soaps, as well as flavored salt.
Allison collects vintage items found at antiques stores, specialty shops, yard sales and online sources. An old bench found on a farm is used to display potted herbs, a rustic wooden toolbox becomes a miniature succulent garden, and a tin bucket is repurposed as a planter for lavender.
'Rosita' hummingbird mint (Agastache cana) is one of Allison's favorite plants. This upright shrubby perennial blooms profusely with rose-pink flower spikes from early summer to fall. "I like the structure and scent that it adds to the garden. The hummingbirds and insect pollinators love it," Allison says.
Culver's root (Veronicastrum virginicum 'Lavendelturm') is always an attention getter with garden visitors. "It's not a well-known plant, so most people have never seen it before," says Allison. She likes the unique candelabra-like structure it adds to the pollinator border, plus it's a favorite of bees and butterflies. This adaptable hardy perennial, which blooms from mid-summer to fall, produces showy blooms on robust stalks up to 6 feet tall.
ALLISON'S DESIGN TIPS
Create destinations. Allison creates defined areas and visually exciting vignettes throughout the landscape to add an element of surprise. "I want visitors to stop and become immersed in a particular plant or feature, to wander and explore to see what else is just around the corner," she says.
Use what you already have. Allison likes to integrate natural materials from her property into the garden design. Boulders were repurposed into a terraced wall, while log sections cut from fallen trees became pedestals for planters and garden decor.
Choose a style that complements your home and personal taste. "The rustic country look that I strive to achieve in my yard complements the casual suburban lifestyle where I live," Allison says.
Try new things. "Don't be afraid to change up your plantings or move things around," Allison says. She often moves plants or substitutes new ones if they don't work in a particular area. Adding a new keepsake or rearranging furniture can bring a fresh look to a tired space. "I like lots of color," she adds.
Repurpose used finds. "I enjoy searching for salvaged items to add a vintage touch," Allison says. On weekends, Allison and her sister browse antiques stores and local shops to find just the right collectable. "I don't always know where I'm going to put something when I buy it, but I eventually find just the right spot."
Plant for wildlife. By creating a pollinator garden and providing food, shelter and water, Allison attracts a diversity of birds and other wildlife. Include regional native plants in your landscape and place birdbaths, saucers, fountains or waterfalls around the yard to attract different birds, insects and other critters. "My water features are visited frequently by robins, sparrows and goldfinches. It is truly a joy to sit on our patio and marvel at nature," Allison says.
Join us for our next webinar!
WORKING WITH BULBS:
The Great Dixter Way
with Fergus Garrett
Saturday, October 21st @ 12PM EDT
RELATED READING