Caring for Camellias
The experts weigh in on properly caring for camellias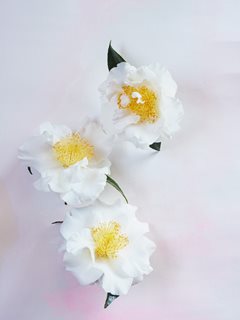 Camellia japonica 'Silver Waves' is a refined introduction from Nuccio's Nurseries. It has undulating bright-white petals frothing around a clutch of yellow stamens. Adorned with numerous large blossoms in mid- to late winter. Zones 7-9. Photo by: Ngoc Minh Ngo.
Camellias have been prized possessions of gardeners throughout the country for decades, and indeed the world for centuries. Here are the basics on caring for camellias in your garden.
Selection.
Pick the right camellias for your zone and your site. Most thrive in Zones 7 through 9, but some are hardy to Zone 6. If you're at the northern limit of their range, make sure you have a spot protected from winter sun and winds.
Light.
Most camellias prefer dappled light, but a few varieties need (or tolerate) more sun than others.
Plant Placement.
Plant level with the soil surface; especially avoid planting too deep. Give camellias room to grow. While a few varieties are shorter and most are slow growing, Tom Johnson (executive director of Magnolia Plantation and Gardens in Charleston, South Carolina) emphasizes that "camellias are trees." The collection at Magnolia includes specimens 10 to 30 feet tall, some with 8-inch trunks; such unimpeded maturity, says Johnson, lends "stature and dimension" to the garden.
Water and Soil Conditions.
Camellias need good drainage and organically rich, slightly acidic soil. Water regularly for the first couple of years; after establishment, camellias won't need as much additional water.
Maintenance.
Avoid "mulch volcanoes"; as Celeste Richard, executive director of the American Camellia Society, says, "mulch out, not up." For pests, natural products are available, such as neem oil. Camellia petal blight affects flowers and buds, turning them an unsightly brown; remove spent flowers and do not let old flowers linger on the soil surface. Dispose of flowers in garbage, not compost, as composting will likely spread the fungal spores. Pruning is not required, but can be done after blooming is finished in spring. A general 10-10-10 fertilizer can be applied at the same time.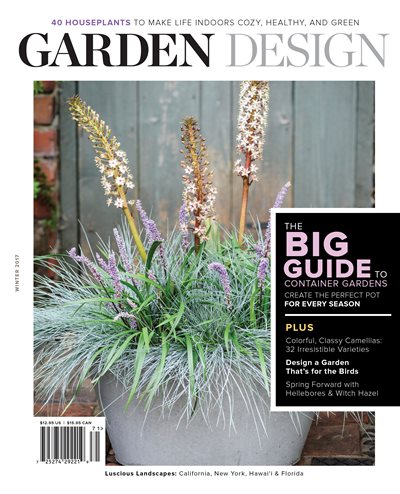 Winter 2017 - Issue 197
This bonus content accompanies "32 Bold Beloved Beauties"—an article about captivating camellias—in the Winter 2017 issue of Garden Design magazine. Click here to purchase this issue.
Want more? Subscribe to receive future issues of Garden Design.
RELATED: