How to Grow and Care for Forsythia Bushes
Add this reliable favorite for early spring color
A true harbinger of spring, forsythia is one of the first shrubs to bloom, providing a cheerful burst of color when gardeners need it most. The sunny yellow flowers often start blooming even when there's still snow on the ground, illuminating the landscape, and giving hope that warmer days are not far off. This versatile plant can be used in a variety of ways, from a singular focal point to hedging or foundation plantings.
A member of the olive family, there are 11 species native to open woodlands of Asia and Eastern Europe. This tough deciduous shrub is valued for its ability to thrive in a wide range of conditions, and can be grown in most regions. Hardier varieties are recommended in northern climates where flower buds may be damaged from extreme cold or temperature fluctuations. Newer cultivars have been bred for compact stature more suitable to urban lots, as well as unusual foliage and colored stems that lend multi-seasonal interest in the landscape.
On this page: Basics | Planting | Care & Maintenance | How to Choose the Right Forsythia | Forsythia Pictures | Design Ideas | Forcing Branches to Bloom
FORSYTHIA BASICS
Zones:
3-9
Height/Spread:
Upright arching habit, 1 to 20 feet tall and 3 to 10 feet wide
Exposure:
Full sun to partial shade; blooms most in full sun.
Bloom time:
Early-mid spring
Color and characteristics:
This deciduous shrub is grown primarily for the bright yellow blooms that appear in early spring. Four-petaled, bell-shaped flowers occur the entire length of the branches before the foliage appears. Leaves are green or variegated, and pointed with a serrated edge. Since the flowers are not obscured by foliage, they put on an exceptional show. Small brown capsule-like fruits are inconspicuous. Fall foliage is generally insignificant, though it can take on purple, red, or yellow tinges. Flowering branches maybe be cut for bouquets or forced into bloom indoors during the bud stage, adding a ray of sunshine to the home. Forsythia is tolerant of urban conditions such as air pollution and salt.
Toxicity:
All parts of forsythia are non-toxic to dogs and cats. (See more plants that are safe for pets.)
PLANTING INSTRUCTIONS
When to plant:
Plant during milder months of spring or fall to avoid heat or cold stress.
Where to plant:
Choose a sunny to lightly shaded site with fertile, well-draining soil that will stay evenly moist.
How to plant:
Loosen soil in the planting area and work in compost. Remove plant from container and gently tease out roots or slice the rootball in several places if potbound. Dig a hole twice as wide as the rootball and deep enough so the top of the rootball is slightly above or level with the surrounding soil surface; avoid planting too deep. Fill in the hole, gently tamp down soil around the base and water well. Spacing depends on the variety; allow for adequate air circulation for healthy plants.
CARE & MAINTENANCE
Pruning:
Forsythias are fast-growing and require regular pruning to retain an attractive appearance. They are best pruned in a way that retains their natural arching shape. Pruning or shearing them into a hedge will often result in a loss of flowers and the resulting dense growth habit may increase the risk of fungal disease.
They bloom on old wood, so should be pruned just after flowering so that the next year's blooms won't be lost.
Annually: Remove dead branches and shape as needed after flowering.
Every 2 to 3 years: Before plants break dormancy in late winter, thin out 1/4 to 1/3 of the oldest stems, cutting them back to the ground to open up the plant and improve air circulation. Trimming the stems only part way down will result in new branching just below the cut, causing overly dense foliage, with flowers only occurring at the tips.
Overgrown specimens can be rejuvenated by lopping the entire plant to several inches above the ground.
Soil:
Forsythias prefer well-draining soil amended with rich organic matter, though they are tolerant of a wide range of soil conditions. Ideal pH ranges from 6.8 to 7.7, from neutral to slightly alkaline.
Amendments & fertilizer:
When soil is properly amended and maintained, forsythia needs little to no supplemental fertilizer. If desired, apply a slow-release fertilizer that's formulated for trees and shrubs in early spring. Spread fertilizer around the root zone according to instructions and water in thoroughly. Mulch with 1 to 2 inches of organic matter to retain moisture and suppress weeds.
Watering:
When planted in optimal conditions, forsythia exhibits few, if any problems. Possible fungal diseases include phomopsis gall, twig blight, anthracnose, leaf spot and yellow leaves. Pests include aphids, tarnished plant bug, Japanese weevil, and nematodes. To discourage problems, keep areas around plants clean, provide good air circulation, and minimize overhead watering.
Deer resistance:
Deer will leave forsythia alone for the most part, though extreme conditions can result in deer grazing on plants they wouldn't otherwise. See more deer-resistant plants for your garden.
HOW TO CHOOSE THE RIGHT FORSYTHIA
Since forsythias are fast growers, the most common mistake that gardeners make is to plant a variety that will grow too big for the space. They then try to keep the plant smaller than its normal mature size, resulting in a loss of flowers and poor growth habit. Here are some tips to consider when selecting forsythia for your yard.
For borders and landscapes:
Choose varieties that will fit the scale of your landscape. Use as hedging, screening, in a mixed border, as foundation plantings or a stand-alone focal point. Allow room for plants to mature without becoming crowded.
For slopes and hillsides:
Select varieties suitable to the size of your property and mass along a slope or hillside for erosion control.
For containers:
Dwarf types will stay smaller and are less likely to overwhelm a space. Use as a stand-alone focal point in a medium to large container and combine with spring-blooming bulbs or groundcovers.
DESIGN IDEAS
There are many ways to incorporate forsythia into your landscape. Here's how:
Plant a specimen in the middle or back of a mixed border where the neutral green foliage will lend a backdrop to surrounding plants with flowers or colored foliage.
Choose a medium to large-sized ceramic pot that's brightly colored. Plant with a dwarf variety and underplant with early spring-blooming bulbs such as crocus, small narcissus and snowdrops. Add small grasses, groundcovers or annuals for multi-seasonal appeal. Site the container near your home's front door or other well-trafficked area where you can enjoy the early spring display up close.
Plant a larger variety as hedging along a property line for privacy.
Place a small to medium-sized variety along your home's foundation in combination with other flowering shrubs such as azalea, abelia and bluebeard that bloom at different times throughout the growing season for continuous color.
Naturalize larger specimens in a woodland border that can be seen from inside your home for an uplifting view to enjoy at the end of the long winter. Add bulbs such as species crocus and narcissus that will bloom at the same time and multiply over time.
Mass a groundcover type along a bank or slope for erosion control.
Site a variegated form at the end of a pathway for a compelling focal point that will draw your eye through the landscape in all seasons.
HOW TO FORCE FORSYTHIA BRANCHES INTO BLOOM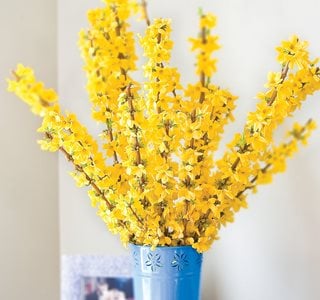 Photo by Proven Winners.
Forsythia branches can be cut and brought indoors, even in the bud stage. Here's how to get the most out of your late winter bouquet.
Choose branches with plump buds 2 to 4 weeks before normal bloom time.
Cut branches at least 12 to 18 inches long at a 45-degree angle to help stems absorb water.
Trim off lower flower buds and side shoots that would sit below water level.
Place branches indoors in a vase with lukewarm water and set in a bright location near a window.
Change water every few days to keep bacteria from forming, which can cause branches to rot.
Flowers may take from several days to a couple of weeks to open.
RELATED:
Shrubs 101
Best Flowering Shrubs for All-Season Color