HOW TO GROW & CARE FOR SWEETSHRUB (CALYCANTHUS)
This easy-care native shrub provides long-lasting color and fragrance to beds and borders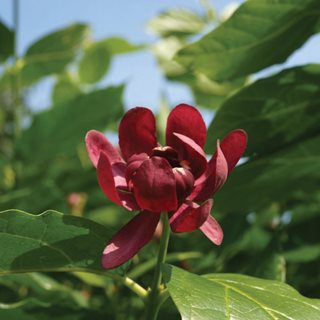 'Aphrodite' sweetshrub. Photo: Proven Winners
Sweetshrub is a deciduous bush named for the spidery magnolia-like flowers that exude a sweet fruity fragrance. Also known as spicebush, allspice, and strawberry bush, most varieties are native to North America, growing as an understory shrub in forests, moist woodlands, and along stream banks. This reliable medium-to-large-sized shrub is virtually carefree once established, offering multi-season appeal in the landscape.
The fragrant flowers attract bees, butterflies, and other insect pollinators, with plants providing cover and nesting habitat for songbirds and other wildlife. Sweetshrub is versatile in shrub borders, as hedging or screening, in foundation plantings, or naturalized in a native garden. Here's how to grow and use it in your yard.
On this page: Basics | Planting | Care | Pictures | Frequently Asked Questions | Landscaping Ideas
On this page:
SWEETSHRUB BASICS
Botanical name:
Calycanthus spp.
Plant type:
Deciduous shrub
Zones:
4-9, depending on the variety
Exposure:
Full sun to partial shade
Habit:
Upright dense bushy habit
Height/Spread:
5 to 10 feet tall, 4 to 12 feet wide, depending on the variety
Bloom time:
Spring to summer
Flowers:
Magnolia-like flowers in colors of burgundy, red, pink, yellow, or white occur for weeks in spring and summer, with some sporadic re-bloom. Most varieties are scented, with fragrance that varies depending on the variety, air temperature, and time of day. The sweet aroma is described as a combination of pineapple, strawberry, and banana.
Foliage:
Deciduous oval-shaped leaves reach 4 to 10 inches long. Foliage is green or burgundy, developing bright yellow color in fall.
Fruit:
Flowers are followed by irregular urn-shaped pods 1 to 2 inches long containing pea-sized seeds. The non-edible green fruit capsules fade to coppery brown, persisting into winter.
Toxicity:
Sweetshrub can be mildly toxic to pets and humans if ingested in large quantities.
HOW TO PLANT SWEETSHRUB
When to plant:
Plant sweetshrub during milder weather in spring or fall to avoid transplant shock from extreme cold or heat.
Where to plant:
Choose a site that receives at least 6 hours of full sun with rich, well-draining soil. Sweetshrub blooms best in full sun, with protection from hot afternoon sun in warmer climates. Plants are shade tolerant, though they will flower less and grow taller in shade.
How to plant:
Loosen soil in the planting area and amend with compost or other rich organic matter. Dig a hole twice as wide and the same depth as the root ball. Remove plant from the nursery container and loosen roots if potbound. Place in the hole so the top of the root ball is level with the surrounding soil. Fill in the hole with soil, tamp down gently to remove air pockets, and water thoroughly. Water regularly until plants are established. Space plants 5 to 12 feet apart, depending on the variety.
SWEETSHRUB CARE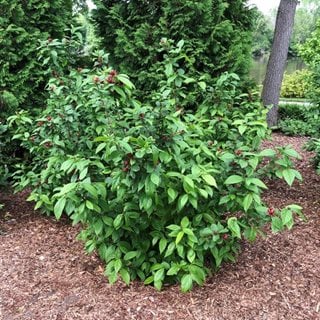 Simply Scentsational® sweetshrub. Photo: Proven Winners
Soil:
Sweetshrub is tolerant of a wide range of soils but prefers rich, well-drained soil with an acid to alkaline pH between 5.0 to 8.0. Soil may be amended with compost or other organic matter before planting. For containers, use a high-quality, all-purpose potting mix.
Amendments & fertilizer:
In spring, apply a balanced slow-release fertilizer especially formulated for trees and shrubs according to instructions. Mulch plants with a layer of compost to add nutrients, suppress weeds, and retain soil moisture.
Watering:
Sweetshrub does best with moderate water and is somewhat drought tolerant once established. Water more frequently during prolonged heat and dry spells. Don't allow soil to dry out completely.
Pruning:
Sweetshrub blooms on the previous year's growth (old wood). Prune immediately after flowering to shape as needed. Cut out any damaged, diseased, or crossing branches.
Pests and diseases:
When grown in the right conditions, sweetshrub is free of most pests and diseases. Pests can include aphids, bark beetles or whiteflies. Diseases include powdery mildew or bacterial crown gall.
SWEETSHRUB VARIETIES
FREQUENTLY ASKED QUESTIONS
Is sweetshrub invasive?
This shrub spreads by root suckers, but is not considered invasive. Keep plants from spreading by cutting back outer roots as they emerge.
Where is sweetshrub native?
Most Calycanthus species are native to North America. Chinese sweetshrub (Calycanthus chinensis) is native to China.
Do deer eat sweetshrub?
Calycanthus is resistant to deer browse, though deer may graze on almost any plant if they are hungry enough.
Is sweetshrub edible?
The aromatic bark, leaves, and roots are sometimes dried and used as a cinnamon substitute. Plants can be mildly toxic in large amounts.
SWEETSHRUB LANDSCAPING TIPS
There are many ways to use sweetshrub in your landscape. Here's how:
For borders and landscapes:
Grow in a mixed border, native garden, shrub border, or woodland setting.
For slopes and hillsides:
Mass along a slope to help stem erosion.
For containers:
Smaller specimens can be planted in containers.
Place near a well-used pathway, patio, deck or entryway to enjoy the sweet fragrance.
Plant a row along a property line or fence for privacy.
Include a medium-sized variety in a foundation planting alongside deciduous shrubs that bloom at different times during the growing season for continuous color.
Use a hedge to divide garden rooms.
Create a native shrub border that offers shelter, food and nesting habit for songbirds and other wildlife.
Use as a green backdrop to shorter shrubs and perennials in a mixed border.
Companion plants: Combine Calycanthus with other native shrubs such as beautyberry (Callicarpa americana,) bottlebrush buckeye (Aesculus parviflora), California lilac (Ceanothus), ninebark (Physocarpus opulifolius), summersweet bush (Clethra alnifolia), and Virginia sweetspire (Itea virginica).
RELATED:
How & Why to Plant a Native Garden
16 Best Flowering Shrubs
Fragrant Flowering Plants