10 Late-Blooming Flowers for the Fall Garden
From the cheerful willow-leaved sunflower to the striking toad lily, we have 10 garden show-stoppers who may be late, but are definitely worth the wait.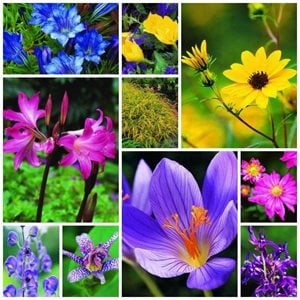 Related Reading:
Autumn Gardening - Tips for creating a gorgeous fall garden, including what plants, flowers and vegetables to grow
Expert Plant Picks for Your Fall Garden - Dan Hinkley's alluring plant selections for the fall garden offer up thrilling displays of purples, pinks, and reds as other plants and seed heads are turning brown
Although it's tempting and probably easier to design gardens that present one big, colorful scene in spring and early summer, let's not forget the later acts of the gardening season. Even if high summer is a challenge to get through physically and horticulturally, late summer and much of fall can awaken our interest and provide plenty of enjoyment before the curtain falls for winter.
Two groups of plants can play significant roles: herbaceous perennials that wait quietly in the wings before giving late but stellar performances, and bulbs that seem to appear out of nowhere for their brief but memorable cameo roles. These eventual extroverts merit consideration for your own garden drama.
Appeal: These plants provide extended interest in the garden, and their sometimes sudden appearance can seem almost magical.
Zones: See the individual descriptions for hardiness zones.
Exposure: These plants grow well in full sun to part shade, except gentian and tricyrtis, which require protection from strong, hot sun.
Soil: The bulbs (amaryllis, sternbergia and autumn crocus) do best in well-drained soil that retains some moisture when the plants are actively growing. Although difficult to work, stony sites will discourage digging and depredation by hungry rodents. The perennials shown here thrive in fertile, moist but well-drained organic soil. See the descriptions for special needs.
Care: When tending late bloomers remember their location when "off stage," especially the bulbs. Mark their sites with labels or other indicators, or grow a gently spreading ground cover or shallow-rooted annual in the same location.
Susan A. Roth
1. Solidago rugosa 'Fireworks'
'Fireworks' goldenrod is tough but graceful and more compact at 2.5 to 3 feet tall than the species (3 to 4 feet tall), creating a fountain of golden flowers on arching stems. Zones 4-8.
Bloom time: September to October
Learn more about goldenrod plants.
Luke Neale Photography / Shutterstock
2. Gentiana sino-ornata (autumn gentian)
Low, foot-wide mats of short, grassy leaves produce a mass of 2 to 4-inch, electric-blue bells. Gentain is happiest in a well-drained, neutral to acidic soil. Try it in shallow pots or a rock garden. Zones 3-9.
Bloom time: Late August to October
Susan A. Roth
3. Helianthus salicifolius (willow-leaved sunflower)
Tall (to 10 feet!) and dynamic, with narrow leaves and exuberant sprays of 2-inch, golden flowers. Tolerant of both dry conditions and wet soil. Ripening seeds attract birds. Good fresh cut flower. Zones 4-9.
Bloom time: September to October
Learn more about growing sunflowers.
Susan A. Roth
4. Amaryllis belladonna (belladonna lily)
Bulb with fragrant pink flowers that appear in late summer on leafless 18- to 24-inch stems that seem to jump out of the ground. Leaves emerge in spring and die back in the heat of summer. Needs a site that is warm and dry in late summer. Zones 7-10.
Bloom time: August to September
Learn more about growing amaryllis.
Susan A. Roth
5. Tricyrtis formosana (toad lily)
Clump-forming, gently zigzagging, 2-foot stems bear their distinctive, amethyst-freckled, pale pink flowers in shady locations. Glossy foliage adds textural interest all season. Zones 4-9.
Bloom time: August to September

Susan A. Roth
6. Lobelia ×speciosa 'Kompliment Blau' (lobelia)
Dark green, basal-leaf rosettes send up 2- to 3-foot spikes of intensely blue flowers in midsummer to early fall. Stunning when contrasted with its brilliant red cousin Lobelia cardinalis. Zones 6-8.
Bloom time: July to September
Susan A. Roth
7. Anemone hupehensis var. Japonica 'Bressingham Glow' (Japanese anemone)
Lusty, loose mounds of big, coarse leaves offer a background for wind-animated clusters of silky-sheened pink blooms on stems to 4 feet tall. Spreads moderately when happy and requires little care. Blooms more heavily and over a longer period than older selections. Can become invasive in some areas. Zones 5-8.
Bloom time: August to October
Learn more about growing anemone flowers.
Susan A. Roth
8. Sternbergia lutea (fall daffodil)
Diminutive (rarely to 6 inches tall) but assertive elfin bulb with golden flowers that pop out of the ground in fall. Foliage remains through winter and disappears in spring. Tolerant of shade. Plant in early summer in large groups for greatest impact. Zones 6-9.
Bloom time: September to October
Mark Turner
9. Aconitum napellus
Monkshood has dark green, glossy leaves and 2-inch, blue-violet flowers reminiscent of delphiniums but it is usually much easier to grow. To 4 feet in bloom unless stunted by dry soil. Extremely poisonous. Often the earliest of the late bloomers to flower. Zones 3-7.
Bloom time: July to August

Mark Turner
10. Crocus speciosus (autumn crocus)
This small bulb (actually a corm) barely reaches 6 inches high, but the color carries across the garden. The easiest of the late-blooming crocus to perennialize, it multiplies readily. Plant in variously sized groups for a more natural look. Zones 4-8.
Bloom time: September to October

Learn more about how to grow crocus.
Read about how saffron is harvested from the dried stigmas of a saffron crocus flower.
See more: 20 Fabulous Fall Flowers
Designing with late bloomers:
Unless you have a large property that can be divided into distinct areas, don't compose your garden with only late bloomers. Instead, combine them with earlier-blooming plants for all-season interest.
Consider growing the bulbs and the gentian in containers for temporary, portable color.
Show off the crocus and sternbergia against a dark background of creeping thyme, miniature ophiopogon, or other low ground cover. A taller ground cover, such as Vinca minor, can support the floppy blooms of the crocus.
If you go away for the summer, but your garden receives attention in your absence, late bloomers will be a welcome sight upon your return.