Scaevola - How to Grow and Care for Fan Flower
Add season-long color and flair to your summer garden with this extremely heat-tolerant plant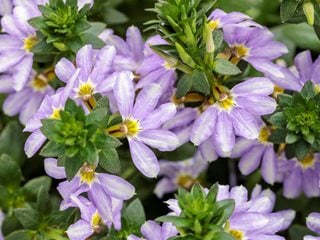 Whirlwind® Starlight™ fan flower (Scaevola aemula). Photo by Proven Winners.
Even if you're a seasoned gardener, you may have never heard of fan flower (Scaevola aemula). Native to Australia, this gorgeous sun-lover is a relative newcomer to gardens in the U.S., but it's catching on quickly because of its exquisite beauty and ability to bloom tirelessly even during the dog days of summer.
From spring well into fall, scaevola plants put on a perpetual display of delicate flowers with tiny petals arranged in a fanlike pattern, giving the flowers a wonderfully exotic look. Even better, fan flower is tough and easy going and will continue to bloom even when neglected.
On this page: The Basics | Planting Tips | Caring for Fan Flower | Pictures | Design Ideas
THE BASICS
Other common names:
Fan flower, fairy fan flower, half flower
Plant type:
Annual in most areas of the country. In warm climates (zones 9-11), it can be treated as a tender perennial.
Bloom period:
Late spring into fall
Flower color and characteristics:
Blue, pink, white, and purple, with bright yellow-and-white throats. Although each bloom has only five petals (thus the common name "half flower"), the flowers grow in clusters around the stems, creating whorls of color.
Foliage:
Small bright-green oval leaves with toothed edges.
Mature height/spread:
6 to 14 inches tall, and 1 to 2 feet wide
Special attributes:
Drought and heat tolerant once established.
Flowers are self-cleaning, making deadheading unnecessary.
Attracts butterflies, bees, and other pollinating insects.
Few pest or disease problems.
PLANTING TIPS
Whirlwind® Blue fan flower planted along a border. Photo by Proven Winners.
Where to plant:
Plant fan flower in a location that receives at least 6 to 8 hours of sunlight daily in well-drained garden soil. Fan flowers aren't particular about soil type or pH, but they won't tolerate soggy conditions. Because fan flowers are drought-tolerant, they are a good choice for low-water gardens. They also do well in coastal gardens because they aren't bothered by salty air.
When to plant:
In spring, after all danger of frost is past.
How to plant:
Before planting fan flower in garden beds, amend heavy or dense soil with organic matter to improve drainage. Place your plants at the same depth at which they were growing in their containers, spacing them about 12 to 18 inches apart to give them room to spread.
CARING FOR FAN FLOWER
Watering:
Fan flowers are very drought-tolerant, so only water when the soil feels dry. Keep transplants well-watered for the first few weeks until they become established.
Fertilizing:
To coax the most prolific bloom production from fan flower, fertilize your plants regularly using a water-soluble fertilizer or a slow-release granular fertilizer added to the soil at planting time, following the dosage recommendations given on the package. Container-grown plants may need more frequent fertilizing to keep them looking their best.
Pruning:
Fan flowers don't need deadheading, but they may benefit from pinching back of the stems if they become too leggy. This will help to stimulate new growth and make your plants look fuller.
Problems:
Fan flower is impervious to most pests and diseases, but it is prone to root rot if soil conditions are too wet. Proper soil composition, elevated garden beds, and containers with adequate drainage holes are the best ways to ensure good drainage and optimum moisture levels.
---
Want to learn more about plants that attract pollinators to the garden? JOIN 95,000 other garden lovers who get weekly plant information and design inspiration delivered right to their inbox.
VARIETIES
Although fan flower is still a bit of a novelty, it's well worth seeking out. If you can't find transplants at a local garden center, a growing number of online nurseries are beginning to carry fan flower. Scaevolas all look quite similar, with the only differences being flower color and plant size. The cultivars featured here are among the most popular and easiest to find, making them great choices to start out with.
DESIGN IDEAS
"Angel Wings" container recipe includes Angelface® Cascade Blue angeloina, Supertunia® Really Red petunia, Whirlwind® Blue and Whirlwind® White fan flower.
In containers:
Because fan flower has a trailing growth habit, it is the ideal spiller plant for containers, hanging baskets, and window boxes. Be sure to use a general-purpose potting mix that will drain freely, and place your plants near the edges so they can cascade over the sides to show off their dainty flowers.
Fan flowers look great planted alone, but they are equally stunning in mixed container plantings, paired with other heat-loving summer annuals that have good drought tolerance. You can't go wrong with any of these container companions:
'Silver Falls' Dichondra
Goldilocks Rocks® Bidens ferulifolia
Summer snap dragon (Angelonia)
Garden uses:
In addition to being a perfect container companion, scaevola can also be used as a groundcover, in the front of a bed or border, in rock gardens, and also in cut flower arrangements.