HOW TO GROW ANGELONIA PLANTS
Prolific blooms of this delightful annual sizzle in the heat of summer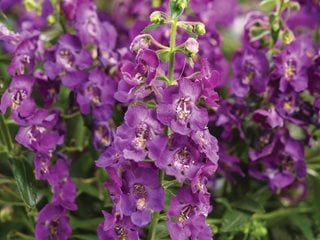 Angelface® Blue angelonia. Photo by: Proven Winners.
When cool-season annuals take a break during the heat of summer, angelonia plants pick up the pace. This snapdragon look-alike blooms nonstop from late spring through fall, adding a cheerful splash of color to the landscape. Unlike snapdragons that fade in mid-summer, angelonia plants thrive in heat, even in hot and humid regions of the south.
This semi-tropical plant is treated as an annual in all but the warmest climates. Also known as summer snapdragon, the delicate tubular flowers are a magnet for hummingbirds, butterflies, and insect pollinators. With a wide range of flower colors and forms to choose from, this virtually carefree annual makes a versatile addition to beds, borders, and containers.
On this page: Basics | Planting | Care | How to Choose the Right Angelonia | Angelonia Varieties | Landscaping & Design Tips
BASICS
Zones:
Hardy in zones 9-11; grown as an annual in colder zones
Height/Spread:
Upright or spreading habit, 1 to 3 feet tall and 1 to 2 feet wide
Exposure:
Full sun
Bloom time:
Late spring through fall
Flower color and characteristics:
Vertical flower spikes up to 8 inches long produce dozens of 3/4-inch flowers on a single stem. Flowers are two-lipped and slightly tubular, in colors of purple, blue, pink, red, lavender, coral, white, and bicolors.
Foliage:
Narrow lance-shaped green leaves 1-½ to 3 inches long have slightly toothed margins. Foliage is faintly scented with an apple or grape-like aroma, which is more pronounced on warm evenings.
Deer resistance:
Angelonia is considered deer-resistant, though extreme conditions can result in deer grazing on plants they wouldn't otherwise. See more deer-resistant plants.
PLANTING
Parisian Nights container recipe, includes Angelface® Blue angelonia, Supertunia® Bordeaux™ petunia, and Proven Accents® 'Sweet Caroline Light Green' sweet potato vine. Photo by: Proven Winners.
When to plant:
Plant in late spring after all danger of frost is past.
Where to plant:
Grow on a site that receives at least 6 hours of direct sunlight in a container or the landscape.
How to plant:
Work a 2- to 3-inch layer of compost or other rich organic matter into planting beds, or use a high-quality potting soil for containers. Make sure soil is loose and well-draining. Tease out any pot-bound roots to encourage healthy plant development. Dig a hole the size of the root ball and place the plant so the top of the root ball is level with the surrounding soil. Fill in the hole with soil, tamp down gently to remove air pockets, and water thoroughly.
How to grow from seed:
Sow seeds indoors 6 to 8 weeks before your last frost date. Lightly press seeds into a sterile seed-starting mix. Angelonia seeds need light to germinate, so don't cover them. Keep the soil surface evenly moist and don't allow it to dry out. Seeds need temperatures of 70 to 75 degrees to germinate, so use a heat mat if necessary. Seedlings emerge in 10 to 14 days. When all danger of frost is past, gradually acclimate plants outside before transplanting into the garden. For direct sowing outdoors, wait until all chance of frost is past.
CARE
Pruning:
Flowers are self-cleaning and need little or no deadheading. Spent spikes can be removed, but not necessary. To rejuvenate plants, cut back by half in mid summer and fertilize.
Soil:
Angelonia prefers rich, well-draining soil with a slightly acidic pH between 5.5 and 6.2.
Amendments & fertilizer:
Angelonia is a relatively light feeder compared to many other summer annuals. Apply an all-purpose fertilizer monthly or use a time-release fertilizer according to instructions. Mulch around plants with a layer of organic matter such as compost to suppress weeds and retain moisture.
Watering:
Keep soil evenly moist but not soggy. Water when the top layer of soil is dry to the touch. Keep plants watered 2 to 3 times a week until established. Plants are somewhat drought tolerant once established.
Diseases and pests:
When planted in optimal conditions and properly maintained, angelonia is virtually problem-free. Pests include aphids, which can be removed with a gentle spray of water. Powdery mildew may occur in humid conditions or with poor air circulation.
HOW TO CHOOSE THE RIGHT ANGELONIA
For borders and landscapes:
Larger varieties will offer maximum impact. Any variety can be massed in the landscape or used as edging in a mixed border or along a pathway.
For slopes and hillsides:
Mass any variety along a bank or slope for a colorful, low-maintenance display that will also help stem erosion.
For containers:
Depending on the type, angelonia can be used as a thriller, spiller, or filler in combination with other annuals with similar growing needs.
LANDSCAPING & DESIGN TIPS
There are many ways to incorporate angelonia into your landscape. Here's how:
Plant along the edge of an informal cottage-style border for a quaint and timeless look.
Place in a container with a compelling focal point such as purple fountain grass and a trailer such as petunias for a filler, spiller, thriller effect.
Edge a sunny pathway for nonstop bloom all summer long.
Plant in front of a mixed border with perennials, trees and shrubs for color throughout the growing season while other plants go in and out of bloom.
Mass along a slope, alternating colors such as blue and pink for visual contrast.
Plant with snapdragons, which bloom during cooler months in spring and fall, for a continuous display of similar-looking flowers through the season.
For window boxes and hanging baskets, plant as a stand-alone accent or in combination with other annuals with similar growing needs.
Place a single dwarf specimen in a decorative pot and place on a sunny patio as a tabletop centerpiece to enjoy during al fresco dining.
Companion plants:
Angelonia combines well with a wide array of other annuals. including:
Dusty miller
Marguerite daisy
RELATED:
Annual Flowers
Amazing Annual Flowers for Sun
Annuals You'll Love 20 Flowers for Your Summer Garden