2019 Trends in Garden Design
We share 10 important trends shaping the gardening world in 2019
See the new trends report: 2022 Trends in Garden Design
From designing a garden that allows you to be more mindful, to growing your own food so you can feel more at peace about what you're feeding your family, we predict that the tendencies of gardening in 2019 are leaning heavily toward creating a space that brings you health, happiness and relaxation.
More mess equals more stress is a saying that is not limited to the indoors, which is why a disheveled garden can leave homeowners feeling overwhelmed. Considering the busy world we live in, gardeners will be looking for ways to simplify their gardens in 2019.
Include mostly perennial plants that will come back each year and group them together based on their watering needs. For plant suggestions, talk to a master gardener in your community, attend a local garden tour to get ideas or check out the 2019 National Plants of the Year.
Consider removing messy trees or shrubs that don't provide any ecological benefits. (For example, a tree that drops leaves into your pond or pool; a shrub that creeps into an oft-used pathway.)
Invest in an irrigation system that can do the dirty work for you while you're away.
Do your research when selecting hardscaping materials. Choose quality stones that won't require repair after a short amount of time or pavers that don't need to be cleaned constantly. Contain gravel pathways with robust edging.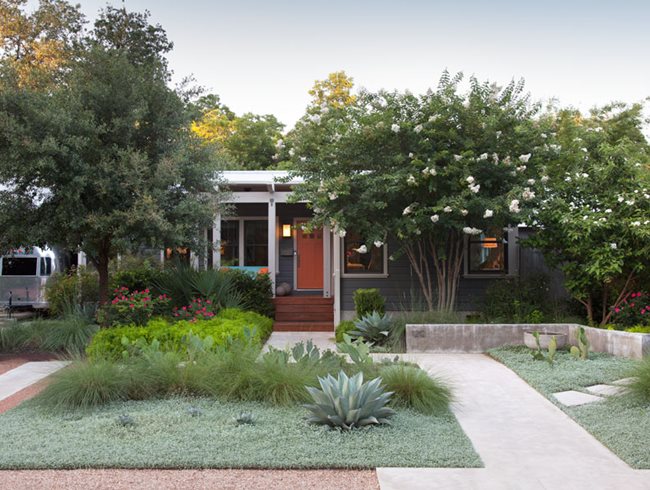 At her home in Austin, TX, B. Jane created a remarkable yard that is also easy to care for. "I love plants but I'm not a constant gardener," B. Jane says. The 'Natchez' crape myrtle tree to the right of the door flowers all summer and can handle the heat. For groundcover, Jane used silver ponyfoot interspersed with gray-blue whale's tongue agaves. Along the pathway are Muhlenbergia capillaris, 'Old Mexico' prickly pear, and asparagus fern. Jane only included plants that can deal with Austin's dry weather that sometimes reaches above 100 and cool weather that can dip below 20. Photo: Ryann Ford.
As designer Scott Shrader says, "Why go on vacation once a year when you can make your yard feel like you're on vacation all year round?" Gardeners are finding more ways to enjoy a staycation in the comfort of their own backyard rather than waiting in airport lines and living out of a suitcase.
Here's some inspiration:
Keep it low maintenance (see above!).
Set up a weatherproof speaker system to enjoy music while you're outside.
Site destination spaces—for example, a fire feature or a comfy lounge chair—in a spot that will draw people outside but not so far that you forget about it.
Invest in outdoor furniture that you actually want to sit in.
Include lighting to make your outdoor spaces easy to access when it gets dark out.
Install an outdoor kitchen if you love to cook.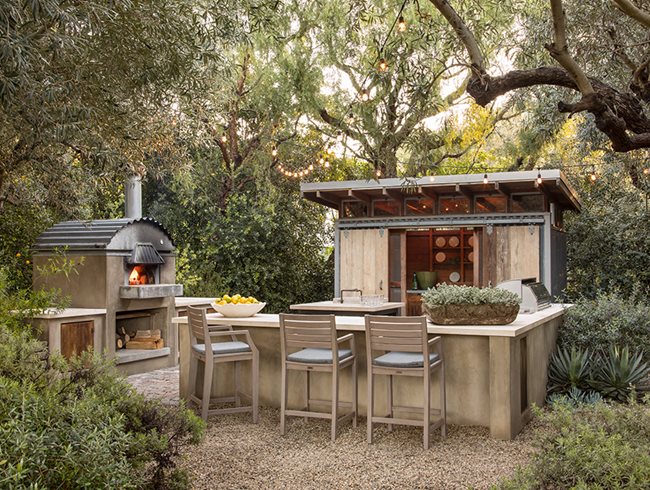 This outdoor kitchen, equipped with a pizza oven and bar seating, is a perfect spot for the homeowners to enjoy the outdoors and the company of friends while preparing a meal. Designed by Scott Shrader in collaboration with Teak Nichols. Photo: Lisa Romerein.
3. MAKING BACKYARD STRUCTURES FOCAL POINTS
Some structures in the garden are necessary—sheds, walls, pool equipment boxes, etc. Since these are things you'll see every day, why not make them beautiful? More gardeners will choose to make eye-catching structures the focal points of their gardens, rather than eyesores.
Try these creative ideas:
Use salvaged materials, such as rough barn wood and antique iron gates, to create a rustic pool house
Repurpose an existing structure, like an old stable, into an outdoor dining pavilion
Take inspiration from a local landmark by mimicking its design or using similar materials
Use a kit, such as this Amish-crafted Colonial Gable Greenhouse, to build the garden structure of your dreams
For more inspiration check out Designing a Backyard Shed.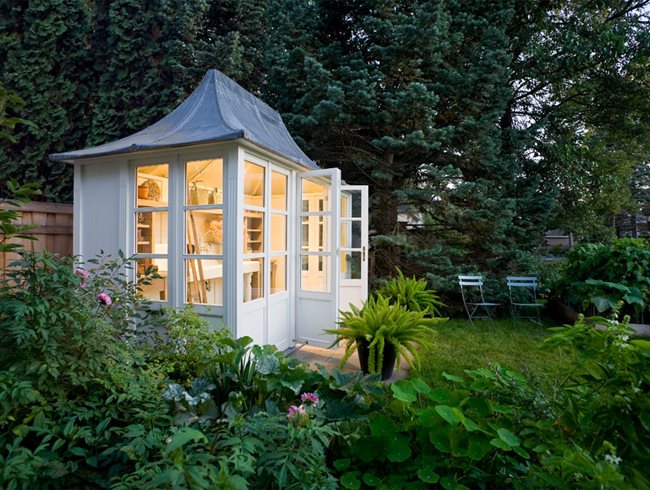 At a garden in Minneapolis, MN, this customized garden shed is both useful and eye catching, acting as a focal point for the garden. Homeowner Wendy Brown solicited the help of landscape architect Ron Beining to place this custom shed (from HSP Garden Buildings) in a spot that would block views of the neighboring property. Photo: Andrea Rugg.
4. INCLUDING PRIVATE, SECLUDED PLACES
A small retreat within a larger garden can feel like a getaway. Creating a quiet space to relax, read, or meditate is going to grow more and more popular as mindfulness and finding ways to decompress becomes a priority for people. Garden designer Bernard Trainor of Ground Studio says, "I find intimate, secluded spaces in a garden are just as important as grand vistas." Whether you want to create a dedicated outdoor yoga room that offers the quiet surroundings necessary for meditation, or you'd love a spa-inspired space to rejuvenate and pamper yourself after a long day, the garden is a great place to unwind.
Easy ways to create a retreat:
Provide just enough seating for two
Include a simple water feature
Surround the space with lush plants
Use an arbor or pergola to create a sense of overhead enclosure
Build a wall to separate a small area from the rest of the garden
Use tall narrow plants as a privacy screen
Evoke a sense of calm and order with a neutral color palette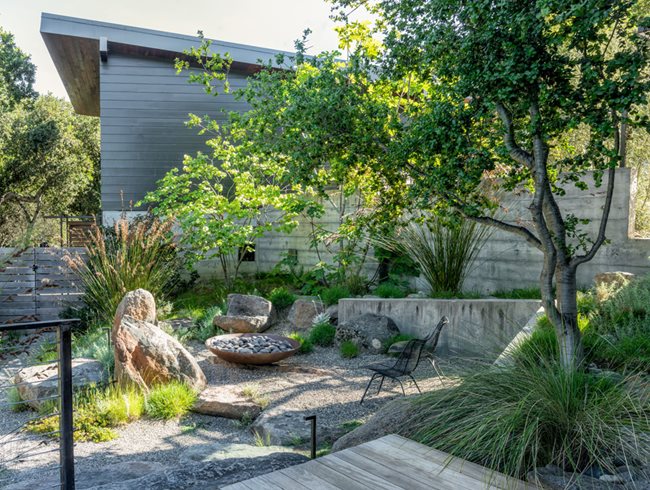 Bernard Trainor nestled this fire pit area between two structures, making it feel like an enclosed, intimate spot. To relate the space to the surrounding landscape, Trainor included large boulders (which also serve to screen the space) and naturalistic plantings. Photo: Jason Liske.
5. MAKING A NOTABLE FIRST IMPRESSION
Yes, a well-designed front yard adds curb appeal, but more importantly, it creates a sense of joy for you every time you return home. Homeowners have been finding creative ways to fashion an impactful entrance, and we don't imagine them stopping anytime soon.
Here are some ideas to try in your front yard:
Adding seasonal containers
Including scented plants along an entry pathway
Installing lighting to make the journey to the front door dramatic and easy to navigate
Incorporating plants with flowers that complement the color of your front door
Putting plants in crevices and between stones within walkways to add interest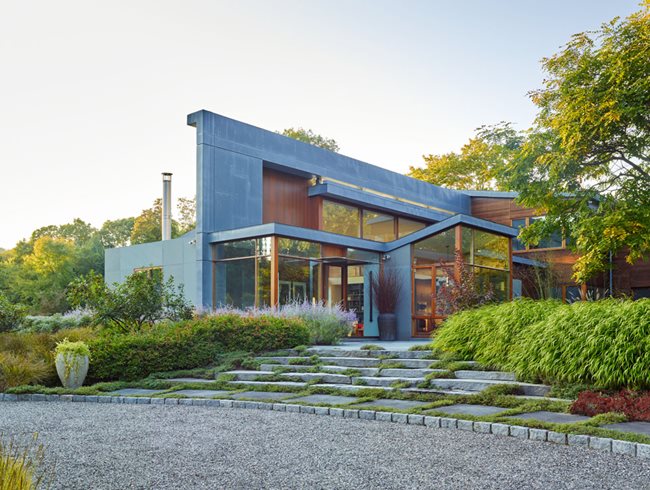 This walkway begins fairly wide, and gradually narrows as visitors begin to walk up the steps—creating a comforting sense of enclosure. Between the stones of the walkway grows a variety of creeping thymes, to the right of the walkways is golden Japanese forest grass, and Stranvaesia prostrata is on the left. Designed by Oehme, van Sweden. Photo: Marion Brenner.
6. INCLUDING UNEXPECTED ELEMENTS IN YOUR ARRANGEMENTS
Specimens that are not traditionally used in arrangements—e.g., sticks, leaves, dried seed heads, fruits, etc.—have become increasingly popular in the floral design world, and chances are you already have something unique that truly reflects the season right in your own backyard. Not only will you create something gorgeous, but we believe that stepping outside and looking at your plants with fresh eyes is a refreshing pursuit that's good for the soul. If possible, we suggest bringing a small child along with you for this activity. They're often quite skilled at thinking outside the box and finding beauty in the unexpected!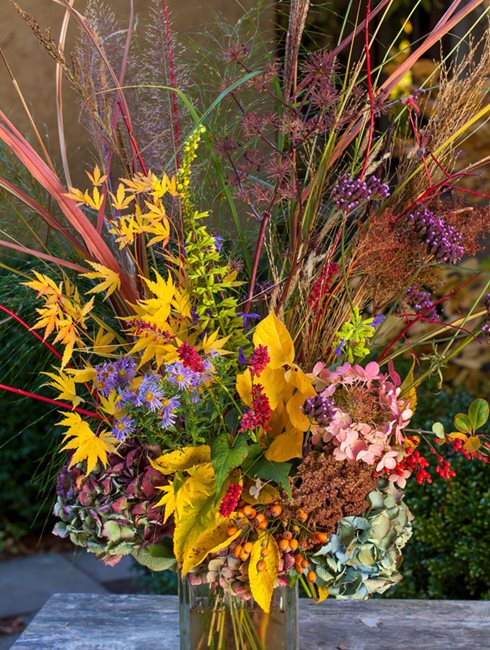 Horticulturist Deborah Whigham—co-owner of Digging Dog Nursery in Albion, CA—created this fall arrangement after wandering through her own garden. Among the many seasonal materials are red stalks of Euphorbia griffithii 'Dixter' and yellow foliage of Acer palmatum. Photo: Saxon Holt.
7. INCLUDING FOOD IN LANDSCAPES OF ALL SIZES
Although growing food is by no means a new trend, it seems that now more than ever consumers have a vested interested in where their food comes from and how it's being grown. And the ability to grow your own food is not limited to people with acres of land. Gardeners are finding that they can grow a surprising amount of food in limited space.
If you're looking to try your hand at growing food but don't think you have the room, consider:
Adding a pot on your front or back porch to start
Researching ornamental edibles that you can incorporate into your current planting design (get some ideas here)
Hanging planters from your home's eaves or in front of a kitchen window
Growing herbs on your walls with a vertical planter, such as the Algreen Garden View, that can be mounted indoors or out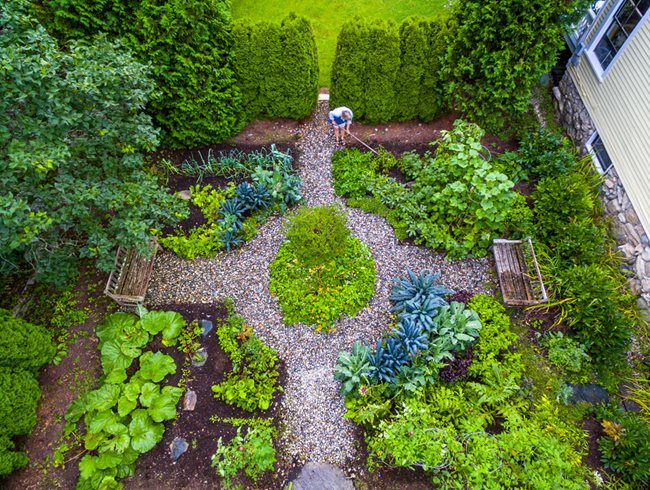 Gardeners like Ellen Ecker Ogden inspire people to make the most of the space they have. At her garden in southern Vermont (shown here), she grows herbs, salad greens, strawberries, peppers, flowers, and fruit trees in this 400-square-foot space. Photo: David Barnum.
Homeowners are becoming increasingly aware of the fact that their gardens have the potential to be much more than a plot of land that's pretty to look at. There are many ways to give back with your garden—both to the earth and your community.
Top ways to give back with your garden: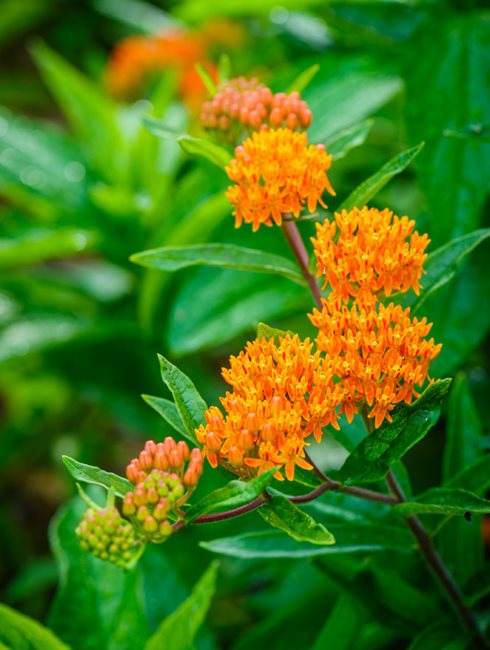 It's fairly common knowledge that Asclepias tuberosa, known as butterfly weed, is great for attracting butterflies. But according to biologist Doug Tallamy, it also supports reproduction for other specimens that keep your garden healthy and provides valuable nectar for many native bees and butterflies. It's good in Zones 3 through 9. Photo: Rob Cardillo.
9. GROWING ALL TYPES OF PLANTS INDOORS
Gardeners continue to find creative ways to bring green indoors, especially in the midst of winter or if they live in urban environments. When it comes to houseplants, the critical aspects of growing—lighting, pests, care, and more—are paramount, but you'll want to make sure they look fantastic, too. In Leslie Halleck's book Gardening Under Lights, she writes, "Growing plants and food indoors doesn't have to be utilitarian; it can be a beautiful practice that blends into our living space and lifestyles."
With proper plant choices and maybe some grow lights, even the darkest corner of your home can support plant life. Summer Rayne Oakes of Homestead Brooklyn recommends standards like peperomia, Zamioculcas Zamiifolia (ZZ plant), philodendron, and Sansevieria (snake plant). If you'd like to branch out a bit more, check out this list of the 21 best indoor plants.
Get the most from your houseplants by displaying them in a variety of ways:
Grow larger plants in pots on the floor
Grow trailing plants atop a high shelf, ledge or tall piece of furniture
Grow toxin-fighting plants as part of a living wall in your bedroom
Grow light-loving plants, even in dark corners, with the Barnyard Pendant LED Grow Light from Gardener's Supply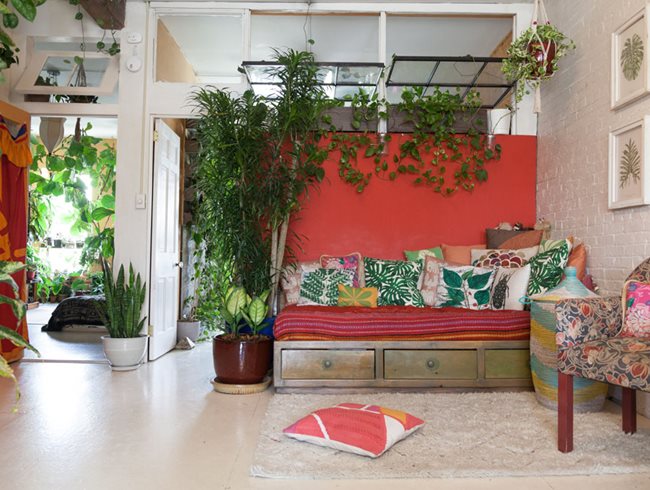 In Summer Rayne Oakes' Brooklyn apartment, a variety of Philodendron and Pothos trail down from boxes atop a rust red divider wall in the living room, and a Sansevieria sits between two doorways opening onto more indoor plantscapes. Photo by: Homestead Brooklyn.
10. INVESTING IN FURNITURE THAT WILL LAST
There's a lot of outdoor furniture available, and unfortunately many of us have found that some of it is…well…cheap. After finding that you really do get what you pay for when it comes to garden furniture, we foresee a continued shift toward investing in weather-resistant, quality pieces that will last and can be passed on. There's nothing quite like a classic iron bench next to a rose garden or a sturdy chaise lounge with fade-resistant fabric that you can count on year after year.
If your garden furniture needs an upgrade, here are some suggestions:
Seek out an artisan who builds functional yet sophisticated furnishings that withstand the test of time.
If you're the DIY type, why not build a piece of garden furniture? You'll be creating an heirloom that can be enjoyed by generations.
Shop for furniture at a specialty retailer rather than at big box stores.
Make sure the furniture is comfortable and visually appealing.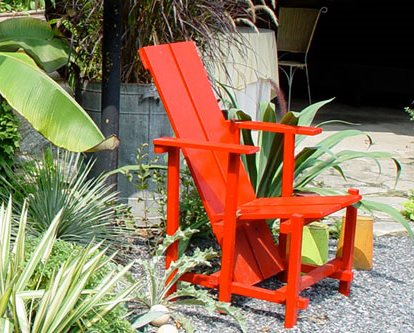 Horticulturist and teacher Dan Benarcik builds furniture for Chanticleer in Wayne, PA, and his own home. His Garden Chair (shown) can be purchased online, or you can purchase plans to build your own. Benarcik also offers plans for a Garden Bench and Garden Stool. And if you're in Delaware or the surrounding areas, you may be able to attend his chair-building workshop. Photo: Dan Benarcik.
---
Stay up to date with the latest trends in garden design. Make sure you're receiving our weekly newsletter for design inspiration and timely plant information!
Related:
8 Landscape Design Rules