Trouble-Free Gardening with Sansevierias
Bulletproof plants from the Old World, Sansevierias are ideal for beginning gardeners and top-drawer designers alike
Plant snobbery has a strong allure, with a certain smug satisfaction to be gained by inspiring awe and envy among fellow gardeners with tales of growing some obscure, persnickety plant. But there is power in simplicity and undeniable appeal in something being easy. The poster child for trouble-free gardening would unquestionably be Sansevieria, but these plants are also a class act, exemplifying the commonplace gone chic. Their combination of utility and sleek stylishness makes them the botanical equivalent of the little black dress.
RELATED: Guide to growing snake plant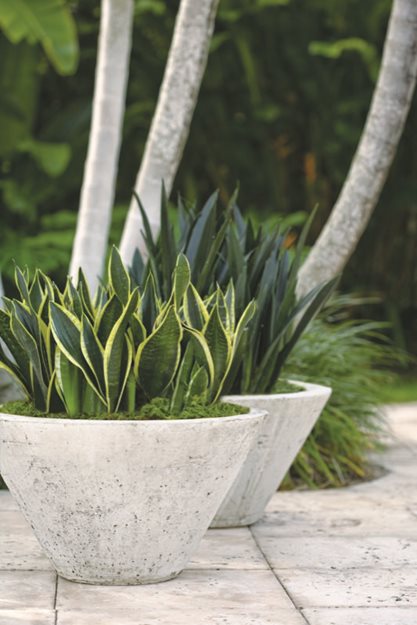 Sansevierias make ideal container plants, and here the contrast between gold-edged 'Futura Simplex' and almost-black 'Nelsoni' makes for good patio companions. Though the thick rhizomes have been known to break pots, sturdy examples like the Low Tahoe Planters from Campania International should be up to the challenge. Photo by: Chelsea Stickel.
SEE MORE SANSEVIERIA PHOTOS
The most prevalent are Sansevieria trifasciata, commonly called snake plant, with horizontal bands of dark and light green, and its variety 'Laurentii', decked out with yellow edges. But these days there's no excuse in stopping there, with the assortment of short, tall, nearly black, thin-leaved, twisted, Luna-moth-green cultivars out there. When I heard that my friend and fellow writer Felder Rushing had an actual collection of sansevierias, I was intrigued, and my own little assemblage is growing. I'm now fighting the urge to become a fanatical collector. Apparently some of the more unusual forms are even bringing big bucks on eBay.
The charm of sansevierias isn't lost on designers either. Twenty-plus years ago, when Fort Lauderdale-based garden designer Luis Llenza began using them in his landscapes, there were only three types to work with. Now he has a much wider selection of varieties at his disposal, employing them as edging, groundcovers and anchors, en masse, in containers, for color, and as texture companions for agaves and grasses. He calls them "tough and edgy," favoring those with crisply defined coloring. Though familiar to him since childhood, Llenza's design inspiration came from iconic Brazilian landscape designer Roberto Burle Marx, whose style translated perfectly to Llenza's native Puerto Rico. As Llenza says: "Marx showed what could be done with all these tropical plants, like sansevierias emerging from black Mexican beach pebbles. He really put them on the map."
One of the hottest sansevierias on the market these days is S. cylindrica. Container from Target. Photo by: Jon Whittle.
SEE MORE SANSEVIERIA PHOTOS
A group of 60 or so described species originating primarily in Africa, sansevierias hit the European scene in the early 19th century. As one of the few plants able to survive dim lighting and laissez-faire maintenance, they were popular houseplants with the Victorians, becoming ubiquitous living fixtures, from overstuffed English parlors to villa patios along the Mediterranean. In the mid-20th-century, with the advent of modernism, they were remade, going from dust collectors to must-haves, deemed an ideal match for the trim, minimal style of contemporary architecture.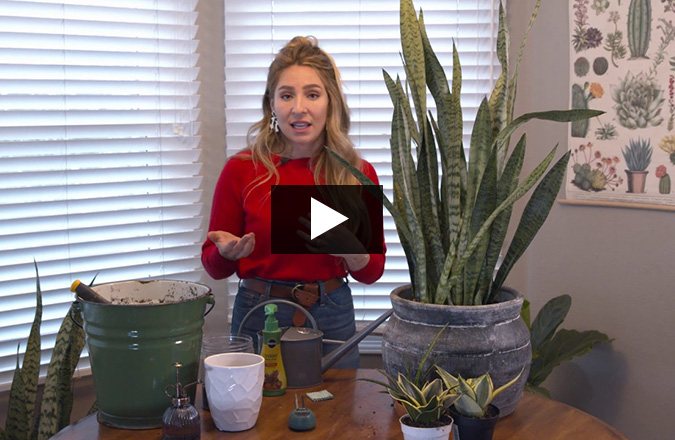 But they are so ridiculously effortless to grow (the only thing easier is a plastic plant), that their popularity midcentury was not limited to modernism aficionados. Everyone had snake plants (also cheekily called mother-in-law's tongue), and pieces of them were routinely cut off and shared with neighbors, making them a classic pass-along plant. Today many people still refer to them as a "grandmother plant," their early memories of sansevierias connected indelibly with visits to Grandma's house and seeing snake plants on her front porch or in a window, parked on a pie tin among those other tough characters pothos, Swedish ivy and wandering Jew.
Recalling a time in midcentury, when sansevierias were the "it" plant of modernism, a Spindel planter from Greenform holds 'Silver Laurentii' encircled by 'Jade Dwarf Marginated', flanked by bright-orange chairs from West Elm. Photo by: Jon Whittle.
SEE MORE SANSEVIERIA PHOTOS
For me, Sansevieria was an early initiation into the wonderful world of green leafy things. As one of the plants my mother, like so many other people, grew well, it was a steady bit of potted greenery about the house, and I remember the first time it flowered. I was mesmerized by the line of ants marching up the flower stalk, each freesia-fragrant little bloom glistening with a drop of nectar. It was such a remarkable event that my mother (an artist) immortalized our humble snake plant by painting its portrait, which she still has hanging on a wall in her house.
There is even an International Sansevieria Society, with members from some 37 countries. Alan Butler, chairman of the society and a partner at Brookside Nursery, which specializes in sansevierias and other succulents, says the surge in sansevieria popularity is based on converging trends in architectural and succulent plants, and plants with low water needs, "which benefits the pocket as well as ecology." For Bill Boyd, owner of Boyd Nurseries in Loxahatchee, Florida, the big draw is their ease of culture, and he calls them a "guilt-free plant," citing that many gardeners feel like they've failed when a plant dies. The "sense of satisfaction and success" with sansevierias is essentially a given.
Though sansevierias are the most undemanding of plants, surviving isn't the same as thriving, and if you want them to be in their prime, there are a few factors to keep in mind. Good drainage is paramount - these are plants that evolved in hot, dry locations. Butler says to water them very infrequently in winter and regularly in summer, but the drainage needs to be near perfect; overwatering is one of the only ways to kill a sansevieria (also, never watering it). And they don't like extended periods of cold, so in Zone 9 and warmer they can grow outdoors, but cooler than that and they're houseplants. While they can endure low light conditions, they prefer bright, indirect light. Some can take full sun, with the risk that they can acquire a burned look. And though seemingly content to be pot-bound, their thick rhizomes can eventually bust through a container; fortunately dividing them is as easy as growing them.
While their name is distinctly Old World (from Count Pietro Antonio Sanseverino, an 18th-century patron of horticulture in Naples), sansevierias are not only thoroughly modern, they're space age, having been named one of the best plants for cleansing indoor air of toxins in a NASA study—you might even see them tucked into a corner on a space station some day. After 200 years of cultivation, their persistence has paid off, like the tortoise in Aesop's "The Tortoise and the Hare." Emerging from dark hallways and country porches, they've hit the catwalk.