Light Up Your Landscape
Would you spend more time in your garden if you had adequate lighting? Many may not think of the importance of lighting while planning out a landscape design. Safety, along with the ability to use outdoor spaces after dark are two main reasons designers recommend adding lighting to the plan. Lighting provides the option to dine al fresco, highlight your favorite tree, or to simply not trip down the stairs.
When it comes to designing a new yard or updating an existing landscape, lighting is often treated as an afterthought. "I raise the subject when consulting with my clients. But many are not interested in spending the extra money, or they don't understand the importance of illuminating their yard at night," says JJ De Sousa of Digs Inside and Out.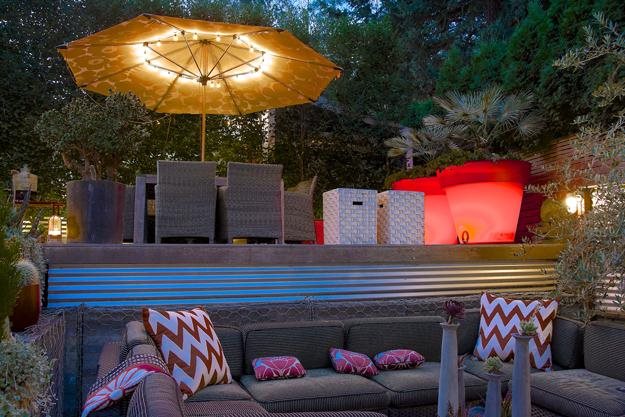 String lights inside a table umbrella offer just enough illumination for casual dining. A pair of oversized resin pots are lit from within by long-lasting LED bulbs. The warm, ambient glow adds a festive touch. Design: JJ De Sousa. Photo by: Janet Loughrey.
Garden lighting serves multiple purposes. Illuminating pathways, decks, and porches makes them safer to navigate and deters would-be intruders. The soft, ambient glow creates an appealing atmosphere. Besides enhancing the beauty of a garden, lighting extends the time spent outdoors. "If a yard is properly lit, people are more apt to linger outside after it's dark," De Sousa says.
A mix of line and low voltage fixtures allows for layering of different types of lighting. Ambient illumination along the corrugated metal fence accentuates the bold, industrial look. Safety lighting includes vapor jar lanterns that delineate the deck edge and metal staircase. Design: JJ De Sousa. Photo by: Janet Loughrey.
When considering lighting, first evaluate your property. Make a list of trafficked areas and living spaces. Look online and in home improvement stores to familiarize yourself with different types of lighting. Peruse our Pinterest board for inspiration or consult with a designer for more complex projects. Lighting can be added in stages as time and budget allow.
Small LED spot fixtures above a dining table produce subdued lighting for nighttime entertaining. Aluminum lamps were installed along pathways for safety. Background fence lighting offers depth and dimension. Design: David P. Best and Barbara Hilty. Photo by: Janet Loughrey.
Most homeowners consider safety first. Make sure paths, stairs, porches, and driveways are well lit. Safety lighting can be beautiful as well as functional. Next, consider the rest of the yard. Where would you spend more time after dark if there was adequate light? A backyard deck or spacious front porch can become an extension of your home, suitable for evening entertaining or alfresco dining. Use lights to attractively highlight architectural features, such as fencing, trees, fountains, or statuary.
Left: Uplighting on this small tree creates drama and visual interest. Right: An illuminated Japanese stone lantern at the entrance is at once attractive and functional. Design: David P. Best and Barbara Hilty. Photo by: Janet Loughrey.
Portland, Oregon, resident David P. Best collaborated with designer Barbara Hilty to renovate his small urban yard. Lighting was regarded as an integral component of the overall design. The entire system consists of a single transformer and 51 efficient LED fixtures that draw under 200 watts of power. The lights are programmed to turn on and off at certain times of day. Three years after completion, Best is pleased with the result. "I'm glad I invested in a comprehensive, high-quality lighting system. It has performed flawlessly and makes the space so much more inviting," he says.
Entry lighting includes fixtures along the sidewalk and uplighting on a fountain, rain chain, and small tree. The integration of different light sources results in a more sophisticated, pleasing effect. Design: David P. Best and Barbara Hilty. Photo by: Janet Loughrey.
RELATED:
Backyard Landscaping
---
When you purchase products through links on our site, we may receive an affiliate commission. Thank you for your support.