The Best Flowering Trees for Residential Gardens
Horticulturist Denise Kelly shares her top 12 flowering tree picks for show-stopping color and reliable performance
Flowering trees can play an important role in the garden canvas, providing a burst of spring color long before the rest of the garden is in full vigor. They offer other advantages as well, allowing the beholder to enjoy their lovely blooms and sweet fragrance without stooping to ground level. And once the blooms are spent, their dazzling floral display gives way to interesting leaf shapes, colorful berries, and vibrant fall color.
Flowering trees are also a long-lasting investment. By practicing a little care and common sense, you will be rewarded with a seasonal show of color year after year. Denise Kelly, a horticultural consultant with Variegata Studio, Santa Rosa, Calif., shares some of her favorite flowering trees for the residential garden. For the novice arborist, she also offers some basic care essentials and planting tips.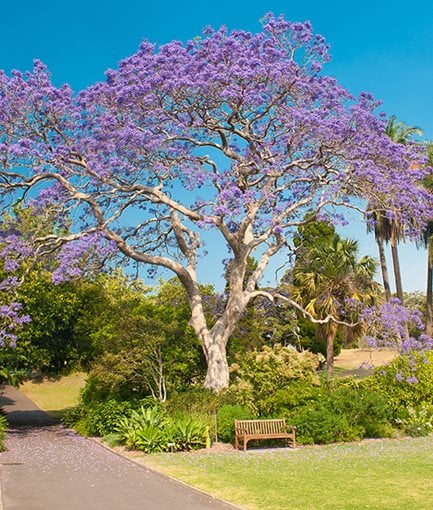 Photo by: Fyle / Adobe Stock.
5. JACARANDA (Jacaranda mimosifolia) - buy now on Amazon
This tree's fern-like foliage is almost smothered by panicles of lavender-blue flowers in spring and early summer, followed by woody fruit capsules containing numerous winged seeds. Low-branched specimens can spread 15 to 30 feet.
Zones: 9-11
Height: 25-40 feet
Where to plant it: Plant in full sun and well-drained soil. May be messy, so plant where litter is not a problem.
Best time to prune: Late winter.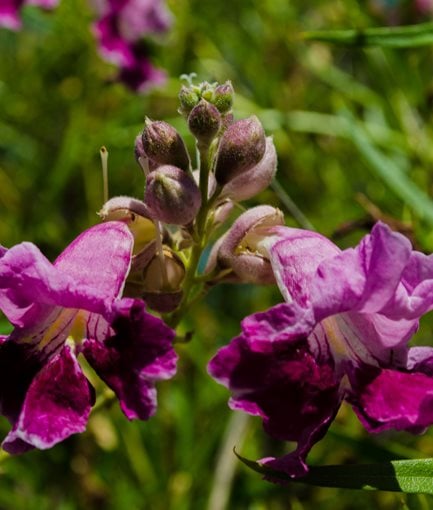 Photo by: Len Wilcox / Alamy Stock Photo.
6. BURGUNDY DESERT WILLOW (Chilopsis linearis 'Burgundy')
This small deciduous tree has an open, airy structure with long narrow leaves. The trumpet-shaped burgundy flowers are fragrant and attract hummingbirds. There are other cultivars with pink and white flowers. This water-wise tree needs only occasional watering once established.
Zones: 7-9
Height: 15- 20 feet
Where to plant it: Full sun.
Best time to prune: Fall.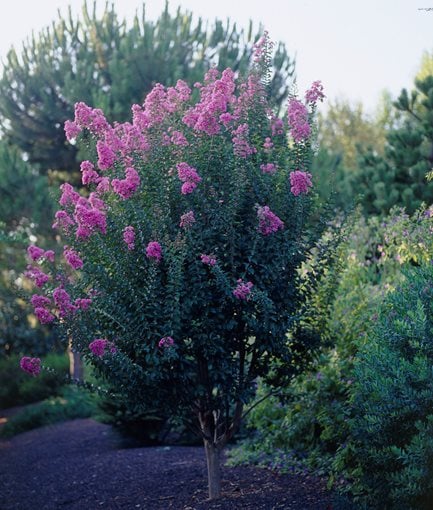 Photo by: Visions BV, Netherlands / VisionsPictures & Photography.
7. CRAPE MYRTLE (Lagerstroemia 'Catawba', 'Purple Tower', 'Zuni') - buy now on Amazon
Crape myrtles are available in several crosses and cultivars of varying heights and colors. Some have better mildew resistance than others, so it's best to buy from a local independent nursery. Beautiful summer flower color, stunning fall color, interesting tree form, and lovely mottled bark deliver seasonal interest all year long. Pink cultivars include 'Seminole' and 'Pecos'; white cultivars include 'Acoma' and 'Natchez.'
Zones: 7-9
Height: Varying.
Where to plant it: Full sun.
Best time to prune: Late winter/early spring.
TIPS FOR CHOOSING AND CARING FOR FLOWERING TREES
"The right tree in the right place" and "form follows function" are the key points to remember, says Kelly. Make sure that you have the space required for your tree to thrive, and know what your site and soil conditions are.
Look around your neighborhood and note which flowering trees are thriving. Also check with your local nursery or extension agent to see what they recommend for your growing zone.
To promote consistent blooming year after year, most flowering trees need to be kept evenly watered and if fertilizer is required, use organically based products. Also be sure to remove dead or diseased branches as soon as noticed.
At the nursery, choose tree specimens that look healthy, with well-spaced branches. Check the roots, avoiding circling or kinked root growth. Once this circling growth pattern is established, it's almost impossible to fix. Check out these online resources for more advice on tree selection:
Tree Selection and Placement (International Society of Arboriculture)
Tree Selection for Urban and Suburban Landscapes (University of Florida)
RELATED:
10 Great Design Ideas for Trees
Flowering Shrubs for Fall