Spring Garden Ideas and Activities
Spring is here, and we can't wait to get outside and savor the beauty of the season. Here are some of the garden activities we have planned this spring. Enjoy!
Yes, spring is a special time for everyone—but for the observant gardener, this time of year is magic. There's nothing quite like seeing new growth appear on trees, witnessing the beautiful process of bud to bloom, and finally getting your hands in the soil to plant everything you've been dreaming about all winter.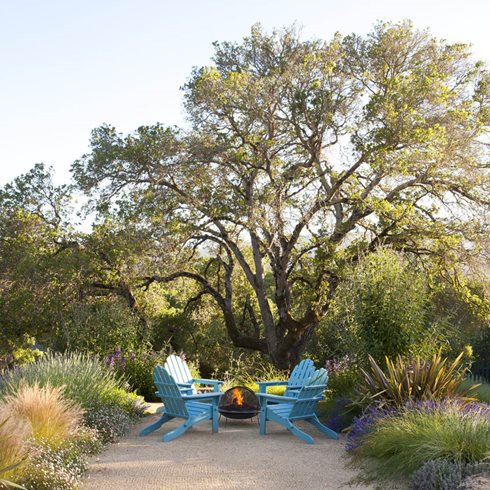 Four blue Adirondack chairs around a fire pit provide a spot to relax and enjoy the rustic setting of native oak woodlands at this property near San Francisco, designed by Arterra Landscape Architects. Photo: Michele Lee Wilson
1. CREATE A SPOT TO ENJOY YOUR GARDEN
Lots of hard work goes into maintaining a garden, so be sure to take some time to appreciate the fruits of your labor. Creating a designated spot to soak up the beauty that surrounds you can be as involved as building a wall to create a small space that's separated from the rest of your garden, or designing a moon garden to enjoy the warm nights ahead. It can also be as simple as placing a few comfortable chairs in front of a water feature or fire pit. Whichever type of retreat you decide to create, make sure it's comfy. For maximum enjoyment, we recommend making it a smartphone-free zone! See more inspiring backyard retreats.
'Candy Mountain' sunflower (Helianthus annuus) is a multibranching, bicolor beauty that can reach as tall as 10 feet. It makes a great cut flower. Photo: Rob Cardillo
Generally, seeds of most annuals should be started indoors about 6 weeks before your last frost date. If you missed the window of time for starting seeds indoors, fear not! There are plenty of hardy annuals such as zinnias, sunflowers, and marigolds that can or should be planted directly in the ground after any possibility of frost has passed.
Photo: Janet Loughrey
3. DEDICATE SPACES FOR BIRDS, POLLINATORS, AND WILDLIFE
Create a space (or dedicate your whole garden) to support local wildlife & pollinators with these 10 Ways To Build a Wildlife Garden. Birds and other wildlife help control pests, balance the ecosystem and add ambience.
Install nesting boxes with the proper dimensions and in the right spot to attract particular birds.
Provide a consistent, clean water source.
Plant natives that offer food sources of nectar, seeds and berries.
Make sure there are trees and hedging for nesting habitat and shelter.
Consider lawn alternatives to make your yard more eco-friendly.
Cup-and-saucer vine (Cobaea scandens) can be used as a perennial in Zones 9-11, and even as an annual in other regions. It fills in quickly, easily forming a screen in just one season. Its stunning purple flowers are 3- to 4-inches wide. Photo: Marianne Majerus
When it comes to the garden, designer Susan Morrison reminds us to "make the most of the entire space," in her book, Garden Up! Smart Vertical Gardening for Small and Large Spaces, co-authored with Rebecca Sweet. "That includes walls, transitions, and what's overhead. Going vertical adds a unique touch to gardens of any size." Gardeners are often daunted by the thought of vines because they have a reputation for being messy and growing out of control, but with proper care and attention, flowering vines can be a beautiful addition to your garden without causing grief. See more ideas of how you can make the most of your space by growing vertically.
Designer Gary Ratway borrowed the design of this arched double gate from the shape of the windows and the trim color of this landscape's home in coastal California. The gate serves as the transition from the side yard to the backyard and keeps deer out. The gate was hand-built by artisan Eric Lassotovitch with black acacia wood. Photo: Saxon Holt
5. ADD A GARDEN GATE (or give the one you have a makeover!)
A garden gate makes such a wonderful addition to any outdoor space, adding a decorative element of intrigue. As Gary Ratway of Digging Dog Nursery says, "In the garden, gates signify a change, a point of anticipation, expectation, and surprise." Take a walk through your yard to make note of any spots where you can possibly add a garden gate. You can use a garden gate to create a partition between two areas of your garden (e.g., between your vegetable garden and the rest of your yard). Or maybe there's a small corner of your garden dedicated to relaxation—a garden gate would be a lovely way to create a moment of pause before entering that space. If you already have a garden gate that you'd like to modify, think about ways to improve its aesthetic. For example, a new paint job, a material refresh, or even just fixing a fickle hinge can work wonders in adding to the enjoyment of your garden. Need more inspiration? Check out these ideas for garden gates.
This gorgeous built-in water feature, set against a white wall with herringbone pattern, was designed by Scott Shrader for a home in Santa Monica, CA. A staghorn fern takes the fountain's aesthetic appeal to the next level. Photo: Mark Adams
Listening to the soothing sounds of water is as mesmerizing to the ears as watching fire is mesmerizing to the eyes. Adding a fountain or water feature to your garden is a wonderful way to create a soothing vibe. If you don't have the means to add a built-in water feature, don't fret—there are hundreds of options available online. Learn how this Delaware couple built their new home around a garden pond to attract wildlife.
Try something different when it comes to raised beds, like these circular beds made of twigs woven together. Handmade teepees add vertical support and complete the look. Photo by: Tim Gainey/Gap Photos Ltd.
When it comes to deciding what to grow, we can't think of a way to say it better than Rebecca Sams of Mosaic Gardens: "I recommend going to your local farmer's market. Look at the size and quality of the produce. If there's something delicious and beautiful that you're interested in planting, ask how difficult it is to grow. These people are gardening experts, and they have local knowledge." Once you've decided what to grow, it's time to get growing with these tips for a successful vegetable garden.
Start an herb garden for fresh ingredients for summer barbecues. Grow these easy herbs.
Succession plant your salad ingredients (lettuce, spinach, cucumbers, beets, etc) for ongoing harvest. Start a few new plants each week.
Originating in Japan, the kokedama method of planting requires no container—roots are packed in a mud and clay mixture, wrapped in moss, then bound in twine. They are surprisingly simple to make and easy to maintain. Photo: Rob Cardillo
"I built it myself!" is arguably one of the most gratifying phrases to utter. There's nothing quite like receiving a compliment from a friend or family member about something you've created yourself. Why not set aside a weekend this spring to work on that outdoor DIY project you've had on your to-do list? In case you're looking for a new project to conquer, we've got a few DIY projects to get you started.
Photo by: Justine Guidry
9. GET THE LITTLE ONES INVOLVED
It's no secret that gardening is good for people, so get those kids started early! One of the best ways to get kids interested in gardening is to provide opportunities for them to get their hands dirty and explore the wonderful world of plants at a young age. Here are a few of our favorite kids' garden activities:
If you don't have many places to put houseplants, look up! Variegated hoya (Hoya carnosa'Variegata') produces clusters of waxy, fragrant flowers and is easy to care for. Here are more of the best hanging plants. Photo: Caitlin Atkinson
10. DON'T FORGET THE HOUSEPLANTS
The inside of your house needs some love, too! Why not celebrate spring with a new houseplant to bring some green indoors? There's a houseplant for every space, even if you only have space in a corner that doesn't get much light. Check out our list of the 21 best indoor houseplants.
RELATED:
Spring Tips and Chores16 Spring Vegetables
All-Star Spring Flowers