A Luxe Look for Less: How to Save Without Sacrificing Style
The garden of your dreams doesn't have to cost a small fortune, only look like it! Here we give you five ideas to give your garden a makeover that will leave your neighbors in awe.
With all of the beautiful projects shown online and in magazines, it's not hard for your taste level to outstrip your budget. How do professional designers handle this challenge? By cleverly reusing existing materials, amping up the star power on a few key elements, and using inexpensive techniques that actually look better than their pricier counterparts, they are able to get major bang for a little less buck. Here's how they do it.
Give ho-hum elements a modern makeover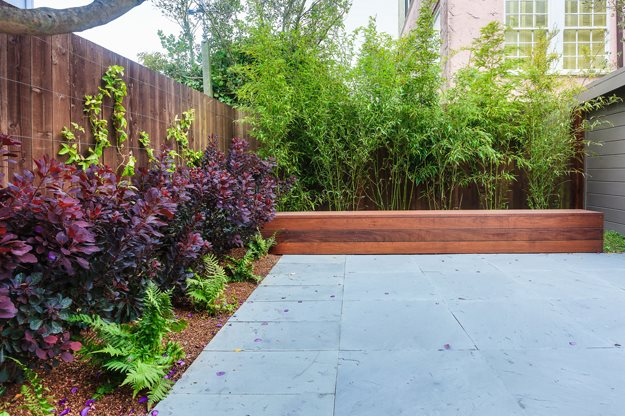 (Photo by: Alejandro Velarde)
When Scott Mulholland of CREO Landscape Architecture in San Francisco first visited the site above, an uninspired concrete patio surrounded by a scalloped top fence gave it a drab and uninviting appearance. Instead of starting from scratch, which would have cost more, he saw cut the existing concrete patio into a more proportional shape, and gave it a new life as the base for Connecticut bluestone pavers, which were mortared into place.
By refinishing the fence and cutting the scalloped edge off the top, he was able to give it a more streamlined and contemporary look. Then, many of the plantings were reused in an organized, repeated planting for greater impact. By repurposing the existing concrete as a base for the bluestone and giving the functional-but-dull fence a makeover, he saved enough to splurge on the bluestone pavers as well as ipe seatwalls to give this urban backyard a high-end, finished look.
Go horizontal with fencing
(Photo by: Kayo Shibano)
Sometimes a simple design tweak can elevate the ordinary into an eye-catching feature of the landscape. Though a fence is often thought of as a backdrop that is meant to recede visually from furnishings and plantings, a horizontal wooden fence like this one makes everything around it look good, and doesn't cost any more than a traditional vertical fence. Next to a "statement" fence like this, a simple concrete or gravel patio exudes simplicity and class, allowing you to get a majorly stylish look without expensive materials.
Mulholland chose sawn-surfaced heart B redwood for the fencing instead of ipe. This saved money on both labor and materials, since ipe is more difficult to cut and requires stainless-steel screws to avoid unsightly marks on the wood. "You don't have to frame a horizontal fence as you do a vertical one, so going horizontal can provide some savings in materials for that reason," he says. "That said, you do need more posts and footings because the horizontal spans are shorter." All in all, a horizontal fence is equivalent in cost to a vertical fence, but because it has such an elegant contemporary look, it allows you to save by keeping the material choices simple in other parts of the landscape because all eyes will be drawn here.
Plant small liners for big savings
(Photos by: Mike Heacox)
Ornamental grasses have become a staple of the landscape, and though most landscapers prefer to use at least gallon-sized pots when planting to avoid casualties, Mike Heacox of Luciole Design in Sacramento, California, says that ornamental grasses are among the toughest of plants and thus are a great candidate to be planted in liner form, especially when used en masse.
Liners, which are available to professional landscapers and nurseries, have a pot size of 3 ½ inches or less and commonly come in a tray of 50 or 72. If you are planting a large number of the same variety of grass, "liners let you save big on plant costs, especially if you're planting a meadow," says Heacox. "In a year, it's unlikely that anyone will know they went in as liners." The photos above were taken only a year apart. Though liners are only available in the wholesale trade, your landscaper or local retail nursery can order them for you if you ask.
Swap stucco for board-formed walls
(Photo by: Colin Miller)
The versatility of stucco, as well as the fact that it is such a common finish on homes, makes it a popular choice for raised planter beds as well as retaining walls. Yet Colin Miller of Envision Landscape Studio in Walnut Creek, California, suggests an attractive and economical alternative which is coming into vogue: board-formed concrete.
Board-formed concrete is exactly as it sounds. First you frame the wall with textured wooden boards, then pour concrete into the forms. When the boards are stripped off, instead of covering them with stucco or stone, you celebrate the wabi-sabi appeal of the wood grain texture. "This type of wall is about two-thirds of the cost of doing a stucco wall, and by using integral color concrete, we can achieve an honest look with a warm color and attractive texture," says Miller. Board-formed concrete works well next to Cor-Ten steel and other contemporary materials.
Contrast crushed gravel with linear concrete pads
(Photo by: Colin Miller)
When considering a patio, concrete is often the first material which comes to mind. However, the cost of concrete adds up quickly as the square footage increases. Miller's solution? In this project, he used linear concrete pads in high-traffic areas such as around the dining table and fire feature, and set them against the warm color and textural contrast of three-eighths-inch crushed Lodi rock.
"The crushed rock is about two-thirds of this patio space, which really saves on cost as opposed to pouring all of it in concrete," he says. "Yet it's a clean, high-end look. Though integrating the crushed rock saves money, I'm not convinced that a concrete patio would be more attractive than the softness and warmth of the crushed rock." The linear pads frame the focal areas and add interest to the ground plane, and the cost savings on the patio allows Miller to put the budget to work on showier elements like fire pits, water features, and other areas which will be more memorable and useful to his clients.