In The Dark: Creating a Dramatic Backdrop
Nick McCullough shares dramatic paint colors to use to highlight more of your garden.
The dark side can be dramatically beautiful when it comes to your garden. Dark exteriors and plants are trending this year, and provide a contrast to your beige neighbors. I have loved dark barns ever since my family took a road trip through Kentucky and Tennessee. Every now and then we would pass an old tobacco barn painted black (you can see a picture of one here). The dark exterior raises the heat inside, and aids in the curing of the tobacco. The barns got their dark color from creosote which helped repel insects, namely termites, and that might be why we see them still today.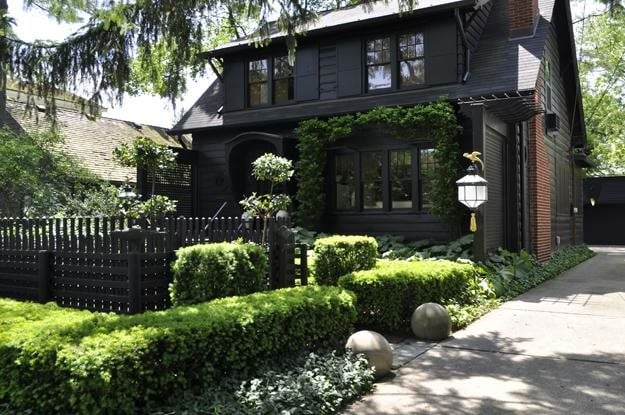 The black house absorbs all the light and allows the plants in the foreground to radiate all the color and reflection. (Photo by: Nick McCullough)
Darker walls make brightly colored flowers extra appealing because the eye is drawn straight to the bold hues. Plants in planter: Strelitzia nicolai and Ipomea 'Illusion Emerald Lace. (Photo by: Nick McCullough)
Plants in window boxes: Coleus 'Dark Chocolate', Lantana 'Luscious Lemonade', Begonia boliviensis 'Waterfall Encanto Orange', Setcreasea pallida 'Purple Heart', and Dichondra argentea 'Emerald Falls'. (Photo by: Nick McCullough)
A combination of lush green foliage and black structures create a crisp contrast. When a structure like a barn or pergola is painted dark, the variations of green in the foreground become much more pronounced. Two greens that otherwise might look the same are separated by their different hues and color saturation. Similarly, dark walls make brightly colored flowers and outdoor furniture extra appealing because your eyes are drawn to the brighter colors, making them pop even more.
Recently in one of my designs, the color of this pergola was changed from creamy beige to a dark deep bronze. (Photo by: Nick McCullough)
Notice how the dark structure recedes and fades into the garden and makes the silvery foliage of Stachys 'Helen von Stein' (Lamb's Ear) and the chartreuse of Hakonechloa macra 'Aureola' (Japanese forest grass) really stand out. The dark color allows the plants to be the stars. (Photo by: Nick McCullough)
Often, the idea of painting something black brings about the fear that the object will feel heavier in a space. In fact, black structures can do the opposite and recede and fade the lines in a garden.
In addition to helping colors pop, textures of foliage and plumes stand out because of the sharp, crisp contrast to the dark hue. (Photo by: Nick McCullough)
This is evident with the fine plumes of the Calamagrostis acutiflora 'Karl Foerster' (feather reed grass). (Photo by: Nick McCullough)
This dark pavilion creates a dramatic background for the Panicum virgatum 'Cloud Nine' (switch grass) at Yew Dell Botanical Garden in Crestwood, Kentucky. (Photo by: Nick McCullough)
Anyone who has selected paint colors knows it can be a perplexing and overwhelming task. Here is a list of favorites that serve as "elevated neutrals"—shades that are refined, classic and sure to look great in any garden.
Benjamin Moore: Raccoon Fur
Farrow & Ball: Off-Black
Benjamin Moore: Deep Bronze
Farrow & Ball: Pitch Black
Sherwin Williams: Peppercorn