COLD CLIMATE WINTER GARDEN TO-DO LIST
What you can do to care for your garden over winter and get ready for spring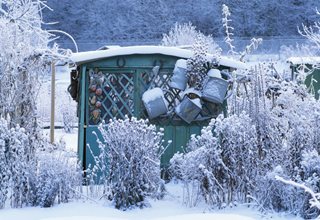 Photo by: BMJ / Shutterstock.
While many gardeners reluctantly sign off on gardening during winter, there are still things you can do to take care of your yard and be ready to go when spring arrives. Keeping an eye on plants and furniture, taking care of garden tools, and making plans for next season are just a few of the activities to keep you busy until spring.
Protect plants: If you've not already done so, or are in a climate where winter sets in later, it's not too late to protect plants from cold winter temperatures. Cover newly planted trees and shrubs and established evergreens from frost and dehydrating winter winds with shrub covers or wrap them with burlap. Extra insulation can be added by including material such as straw or shredded dried leaves inside the cover or wrap. For more tips, see How to Prepare Your Garden for the Winter.
Pre-order plants for spring: Have plants delivered right to your door just as prime planting time arrives in your zone. Check out all the beautiful plants available for spring delivery from Proven Winners. Plan out your garden, prepare your soil when the ground thaws, and be ready to go when they arrive at your doorstep.
Maintain outdoor furniture: Have lawn furniture cleaned, repaired, repainted or updated with new upholstery in winter when it's not being used. Protect your tables and chairs with outdoor furniture covers.
Pay attention to tools: Is it time for a new mower, shovel or gloves? Replace worn-out tools and equipment before the season starts so you're ready to go. See our list of Essential Garden Tools for suggestions. Get your existing tools in shape before spring by following the advice in our Garden Tool Care and Maintenance guide.
Relocate trees and shrubs: Early winter is the perfect time to relocate larger trees and shrubs. Balling, burlapping, and moving them is best done after the leaves drop but before the ground freezes, when plants are dormant. Paul Keyes, of Paul Keyes Associates, says, "It's like a patient under anesthesia; it's a lot less stressful to move the trees at that time."
Check for broken branches: In The Timber Press Guide to Gardening in the Pacific Northwest, Carol and Norman Hall advise checking for broken branches after a wet snow or high winds, and cut them off to prevent further tearing of bark.
Take care of standing water: The Halls also recommend draining any garden puddles that stand for more than a few hours, as well as to avoid walking on soggy garden soil or water-saturated lawns.
Repair mulch: Keep an eye out for mulch disturbances caused by birds and other wildlife and repair as needed.
Photo by: wolfness72 / Shutterstock.
Prune your plants: Many trees and shrubs are best pruned in late winter while they are still dormant. Don't prune late winter or spring bloomers until after they flower or you'll risk cutting off this season's flowers. Research pruning techniques and timing for each variety before you start chopping. Here are some basic guidelines for Pruning Garden Shrubs and Perennials.
Shop for seeds: Many gardeners can't wait for the seed catalogs that begin arriving just after the new year. It's a great way to beat winter boredom and get inspired for spring planting. Take stock of what you've got on hand and then shop a few of our favorites: Proven Winners, Botanical Interests, and Burpee.
Sow seeds: Yes, you read that right. You can get a jump start on growing plants from seeds in the dead of winter. Learn more: Seed Sowing in the Snow and How to Grow from Seed.
Photo by: Sever180 / Shutterstock.
Grow food: Many cold-weather crops such as lettuce, arugula, mustard, kale and Swiss chard can be grown in cold frames or cloches and others will overwinter and be ready for spring harvest. Check with your local nursery or extension service to find out what grows best in your area this time of year. For more inspiration on winter growing, check out Niki Jabbour's book, The Year-Round Vegetable Gardener.
Bring the garden indoors: Growing bulbs such as paperwhites or Amaryllis indoors is a great way to get your gardening fix when the weather isn't cooperating. Forcing branches of witch hazel, crabapple and forsythia also brings some much needed color inside in late winter to early spring. Learn how to grow bulbs indoors, force branches to bloom, and get tips for keeping houseplants healthy in winter.
Keep birds year-round: Provide a steady source of food and water and birds will stay year-round to help with pest control and balancing your garden's ecosystem. Keep food in feeders fresh and dry. Place nesting houses by February and make sure each house has the right dimensions and is located properly for the kind of bird you are trying to attract. For more on wildlife-friendly landscaping, see 10 Ways to Start Building a Garden for Wildlife.
Photo by: Radovan1 / Shutterstock.
Protect from pests: Most garden insects aren't a problem over the winter; however, furry pests are still in search of food—especially now that other sources have dwindled. Damage done by rabbits, mice and voles will be seen on branches and stems close to the ground or snow level, while damage from deer will be seen from the top down. There are various ways to protect your plants, either with physical barriers such as fencing, netting, wire mesh or burlap wraps; or with strong-smelling liquid repellents, blood meal or fish emulsion. Repellents will need to be reapplied occasionally to be most effective.
Learn something new: Sign up for an online class or a workshop through a local botanical garden. For serious gardeners who are looking to give back to their community, becoming a master gardener can be an option (many programs are available online).
Catch up on reading: It's the perfect time to cozy up with some hot chocolate and a great gardening book or magazine. Keep a pen and notebook handy to take notes and make plans for spring. Here are a few of our favorite book recommendations.
Reflect and reevaluate: Take note of plant and design successes and failures from last year. Repeat and expand on what worked, find solutions for what didn't, or try something new. Can't remember what went wrong last spring? Then now's the time to get a garden journal and make notes for next year!
Make plans: Winter is a great time to evaluate the design and use of your yard. Do you need to simplify things so you can spend more time enjoying and less time maintaining your yard? Are you game to take on a big project like a new outdoor kitchen, fire pit, water feature or entertaining area? Check out these 12 tips for designing an ideal outdoor space, and get a step ahead by learning the advantages to planning in winter.
RELATED:
Mild Climate Winter Gardening List
Winter Gardening Ideas
Regional Gardens