MILD CLIMATE WINTER GARDEN TO-DO LIST
Tips to keep your garden looking good through winter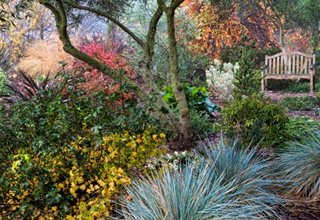 A winter garden in Petaluma, CA. Photo by Jan LeCocq.
While Northern gardeners have pretty much closed up shop, Southern gardeners might be left wondering what this winter fuss is all about. Those who are lucky enough to live in climates where you can garden most (or all) of the year don't have to worry about protecting plants from snow or blowing water out of sprinkler lines in October. However, there are things that you can do in mild climates to make sure that your yard stays looking its best through the "winter".
Protect plants: You might be thinking—but wait, you just said Southern gardeners don't have to worry about protecting their plants. Even with mild winters, one unexpected overnight frost can cause damage and even be fatal to your frost-tender garden plants. Cold winds dry plants out quickly, as leaves will lose more moisture than in calm conditions. Plan ahead and keep a few shrub covers or burlap wraps on hand to protect tender plants from frosty nights when the mercury dips close to or below freezing or for cold, windy times. It's likely you'll need to order covers online, because your local garden center or box store might not carry them, or may not have many in stock if they do.
Bring them in: Cold-sensitive container plants, like tropicals, might need to be brought inside for the season, or at least on extra chilly days and nights. Check the hardiness of individual plants, some can only handle lows to 50 degrees before experiencing damage. Learn more about keeping houseplants healthy in winter.
Pre-order plants for spring: Spring planting time will be here soon. Pre-ordering your plants for home delivery is the perfect opportunity to try something new or find that favorite hydrangea that reminds you of your grandmother, but isn't carried at your local garden center. So plan ahead, discover new plants or find old favorites, and be ready to drop them in the ground when they arrive at your doorstep.
Maintain outdoor furniture: While you might still be spending some time outside, chances are it's not as often. Now is the time to make needed repairs to outdoor upholstery or give furniture a fresh coat of paint. Protecting your furniture from the elements with furniture covers is often more important in warmer climates where furniture may already be damaged from hot summer sun.
Take care of garden tools: When you're able to garden year-round, garden tools never get a break. Take a little extra time in winter to make sure they're in good working order. Store tools properly to keep them dry in winter rains. Treat wood handles and protect metal surfaces with boiled linseed oil. Take inventory and replace any tools that are beyond repair, making note of new tools you might want for the coming spring and summer. See Tool Care & Maintenance for more.
Add mulch: It's a good time to top off the mulch around plants. Mulches that were applied last spring will need replenishing after surviving hot summer days and early winter rains. A good layer of mulch will help to insulate roots on colder nights and maintain moisture in the soil when dry winter winds blow.
Prune trees and shrubs: Deciduous fruit trees and non-spring-flowering trees and shrubs can be pruned in early to mid-winter. Prune any winter bloomers just after flowering. Keep an eye on the weather and don't prune when wet weather is expected. Moisture encourages the growth of mold and bacteria that can invade the freshly cut branches. For more on pruning, see Pruning Garden Shrubs and Perennials.
Adjust water: Many trees and plants go dormant over winter and won't require nearly as much water as during hot summer months. The sun's rays aren't as intense and moisture won't evaporate as quickly. Winter rains may also supplement the water supplied to plants, so adjust your watering schedule accordingly. Timers with moisture sensors or those that you can access remotely to shut water off at a moment's notice can be handy when unexpected showers hit.
Check for broken branches: Although trees and shrubs in the South aren't usually subjected to snow loads, some pretty fierce winter winds can blow through. Keep an eye out for branches that are weak, rubbing together, or those that have been broken. Support or remove them to prevent further damage.
Pansies. Photo by: Alexander Raths / Shutterstock.
Add color with hardy winter plants: Brighten flower beds with cold-tolerant flowering plants such as pansies, petunias, snapdragons, dianthus, calendula and cyclamen.
Establish new camellias, azaleas and rhododendrons: Not all plants are best established in winter, but it is a great time to plant camellias, azaleas, and rhododendrons.
Plant bare root trees and shrubs: Now's the time to get those bare root roses, shrubs, vines, citrus and fruit trees in the ground. The season can be short and they need to be planted while they are still dormant to avoid shock.
Put in spring-flowering bulbs: Bulbs that were stored in the refrigerator in October are ready to plant in January or February. Get them in the ground now and you'll have beautiful spring flowers. Learn more about planting bulbs.
Kale. Photo by: Quality Stock Arts / Shutterstock.
Grow some veggies: Winter vegetable gardening can be quite productive in zones 8-11. The weather is still warm enough through most of the winter, although you may need to provide some protection in January or February. The sun's rays are mellower and won't burn seedlings or dry out the soil as fast as in summer. There are fewer insects and pests to deal with, and most diseases aren't a problem this time of year either. There are also fewer weeds to contend with and the garden becomes virtually care free. Vegetables that grow well in early spring in northern gardens, such as lettuce, peas, spinach, carrots, broccoli and kale, generally do well over winter in milder regions. For more suggestions of what to plant, see this list of cool weather veggies.
Shop for seeds: Start planning your spring and summer vegetable and flower gardens now. Many seeds can be started in zones 8 and 9 in January and February. Some of our favorite seeds can be found at: Proven Winners, Botanical Interests, and Burpee.
Review and revise: Make note of what worked in your garden, as well as what didn't, over the last year. Alter this coming year's plans to try something new or fix what went wrong. If you're having trouble remembering the successes or mistakes from last spring, then now's the time to get a garden journal and start making notes, so next year you've got the information handy.
Educate yourself: Take some time for yourself and learn something new. Sign up for an online class or workshop through a local botanical garden. Treat yourself to a new gardening book and make plans for that vegetable or flower garden you've always wanted to grow.
RELATED:
Cold Climate Winter Gardening List
Winter Gardening Ideas
Regional Gardens