How to Prepare Your Garden for the Winter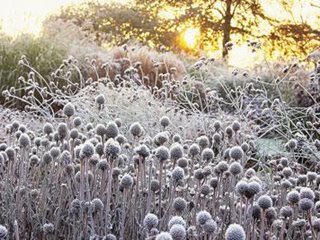 Photo by: Richard and Adrian Bloom.
It's that time of year again; time for your garden to lie under the covers with its eyes shut tight. While the rain pours down and cold weather wraps stealthily around the rows, your garden must sleep through the bombardment of December and January. Will you slam the door and walk away quickly, or will you sing your favorite perennials a winter lullaby as they lie quietly under their blanket of soil? With the help of three essential books from Timber Press, you can treat your garden to a peaceful winter slumber, and it will awaken healthy and fresh for a new season.
From Timber Press Guide to Gardening in the Pacific Northwest, by Carol W. Hall and Norman E. Hall:
In December, make mental notes of possible garden improvements, additions, or deletions as you walk around the garden. If the possible changes still seem right after time, mark them on the new year's calendar.
After wet snow or high wind, check for broken branches and cut them off to prevent further tearing of bark.
If possible, drain any garden puddles that stand more than a few hours. Do not walk on garden soil when soggy, and avoid walking on water-saturated lawns.
Check mulch for disturbance by birds. Repair as needed.
Make sure seed in bird feeders is always fresh and dry. Keep feeders under shelter.
From The Well-Tended Perennial Garden, by Traci DiSabato-Aust:
Pruning is a matter of personal choice; what some find attractive, others find distracting. Prune perennials that will blacken, turn to mush, or fall on frequented paths.
Remove excess debris such as fallen leaves and fallen deadheads. This decreases potential sites for pests, and large leaves can mat-down and hold water, causing crown rot on perennials.
For marginally hardy perennials and perennials transplanted in autumn, cover with 3 to 4 inches of mulch applied over their crowns after the ground has frozen.
From Perennial Companions, by Tom Fischer:
Perennials die down in the winter, but that doesn't mean they disappear. Resist the urge to cut down the spent stalks of summer-blooming perennials and you'll be rewarded with scenes of pure magic when hoarfrost decorates the sere seed heads. The birds will thank you too for leaving them a winter meal.
For dramatic beauty, leave 'Kim's Knee High' purple coneflower (echinacea purpurea), and tall verbena (verbena bonariensis).