5 Lessons from a Small Urban Garden
Tips one author learned as he developed his own small backyard garden in Hull, UK
Whether you are designing a single small space or multiple smaller spaces within a larger landscape, these tips provided by Greg Loades, author of The Modern Cottage Garden, will help you define that space with both beauty and practicality.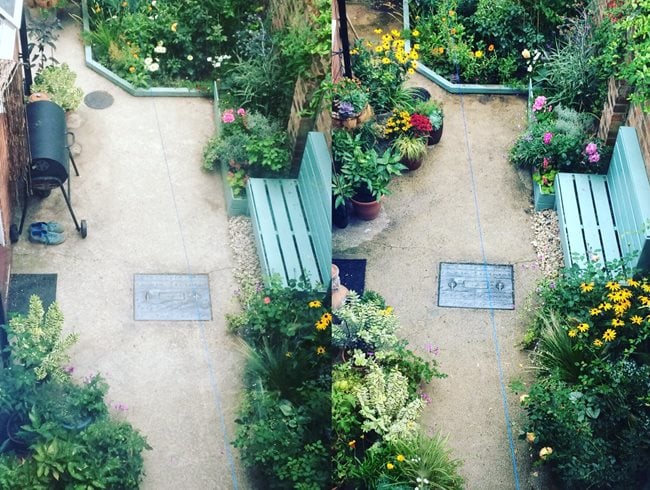 Photo by: Greg Loades.
1. Never underestimate how much a plant will grow
When I initially planted the garden, I was keen to have a 'full' look in the first year so planted things quite close together. I didn't actually need to do this though—planting young plants in early spring, it is easy to underestimate how much they will grow in a single growing season!
Although this gave me the full look I desired in year one, it meant that by year two, a lot of plants had been 'crowded out' by others. This can be easily solved by moving roses or shrubs at the end of winter to give other plants around them more room.
If you need to move perennial plants such as erysimum, asters, or rudbeckias, then wait until they have developed new shoots and move them in spring when the soil has started to warm up. Perennial plants that have 'multiplied' can be divided in spring to stop them crowding out other plants.
I also found that the evergreen grass Carex 'Everest' was by far the most vigorous plant in the garden and has had to be lifted and split in spring to reduce the size of the plant.
There are always solutions to get around the issue of an overcrowded garden, but I've learned that the easiest solution is to not overplant in the first place.
Photo by: Greg Loades.
2. The effectiveness of roses
Some gardeners consider roses to be 'old hat' but if you grow good ones, they are priceless assets in a small garden. I have grown healthy, modern, repeat-flowering varieties that have given three, four, or even five flushes of flowers in one growing season.
Roses add romance and charm to a garden design and they are easily controlled. If they are taking up too much space, then unwanted stems can simply be pruned off at the base.
For a small garden I would especially recommend 'Princess Anne', which grow to around 4ft (1.2m) tall, has very glossy healthy leaves and large clusters of scented flowers which age from dark purple to plum red. Another favorite is frilly pink flowered 'Maid Marion', which will stay to a similar size and has the strongest scent of any roses that I know of.
Photo by: Greg Loades.
3. A lick of paint goes a long way
When designing a small garden from scratch, there is inevitably a waiting period when you have to be patient and allow the design to develop as the plants grow. However, I decided to add strong color to the design by painting the wooden surfaces in my garden with colored wood stain before it was planted. This gave an underlying structure to the garden as the plants gradually grew up to blend with the color scheme of the furniture.
In the first year, I chose a cool green shade of paint to complement the pale purples and soft, variegated greens of the planting. In year two, I chose a bolder cornflower blue so that the furniture wouldn't be lost among the larger, more developed plants.
4. There is power in repeat planting
Planting the same plant in more than one place may seem like a strange thing to do in a small garden; but if you do it sparingly, it has a big impact. I used Carex 'Everest' and its smaller cousin 'Eversheen' throughout the garden and it has helped to unite all the plants in the garden and make the place look like a 'whole' rather than a scattering of assorted plants.
I also deliberately use these evergreen plants more than once to create a 'backbone' of planting that keeps the garden looking fresh and leafy all year round. Just don't overdo it! My rule is to try not use a plant more than three times.
Photo by: Greg Loades.
5. Raised beds make fine edges
Most of the plants in my garden are growing in raised beds which creates opportunities to effectively show off lots of different 'edging plants'. Raised beds are normally associated with growing vegetables, but they are very effective at housing ornamental plants. The soil warms up quicker in spring and the plants are elevated so that they are easier to see in all their glory.
Edging plants such as fleabane, grasses, and variegated ivies have been able to show off against the colored background of the painted raised beds in a way that would not have been possible had they been edging a border with a low, grass edge.
See more of Greg's garden in his book, The Modern Cottage Garden: A Fresh Approach to Classic Style, and on Instagram @hull_urban_gardener.
RELATED:
Ideas for an Enticing Cottage Garden
Small Garden Ideas & Inspiration Small Plants for Small Gardens