Pacific Northwest Gardens
Browse gorgeous gardens in Seattle, Portland and beyond
Gardening in the Pacific Northwest is full of challenges and opportunities. With plenty of rain and rich soil, gardeners in Washington and Oregon can grow lush plants without a struggle. However, they must also contend with a shortage of sunny days. Check out the gardens below to see excellent examples of what is possible in Seattle, Portland and beyond.
RELATED: Pacific Northwest Plants
Oregon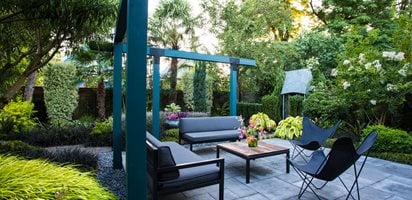 A Tropical Makeover for a Small Garden
An overgrown garden in Portland is simplified and tidied, resulting in a comfortable and calm retreat.
Simplicity & Structure Rule in This Small Garden
A tiny, narrow lot in Eugene, Oregon becomes a pocket-size garden full of treasures.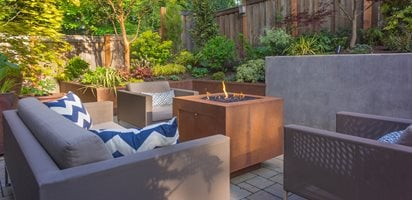 Going Beyond the Straight and Narrow
A sliver of backyard space in Portland is transformed into a multifunctional outdoor living area.
My Garden: A Naturalistic Garden Welcomes the Birds and the Bees
This Portland garden is home to birds, bees, bugs, and more. It's also boasts plants that are beautiful and kind to the environment.
Front Yard Makeover: A Winter Jewel Box
See how a Portland gardener turns her problematic sloped shade garden into a winter jewel box of hellebores and Lenten rose hybrids.
My Garden: Call Of The Wild
A weekend home in the high desert of central Oregon features a several-acre garden with a formal perspective.
Portland Garden by a Dream Team of Eco-Friendly Designers
The owners of this Portland, Oregon, garden want to connect people with the Earth.
Portland's International Rose Test Garden
Portland's Rose Society was founded in 1889, and the city's collection of hybrids, floribundas, and grandifloras has been growing ever since.
Now and Zen: The Portland Japanese Garden
The Portland Japanese Garden in Oregon continues its visionary path in design.
Washington
A Garden for Food and Wildlife
A Pacific Northwest gardener creates a suburban sanctuary for growing food and nurturing wildlife.
Terraced Garden Serves as an Urban Retreat
A small Seattle property in need of an identity gets personalized outdoor rooms that delight the senses.
My Garden: Working with Nature to Reinvent a Front Yard
An "old school" grassy front yard in Bothell, Washington is transformed into a thriving Zen-like retreat.
My Garden: An Eclectic Garden Delights with Unexpected Surprises
For ten years, these homeowners have worked on their Woodinville, Washington garden. Now that it's complete, people are taking notice.
My Garden: An Ever-Changing Therapy Garden
A gardener creates a place of rest and revival on her Kennewick, Washington property.
Bed, Breakfast, and Beautiful Gardens
Visiting Sea Cliff Bed & Breakfast in Port Angeles, WA, feels like stepping into a painting.
Great Gardens: Thrill of the Chases
How Ione and Emmott Chase turned a parcel of former logging land into one of western Washington's most celebrated public gardens.
The Plant Hunter's Retreat
The private garden of master collector, and founder of the cultishly adored Heronswood Nursery, Dan Hinkley.
The Elisabeth C. Miller Botanical Garden
Tucked away in a quiet suburb of Seattle, this garden was was carved out of native woodland on a rocky slope overlooking Puget Sound.
Earth Meets Art in Seattle
Seattle's Olympic Sculpture Park is a sophisticated urban green space featuring 80,000 mostly Northwest plants.
Lakewold: A Garden for All Seasons
Whether you visit Lakewold Gardens in the dead of winter or the peak of summer, this Pacific Northwest horticultural haven offers beautiful blooms and hidden discoveries during every season.
Seattle Garden Unites a Melting Pot of Styles
Described by visitors as "serene, peaceful, and relaxing," Tatyana Searcy's lush half-acre garden, located on a peninsula west of Seattle across the Puget Sound, belies its rocky beginnings.