Portland Garden by a Dream Team of Eco-Friendly Designers
The owners of this Portland, Oregon, garden want to connect people with the Earth
When Maryellen Hockensmith bought her home in the hills overlooking Portland, she considered it the chance of a lifetime. The house was a true gem — a midcentury Modern designed by Pietro Belluschi, which appeals particularly to Maryellen's fiancé, Michael McCulloch, who is an architect. And the surrounding property was a pastoral 40 acres, literally — the former owners were sheep farmers, and the herd grazed just yards from the back door.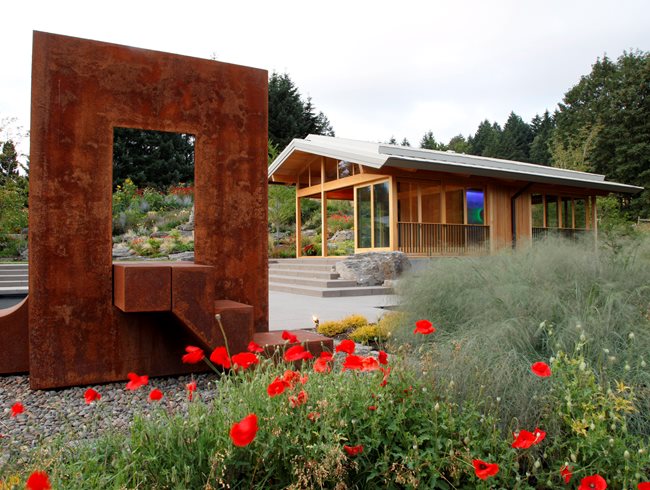 Lee Kelly's sculpture, "Window to the Gone World," at the entrance of this Portland, Oregon, garden provides the southern edge to the sculpted terraces. It also acts as a gateway to the wildest sections of the property, while meadowlike plantings below soften its industrial, man-made edge, making it more of an enticing door. It is a favorite play area for children who like to walk through the opening. (Photo by: Susan Seubert)

SEE MORE PHOTOS OF THIS GARDEN
While for many the lack of an extensive garden would be a detriment, here it was a definite plus since the pasture presented essentially a blank slate for a new design. Using their own ideas as a springboard, Maryellen and Mike assembled a "dream team" to pull it all together and make it happen. First came designer Beth Holland who had worked with Mike on an HGTV giveaway house, who then brought in Pacific Northwest garden guru and author Ann Lovejoy, followed by local Garden Diva, Laura Crockett. For build-out, Lovejoy called on Eamonn Hughes, and the lineup was complete. Says Holland: "We were just so happy to be together. It was really a harmonic convergence of clients and designers."
A fitting description since Maryellen and Mike have a strong spiritual side, something they kept in mind throughout the process of building the garden. "One of my personal goals with the garden was to give people a connection with the Earth," says Maryellen. Which for Crockett is a wider green view than the usual application of that catchword: "It's also about making a place feel like home, emotionally and physically. It's about 'feeding' humans with a healthy environment."
As the centerpiece and anchor for the new landscape, a terrace with a swimming pool (heated via solar panels on the house roof), and a clean-lined pool house (also referred to as the yoga house) made of local Port Orford cedar and designed by Mike, was sited in line with the home. Near the pool, a sculpture by Lee Kelly entitled "Window to the Gone World," designed as a "golden rectangle" just as the pool house is, offers a portal view to the nearby woodland of Douglas firs, maples and cedars. Maryellen insisted on salt water for the pool because "it has healing qualities and it's comfortable for the body." Since installation, the pool house has even been used by healers and during Buddhist retreats, and Maryellen's two young children have, of course, enjoyed the pool.
The pool terrace also serves to bisect the main garden, giving the landscape a duality both in appearance and function. Above it, the garden seems to emerge from a boulder-strewn hillside; below, a meadow carpets the slope. Maryellen even refers to the east side of the pool house, with its quiet view of the woods, as the "introspective side," conducive to yoga and meditation. The west side, facing the upper garden and its outdoor-living spaces, is the "social side."
Evening firelight colors follow similar colors seen during the day — brilliant red Flanders poppies and sunflowers grace the foreground while 'Jakob Klein' Monarda paints the upper path to the greenhouse. (Photo by: Susan Seubert)

SEE MORE PHOTOS OF THIS GARDEN
And social it is, says Holland: "Maryellen wanted to use the property in unexpected ways, to connect to the community, hosting benefits and concerts." (The pool terrace even figures in a yoga video.) Says Maryellen, "Both Mike and I are terrible extroverts, and having the garden makes people jump at the opportunity to come over." One of Mike's design objectives was to comfortably accommodate at least 150 people. But as Maryellen points out, "It's also a place that feels protected and surrounded by nature, where people feel comfortable pouring their heart out."
Critical to the upper garden was the positioning of the 1,000 or so tons of Molalla basalt brought in, chosen by Mike for its striations, which add to the horizontal layering in the garden that Crockett says creates "restful spaces." The goal was to make it look like the boulders were "revealed" by natural forces and the entire area, which integrates stone terraces among the boulders, simulates a fault line. This includes a visual watercourse, designed by Hughes, which appears to begin as a "spring" at the top, is held by the pool and then descends to the lower meadowland. There is in fact a natural seep in the pasture, which Maryellen and Mike enhanced with a liner so there would be water for animals like coyote and elk, even in the winter.
Being wildlife friendly was key. While many gardeners build barriers to keep out critters, Maryellen and Mike are fenceless, opting for deer-resistant plants rather than interrupting the movement of animal life through the property. They even set aside 19 acres (almost half their property) as a conservation easement held in perpetuity by Three Rivers Land Conservancy. If some garden plants get munched on, "it's just our donation," says Maryellen.
On the plant menu, birds and insects have a smorgasbord to choose from for seeds, berries and nectar — coneflowers, blueberries, anise hyssop, yarrow, chokeberry, sunflowers, bee balm, Perovskia, Ribes and goldenrod. And of course, lots of grasses (Stipa gigantea, Nassella tenuissima), which contribute to the garden's status, in Maryellen's words, as "the most kinetic garden in Oregon."
Creating the plant list was a joint effort by Maryellen, Crockett and Lovejoy. Maryellen leaned toward a hot color palette of oranges and yellows (which she calls "sexy"), and her teammates balanced that with cool purples and deep blues. Lovejoy's typical strategy: "We visit a lot of nurseries, look at picture books and magazines, then build a plant palette that is likely to thrive on the site. The question becomes, 'What garden wants to be made here?' instead of 'How can I put my imprint on this land?' I work toward organic garden design, the coming together of people, place and plants."
Each area of the garden has its own character, though colors and textures are echoed for cohesiveness, and no element was placed without intention. To highlight the architecture of the house, the entry is low-key and simple; behind the house, as a stroll garden heads for the pool terrace, the colors intensify and the plant list increases. "Mike would have been happy with just three varieties, but Maryellen is a plant geek and she wanted a big mix," says Crockett. "It was important that both of them feel good."
And all of the very lush landscape is maintained organically (Maryellen belongs to a group that calls itself "Trust Us, We're Organic"), including the very productive edibles garden at the top of the hill. So fruitful is the bounty that Maryellen (with her children as active participants) regularly contributes the excess to local shelters.
Plants along the path to the greenhouse and tractor house were purposely placed to touch passersby. The owners' children like to grab the Pennisetum 'Karly Rose' blossoms along the way. (Photo by: Susan Seubert)

SEE MORE PHOTOS OF THIS GARDEN
GIVE BACK
To Wildlife: It's critical for wildlife to have corridors that link one green location to another. Maryellen and Mike chose not to fence their property, and they put 19 acres into a conservation easement, with the area officially designated as wildlife habitat by the state of Oregon. Find out more about conservation easements with The Nature Conservancy. Learn more about creating a Certified Wildlife Habitat in your own backyard.
To the Community: Don't throw extra garden veggies on the compost heap or let them go bad in the bottom drawer of the fridge. Donate to local charities, or even plan to grow more just for that purpose. During peak season, Maryellen takes her excess edibles to local shelters, and she includes her children in the activity. One national program for connecting food growers to charity organizations is Plant a Row for the Hungry, run by Garden Communicators International. Find a local Plant a Row Committee or partner.
To the Planet: To keep things healthy for humans, wildlife and her little corner of the natural world, Maryellen takes the organic approach for maintenance on her property — organic fertilizers and pesticides, and no herbicides. And since she sells plants divided from her garden and is planning to grow pick-your-own lavender, she also intends to become "certified organic." Learn more about how to become a certified organic grower and the Organic Trade Association.
See more Pacific Northwest gardens