The Plant Hunter's Retreat
The private garden of master collector Dan Hinkley.
Plant hunter Daniel J. Hinkley may be best known as an author, lecturer, television guest — from Nova to The Martha Stewart Show — and founder of the cultishly adored Heronswood Nursery, where he helped advance American plantsmanship one plant and one anecdote at a time. Today, though, much of his energy is directed inward as he tends the six-and-a-half-acre garden he's dubbed Windcliff.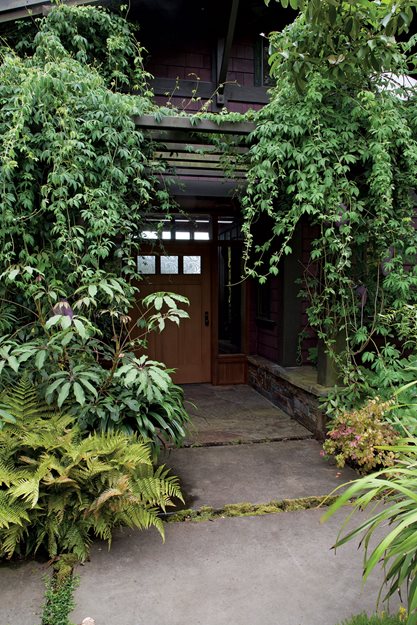 A vigorous climber harvested in China, Holboellia grandiflora frames the entrance to Hinkley's home. Photo by: Don Freeman.

SEE MORE PHOTOS OF THIS GARDEN
"Windcliff is a personal odyssey," Hinkley says of the grounds surrounding the coastal Washington home he's shared with his partner, architect Robert Jones, since 2004. "It is a garden I know intimately since I mostly garden it myself." Unlike his last space, this one isn't open to the public. "It is gardening for our pleasure and nobody else's."
The property turns its back on an evergreen forest and opens up to the dramatic expanse of Puget Sound below, with Mount Rainier far in the background. At one end, a handful of charismatic native madrona trees (Arbutus menziesii) keep watch over the vertiginous cliff that establishes Hinkley's greatest design challenge. "I now have to do battle with a view," he says. "How do I make a garden intimate and not all about the bewildering openness of the sky and water?"
Before Windcliff, Hinkley helmed Heronswood Nursery for nearly two decades, where propagating facilities in Kingston, Washington, shared 15 acres with display gardens and native forest. Hinkley single-handedly wrote Heronswood's yearly catalog — up to 250 pages — a catalogue raisonné that turned plants into objects of lust through deeply personal, whimsical, and adventure-packed prose.
That exuberance had deep roots. "As a kid growing up, identifying the plants that grew around my Northern Michigan home was an exceptional experience," Hinkley says. "Combining that everlasting fascination with a love of travel and hiking, plant hunting was a natural evolution for me."
"Plant hunting" is more treasure hunt than bloody chase: Plants are sought in their native habitat to be gently sampled — think seeds and cuttings rather than whole plants — and then grown in gardens for purposes ranging from scientific to cosmetic and ornamental. Hinkley got his feet wet almost three decades ago when a sabbatical from teaching horticulture at a community college led him to his first trip to South Korea. Today, with 20 countries under his belt, an average of 16 weeks yearly spent overseas, and visits to thousands of collections, he is considered one of the most prolific independent plant hunters of modern times.
The remote hills and valleys of the earth, Hinkley's workplace, are fertile ground for chance encounters and colorful moments, from running into the queen mother of Bhutan (whose litter was being carried down a trail) to facing a band of angry Maoist insurgents in northeast Nepal. Baboons left him lunchless, and mudslides trapped him on precarious shards of cliff. "I marvel in witnessing all the snippets of culture that I'm unaware of," Hinkley says of his forays.
A peach-flowered lobelia (top) doesn't merit the prominent placement of a giant variation from Chile (center), which blooms almost ceaselessly and delights hummingbirds. Lobelia laxiflora, from Mexico (bottom), earns a spot right off the main patio. Photo by: Don Freeman.

SEE MORE PHOTOS OF THIS GARDEN
Despite the thrills, Hinkley insists that, for the most part, his job "is nothing like an action-packed Hollywood flick. This is not about skipping through a meadow of beautiful flowers. Plant hunting is methodological, slow-paced, and happens late in the season in fields of brown spent seed."
Yet this plant affair has enduring charms. "I never tire of seeing for the first time, in their native habitat, plants that I have grown at home," he says. "the moment becomes attached to the plant and helps me understand the circumstances in which it grows and what companions it grows with, which in turn informs my principles of plant placement."
In 2000, Hinkley and Jones sold Heronswood to W. Atlee Burpee & Co., which in turn sold the botanical and display gardens last summer to the Port Gamble S'Klallam Tribe, which plans to maintain the gardens and allow seasonal public access. Since then, Hinkley, now in his late 50s, turned his attentions to the garden I have seen unfold since its beginning, when I traveled from my home in British Columbia, Canada, to become Hinkley's intern.
Windcliff is a remarkably tranquil place to come home to. Jones is responsible for the beautiful, low-lying, one-story house that now gently dominates the front bluff. Minutely designed and carefully sited, this wood-shingled and generously fenestrated residence commands breathtaking views over the sound.
"Because you can see the two front acres from almost any room, I really think of this as a viewing rather than a strolling garden," says Hinkley. "It is meant to be seen from the house, and large drifts of plants have been used." Six-foot-tall toetoe grass (Austroderia fulvida) is practically dwarfed by this ample space, and hundreds of blond Nassella tenuissima create long, silky threads along the sunnier paths and between the bluest agapanthus. Hinkley confirms the reproportioning that results from context: "Grasses have here shown their finer sides; they've proven to be so appropriate. What's the point of growing them if you can't see through them?"
Windcliff may look out over Puget Sound and across to Seattle, but its garden is the result of three decades of plant collecting around the globe. Here, a Magellan fuchsia (Fuchsia magellanica) from the mild rainforests of southern Chile shoulders up to New Zealand toetoe grass (Austroderia fulvida), a hardy Chinese windmill palm (Trachycarpus fortunei), and salal (Gaultheria shallon), a lush shrub native to the West Coast. Photo by: Don Freeman.

SEE MORE PHOTOS OF THIS GARDEN
Similarly, South African eucomis, dierama, and melianthus, as well as giant Chilean lobelia and Magellan fuchsia, have all taken to their dramatic setting. Windcliff's microclimate welcomes them. Blessed by its proximity to large bodies of water, this area of the Pacific Northwest rates as a mild USDA Zone 8a. Summer droughts are cool and quickly alleviated; winter freezes are usually short-lived. "With soil that goes from sand to silt," Hinkley adds, "I have gunnera growing next to ceanothus. I don't know what to choose!" His gaze fixed on a swaying madrona tree, Hinkley says, "and this constant wind keeps the crown of my choicest plants drier and thus helps prevent winter rot."
Hinkley has promoted countless plants, but his greatest advice doesn't rest on a particular horticultural novelty but rather on a general ethos: "Be less tame; experiment! I wouldn't be growing seven species of hardy schefflera had I listened to what was said."
Windcliff is a testing venue of Olympic stature where plants from around the globe compete for shoulder space and attention. Only a few will find their way into mainstream horticulture. Such champions are now being released under Monrovia nursery's The Dan Hinkley Plant Collection label, which consists of hardworking essentials that will please landscape designers as much as plant aficionados. These include his stunning Schefflera taiwaniana 'Yuan Shan', a hardy, subtly tropical-looking shrub, and his purple-leaved Hydrangea aspera 'Plum Passion.' This is a trustworthy selection of plants from someone who collected them by braving monsoonal Sikkim, India, to pick a better Hydrangea aspera and the high grasslands of the Drakensberg in Africa to search for a darker agapanthus.
Hinkley actually has other interests — he wrestles with the piano and talks about writing fiction. But at this point, those are private enterprises. It's still the single-minded pursuit of plants that are more beautiful, more vigorous, more surprising that allows him, and all of us, the possibility of better gardens.
Dave Demers is the founder of Cyan Horticulture in Vancouver, British Columbia.
See more Pacific Northwest gardens