Raised Vegetable Beds - Gardening Advice
Q: To prepare well-drained, fertile soil for summer's vegetables, I'd like to build raised beds now. What's your advice on design and construction? — David Laufman, Vienna, Va.
A: The ideal raised bed provides maximum growing area in a given space while allowing enough room for the gardener to maneuver. In practice, beds 4 feet wide are comfortable for nearly all adults. The length of the gardener's arm is the deciding factor. You should be able to reach the center of a bed from either side (for planting, weeding, and picking) without stepping onto the soil and compacting it. Beds should be at least 2 feet apart, wide enough for someone holding a load of mulch or vegetables to walk and turn around. In larger gardens there should be a central path, 4 feet across or wider, to admit a cart, wheelbarrow, or other equipment.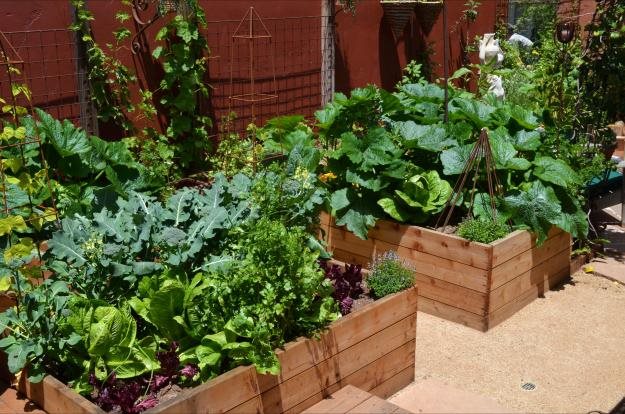 Photo By: Garden Design
After trying various materials for enclosing beds, I've come to prefer no solid framework at all. Boards or timbers on the sides of beds invariably hinder digging and harbor weed roots, slugs, and earwigs. I recommend building frames for beds only where drainage is unusually poor, where the ground is paved or compacted, or where a wheelchair-bound gardener can't reach the soil unless it is raised several feet.
In any bed, simply digging the ground for planting will raise the soil at least 3 or 4 inches. Double digging elevates the ground level by as much as 6 to 8 inches above grade. After thoroughly working the soil with a spading fork or tiller, I rake it into a symmetrical mound that tapers to ground level at the edges. Every time I plant, I renew the mounded contour. This approach produces a neat, convenient bed, yet it saves me the expense of lumber that inevitably rots and the anxiety that I would feel putting chemically treated wood next to edible crops.
More important than constructing sides around your beds is having attractive, practical paths between them. I've found lawn paths difficult to maintain. Mower discharge makes a mess of vegetables and herbs, and perennial grasses creep relentlessly back into the beds. Hard pavers that can be laid with tight joints, such as flagstones or bricks, provide the most durable surface; but coarse, weed-free organic mulches, like shredded bark and wood chips, hold up to heavy traffic and feel springy underfoot.
Learn more about gardening in raised beds.