Heirloom Tomatoes & Other Vegetables
Part of America's fabric, heirloom vegetables offer old-fashioned charm, improbable colors, unlikely shapes, and rich flavor
Heirloom vegetables, handed down through generations, are easy to grow and offer superior flavor. Today they are among the most popular crops for home gardeners.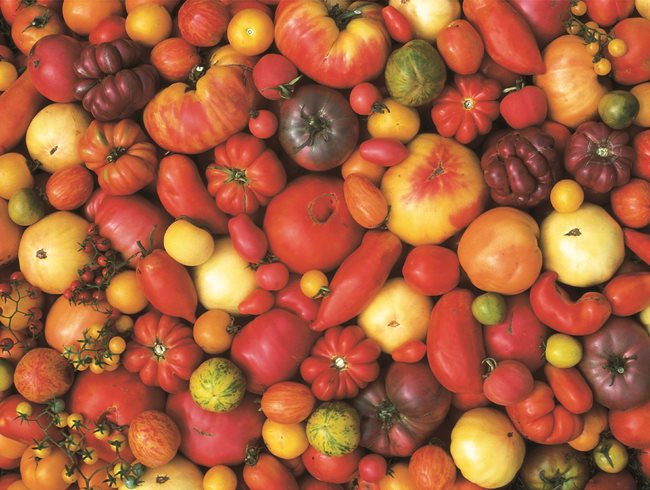 Assorted heirloom tomatoes in an astounding range of colors, sizes and shapes. Photo by: D. Cavagnaro.
HEIRLOOM TOMATOES
LATIN NAME:
Lycopersicon esculentum
APPEAL:
Only among the heirlooms (varieties handed down by generations of gardeners and farmers) can you glimpse and taste the breadth of tomato diversity. There are hundreds in an astonishing array of colors, sizes, shapes and flavors.
LEFT: 'Eva Purple Ball'. Photo by: Rob Cardillo. RIGHT: 'Yellow Ruffled'. Photo by: Saxon Holt.
ZONES:
All
SOIL:
Well-drained, rich in organic matter
SIZE:
Determinate varieties (bushy), to 36 inches. Indeterminate varieties (sprawly, vinelike), 3 to 6 feet or more.
EXPOSURE:
Full sun
CARE:
Plant seedlings deep with soil up to the first set of leaves; buried stem will develop roots. Space plants 1 1/2 to 3 feet apart. Stake indeterminate varieties. Maintain consistent soil moisture: 1 inch of water each week. Apply 3 to 4 inches of organic mulch. Harvest when tomatoes are firm and fully colored. Learn more about how to grow tomatoes.
LEFT: 'Soldacki'. RIGHT: 'Russian Persimmon'. Photos by: Saxon Holt.
VARIETIES:
'Eva Purple Ball', brought to America from Germany in the 1800s, produces 4- to 5-ounce smooth, round fruits. Pleated fruits of 'Yellow Ruffled' make it good for stuffing. From Poland about 1900, 'Soldacki' yields 1-pound dense and meaty fruits. Sweet flavor is the hallmark of the 3- to 4-inch 'Russian Persimmon'.
---
HEIRLOOM SQUASH
LATIN NAME:
Cucurbita maxima, C. moschata
APPEAL:
Some relish winter squashes for their rich, sweet-tasting flesh; others focus on their intriguing looks. Among the wide array of heirlooms, the diversity of sizes, shapes and colors would be impossible to imagine were it not true.
LEFT: 'Jarrahdale'. RIGHT: 'Red Kuri'. Photos by: D. Cavagnaro.
ZONES:
All
SOIL:
Fertile, well-drained
SIZE:
Vining types spread 6 feet or more
EXPOSURE:
Full sun
CARE:
Plant seedlings or sow seeds directly in warm soil of late spring, early summer. Sow six seeds 1 inch deep and 2 to 3 inches apart over a 1-foot-diameter circle or hill. Space hills 5 or more feet apart. Thin to two plants per hill. Water to keep soil moist. Harvest when the skin has hardened, prior to a hard frost; cut stems 1 inch from the fruit.
VARIETIES:
The slate-gray skin of 'Jarrahdale' conceals orange-yellow slightly sweet, stringless flesh. Each fruit weighs about 6 to 10 pounds. 'Red Kuri' produces sweet-fleshed 4- to 7-pound fruits. Both varieties are excellent sliced and baked or used for soups or pies.
---
COLORFUL HEIRLOOM CORN
LATIN NAME:
Zea mays
APPEAL:
'Bear Paw', 'Lady Finger', 'Tom Thumb', 'Calico'—the names of heirloom corn varieties are as evocative as the kernels are colorful. The popcorn collection shows Native American heirloom popcorns. 'Bloody Butcher' is a dent corn that's used for flour and meal.
Choose from hundreds of heirloom corn varieties. Photos by: D. Cavagnaro.
ZONES:
All
SOIL:
Fertile, well-drained
SIZE:
5 to 12 feet tall, depending on variety
EXPOSURE:
Full sun
CARE:
Plant seeds in warm soil 1 inch deep, 6 inches apart in blocks of four to six rows. Space rows about 30 inches apart. Thin seedlings to 12 inches apart. Be sure to keep entire root zone moist. Harvest once kernels turn hard and glossy. Peel back husks, and dry in an airy location for 4 to 6 weeks. Twist popcorn kernels off the cob, and store them in glass jars.
VARIETIES:
There are hundreds! Select according to flavor, size and appearance, but also days to maturity. An early popcorn like 'Tom Thumb' needs only 85 days to mature, while 'Bloody Butcher' requires 112 days and may not have time to ripen in the far North.
RELATED:
Winter Squash
Glass Gem Corn
Garden-to-Table Recipes