2020 Trends in Garden Design
We share 9 noteworthy trends shaping the gardening world in 2020
See the new trends report: 2023 Trends in Garden Design
Gardening activities for 2020 are focused on making the most of what you have and creating spaces that are good for all involved—gardeners, local wildlife, and the earth as a whole.
Owners and renters of small homes, condos, and apartments are finding creative ways to incorporate green into their lives—no matter the size of their space. Portland-based garden designer J.J. De Sousa calls these small gardens "micro-sized spaces with big impact." One of the best and easiest ways to add green to a small space is through vertical gardening.
Vertical gardening is for anyone—whether you rent a small apartment with a windowsill or own an acre of land. Here are some simple vertical gardening ideas you can use to add green to your space:
Mount a staghorn fern and hang it as a focal point
Propagate plants in wall vases (check out Hilton Carter's Instagram for inspiration)
Arrange wall planters in your kitchen for growing herbs or microgreens
Build a terra cotta planter wall on your fence
Create your own vertical jungle with a living wall kit
Use wrought iron flower pot rings to elevate planters on your porch or balcony
Fill a few wall planters with trailing plants for a waterfall of greenery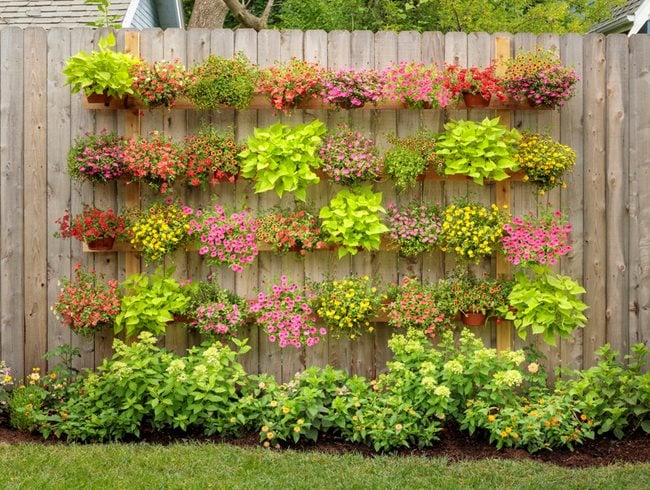 This DIY vertical planter wall uses a wood fence as support. With a few boards, some wrought iron planter rings and a drip irrigation system, you could create this look yourself. Photo: Proven Winners.
Get more small garden inspiration here.
2. Turning to Tech for Houseplant Help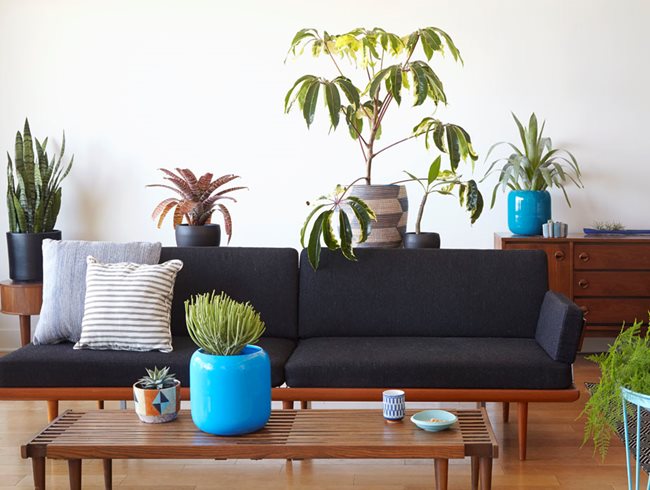 At an apartment in San Francisco, designer Zenaida Sengo used houseplants to inject life into the space. The eclectic mix includes (clockwise from top left) snake plant, 'White Bands' bromeliad, variegated umbrella plant, plumeria, Alcantarea odorata, air plant (on blue dish), asparagus fern, pencil milk bush, zebra cactus. Photo: Caitlin Atkinson.
Houseplants continue to get more and more popular as people recognize their mood-enhancing effects and contributions to décor. If you'd love to join the houseplant movement but need some help keeping your plant babies alive, you're not alone! More and more gardeners are turning to garden tech to help keep their indoor greenery green:
Bonus: Before bringing plants indoors, make sure they're safe for your pets. Here's a list of common plants that are safe for cats and dogs.
3. Composting for a More Sustainable Garden
L: See Linda Vater (@potagerblog) add coffee grounds to her compost.
R: Watch Terra Firma Sustainable Farm (@rvaorganic) turn their compost.
Though sustainable gardening isn't new, we are happy to see that it's a movement that continues to gain traction. Over the last few years we've seen gardeners switching to natural methods of pest control and taking steps to support local pollinators. One more way to garden sustainably is through composting.
Here are some of the reasons composting is gaining ground:
It reduces your carbon footprint
It provides your plants with the nutrients they need to thrive
It enhances the fertility of your garden soil
It can be done on both large and small properties
Learn the basics of composting and what you need to do to get started.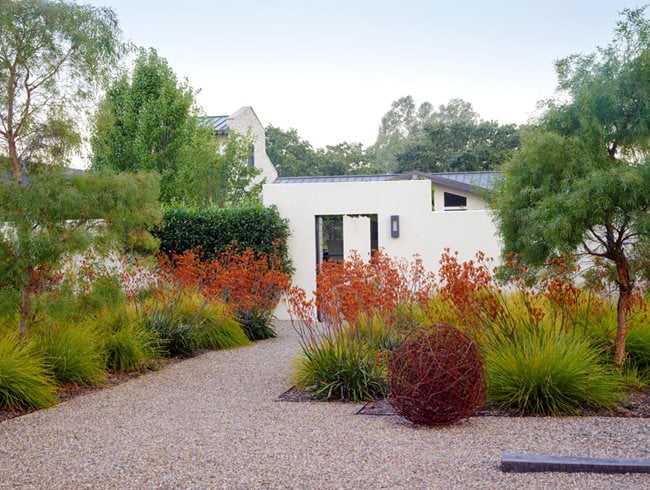 At a garden designed by Mike Lucas in Sonoma, California, barbed wire from an old fence on the property was rolled up to create this artsy garden sphere. Photo: Marion Brenner.
While making your own instead of buying prefabricated items has always been "in," there has been a definite resurgence as awareness of the environmental impact of consumerism grows. Here are some of our favorite easy DIY garden ideas.
In addition to countless DIY tutorials, a quick Google search reveals thousands of ideas for repurposing items and making them new again. Here are just a few clever garden-related repurposing projects we like:
In addition to beautiful garden projects, there are also lots of ideas for repurposing garden items for practical purposes. For example, plastic nursery pots can be used to start seeds or as containers for collecting produce from your garden. Do you have garden-related repurposing ideas? Tag us in your pictures on Facebook or Instagram so we can see what you're doing!
5. Adding Water for Yourself and the Birds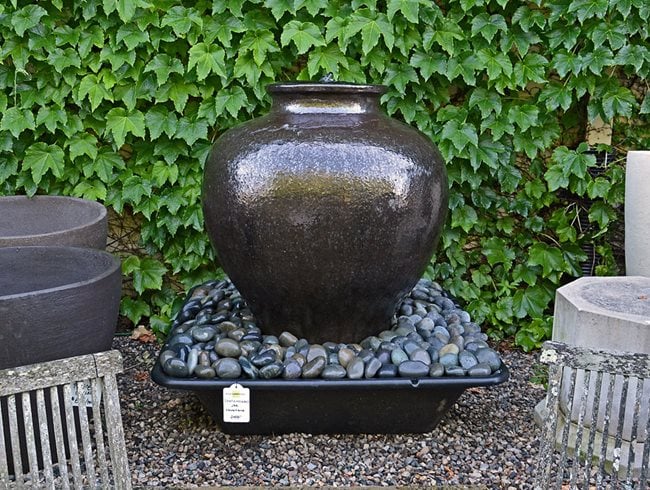 A Contemporary Jar Fountain in Luna glaze. Photo: Detroit Garden Works.
As Michigan-based landscape and garden designer Deborah Silver says, "The presence and sound of water in the garden is sparkly, restorative, refreshing, and relaxing" (if you need proof, just take a look at some of these fountains in action from her company Detroit Garden Works). More and more gardeners are turning their gardens into retreats for relaxation, and including a fountain is part of the plan.
If a fountain isn't your thing, consider adding a bird bath. Birds need clean water to bathe and drink, so placing a birdbath in your garden and cleaning the water regularly will make a huge difference for birds in your area.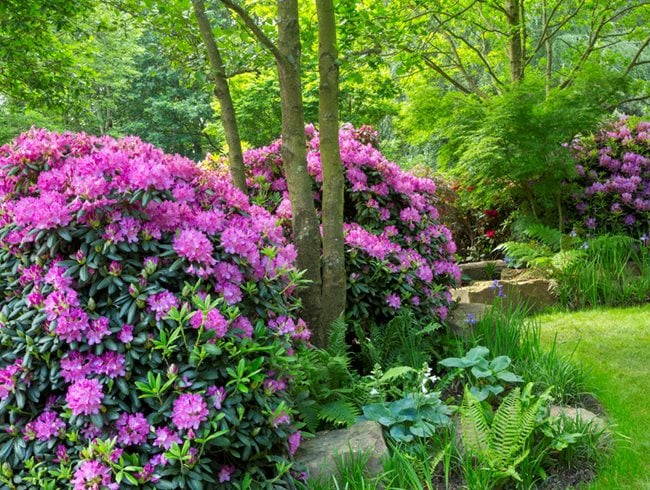 Rhododendron catawbiense 'Boursault' is one of many low-maintenance shrubs that looks beautiful all year long. Even when its vibrant purplish pink blooms with reddish brown markings aren't present, its broad evergreen leaves provide interest. Photo: Marianne Majerus.
"I am still seeing a request for low-maintenance design," says Karen Chapman of Le jardinet. We at Garden Design believe that's a "trend" that will never go away! Chapman says, "When I suggest introducing color through foliage and then strategically layering in lower maintenance flowering plants," she gets an enthusiastic "yes!"
Barbara Katz of London Landscapes LLC agrees that focusing on foliage is the way to go, stressing that "a garden carefully planted with shrubs that have colorful foliage provides a more permanent garden and lower maintenance."
Evergreen rhododendrons are one of our favorites to plant. Here are 10 other shrubs that provide interest in all seasons and 21 of our favorite low-maintenance plants.
Bonus: Low maintenance doesn't have to mean boring. Jerry Fritz of Linden Hill Gardens recommends "classic old-fashioned plants with a simple, yet elegant Old-World feel." Often such standbys have passed the test of time because they are easy to grow and maintain.
7. Including Plants that Perform Double Duty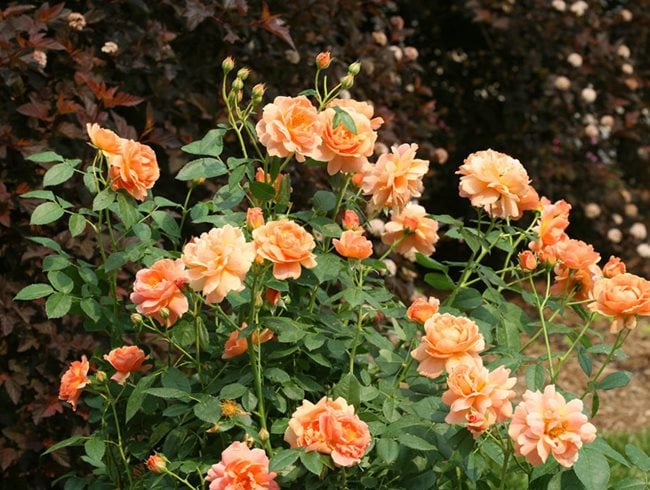 At Last® rose combines fragrance and disease resistance. Photo: Proven Winners.
In the spirit of keeping things low maintenance, adding plants that have more to offer than just good looks has become more common. Here are some ideas of what to look for when shopping for plants.
Scent. There's nothing quite like walking through a beautiful garden and encountering plants with delightful fragrance—it's a treat for the senses. A couple of our favorites: At Last® rose (for Zones 5-9) or Sweet Emotion® abelia (for Zones 4-8, with a scent similar to jasmine and is the most fragrant of any abelia). Place plants with scents you love near spaces you hang out most in your garden, along pathways, or in spots where you get a light breeze—that way the wonderful smells can be enjoyed.
Food. Barbara Katz tells us that many of her clients are asking for blueberries, yezberries, thornless blackberries, and raspberries. We like the sound of that—easy access to delicious fruit! "These shrubs are fairly carefree and great fun to grow," says Katz.
Cooling effects. Do you have a south-facing room in your house that gets unbearably hot? Plants can help! By installing an expandable trellis on the wall directly outside of the room and planting a quick-growing vine such as passionflower at its base, the plant will eventually block the sun from heating the wall.
Mosquito repellent. If you have an issue with mosquitoes disturbing your time outdoors, take a look at these 12 mosquito-repellent plants. Plant them in or near the places where you spend the most time.
8. Bringing the Foodie Experience Full Circle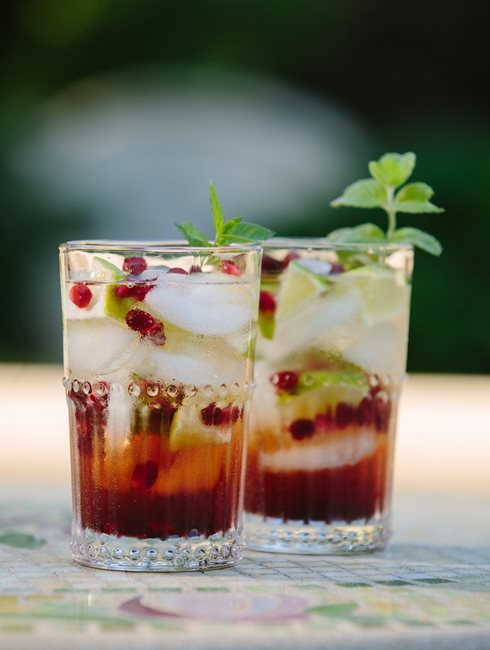 A Pomegranate Mojito Cockatil made with fresh mint leaves from the garden. Recipe by Denise Shakleton. Photo: Meg Smith.
Growing your own food is continuing to increase in popularity as people become more concerned than ever with what they eat and how it's grown. And it's no secret that the best way to be sure you are getting top-quality produce is to grow it yourself.
We're excited to see vegetable gardening merge with the outdoor entertaining trend: Hosts take dinner guests out to the garden to pick fresh ingredients and then make a meal together. It can be as simple as sprinkling fresh basil and other veggies on top of a pizza before barbequing it or picking some fresh sprigs of mint for a mojito.
Get some of our favorite garden-to-table recipes.
Bonus: If you love cooking in your garden, make sure you have the perfect setup. Susan Cohan of Susan Cohan Gardens says that well-equipped outdoor kitchens are on the rise. "They rival those inside in every aspect, from cabinetry choices to appliances. They're not just for grilling."
9. Immersing Yourself in Beauty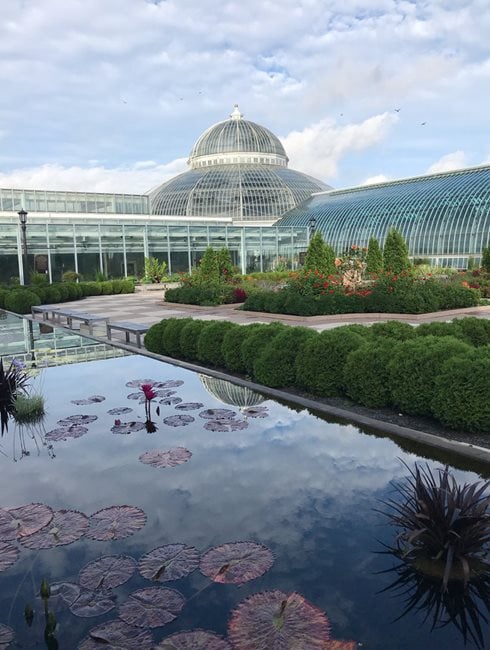 The Marjorie McNeely Conservatory at the Como Park Zoo & Conservatory in St. Paul, MN, is open 365 days a year. In addition to the animals and art, visitors can see a bonsai collection, Japanese garden, sunken gardens, water gardens with lily ponds, and more botanical goodness. Admission is free, but donations are appreciated. Photo: Justine Guidry.
More and more people are realizing the restorative effects of being in nature (in fact, did you know that some doctors are prescribing time outdoors to their patients as way to help with chronic disease and increase health and happiness?).
Taking a trip to a botanical garden or arboretum is a great way to immerse yourself in the beauty of plants and take a time out from the stresses of the real world. Plus, when you visit local gardens, you'll get lots of great ideas for plants to add to your own garden. If you're looking for a garden to visit, check out our self-guided day trips for ideas!
Related:
2019 Garden Trends
Create a Garden That Feels Like Art