Garden-Fresh Recipes
A home gardener shares some of her favorite recipes using ingredients straight from the garden.
Home gardener Denise Shackleton makes the most of her garden's bounty by creating delicious, meals (and drinks!) with ingredients she grows herself. Here are some of her favorite fresh-from-the-garden recipes.
POMEGRANATE MOJITO COCKTAIL
BACON-ONION-TOMATO DIP
CAPONATA
ZUCCHINI FLAN
CHILLED ZUCCHINI SOUP
HONEYED FIG AND GOAT CHEESE TART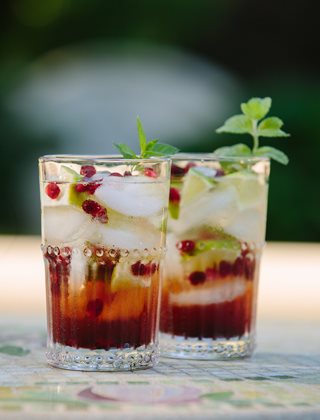 Photo by: Meg Smith
Takes 5 minutes to make (unless you make your own simple syrup, which adds about 30 minutes)
Serves 1
Ingredients
For the simple syrup (makes around 1¾ cups)
1 cup granulated sugar
1 cup water
For the mojito:
8 fresh mint leaves (plus more for garnish)
¼ cup pomegranate seeds (plus more for garnish)
juice from 1 lime (plus more limes for garnish)
3 oz white rum
2 oz simple syrup (see below for recipe; agave nectar works, too)
1 cup ice (might need more)
soda water (I use lime-flavored soda water)
Instructions
Prepare simple syrup by combining sugar and water and bringing it to a boil. Stir to dissolve sugar and remove from heat. Let syrup cool.
In a sturdy 16 oz. glass add mint leaves, pomegranate seeds, lime juice, rum, and simple syrup.
With a muddler or wooden spoon, mash mint leaves and pomegranate seeds to extract juices. (Sometimes I muddle these ingredients separately and strain the mixture, then add only the liquid to the glass.)
Add ice to the glass and top with soda water. Garnish with more pomegranate seeds, mint leaves, and lime wedges.
Photo by: Meg Smith
"Be careful, this is addicting!" Shackleton says. She adds that it's also a good way to use up an abundance of cherry tomatoes.
Serves 8
Takes 1 hour, 20 minutes (includes cook time)
Ingredients
6 slices thick-cut bacon, diced
1 (8-ounce) package cream cheese, room temperature
1 cup freshly grated Parmesan cheese
1 cup mayonnaise
1 medium-size sweet onion, diced
2 tsp freshly cracked black pepper
10 oz cherry tomatoes, detaching stems is optional
Instructions
Preheat the oven to 350°F.
Brown the bacon in a hot skillet; drain.
In a bowl, mix together half of the browned bacon with all the cream cheese, Parmesan, mayonnaise, onion, and black pepper until everything is thoroughly combined.
Spread the mixture into an oven-safe baking dish. Lay cherry tomatoes across the dip, (you can leave stems on for decoration) pushing some all the way into the dip and leaving some exposed on the top. Sprinkle with the remaining half of the browned bacon, pushing the pieces slightly into the dip.
Bake for about 50 to 60 minutes or until the tomatoes are roasted and the cheese is bubbling hot and brown.
Serve with your favorite crackers, crusty bread, or crunchy vegetables.
Photo by: Meg Smith
This dish is full of Shackleton's favorite things from the garden: eggplant, peppers, and tomatoes. She adds it to a cheese tray, serves it with barbecued chicken or steak, or uses it as a sandwich spread.
Takes 2 hours to make (includes cook time)
Ingredients
For the caponata:
2 pounds eggplant, skin on, cut in ½-inch cubes
salt (to drain eggplant, and for seasoning)
flavorful extra-virgin olive oil
1 large yellow onion, cut in ¼-inch dice
2 anchovy filets, cut in thirds
1½ cups very ripe (or canned, drained) tomatoes
4 large celery ribs, sliced ¼ inch thick at an angle
agrodolce (sweet and sour sauce—see below for recipe)
4 Tbsp golden raisins
4 Tbsp pine nuts
2 Tbsp capers, rinsed
1 cup green olives, pitted and coarsely chopped
1 large red bell pepper, peeled, seeded, cut in ¼-inch dice
freshly ground black pepper
2 Tbsp basil or parsley, chopped (optional)
For the agrodolce (sweet and sour sauce), mix together:
⅓ to ½ cup red wine vinegar (adjust to taste)
2 to 3 Tbsp white sugar
2 Tbsp tomato paste
Instructions
Toss cubed eggplant with 1 tablespoon salt and put it in a colander. Weight with a plate and a couple of heavy cans and let drain for about an hour.
Pat the eggplant pieces dry.
Heat 2 tablespoons olive oil in a large heavy skillet over medium-high heat. Add a third to half of the eggplant (to fit without crowding) and cook until brown but still firm, 6 to 8 minutes. Transfer eggplant to a large bowl with a slotted spoon and repeat with the remaining eggplant.
Reduce heat to medium-low and heat 3 tablespoons oil in the skillet. Add onions and anchovies and cook until soft, about 14 minutes.
Add tomatoes and celery and increase heat to medium. Cook until tomatoes release their juices, about 5 minutes for fresh tomatoes, less for canned.
Add the agrodolce and cook until thickened, 3 to 4 minutes.
Add cooked eggplant, raisins, pine nuts, capers, olives, red peppers, and salt and pepper to taste. Cook until hot.
Transfer to a serving dish and let cool to room temperature. Before serving, garnish with optional basil and/or parsley.
Photo by: Meg Smith
"This delicate flan is versatile," Shackleton says. "It can be eaten warm or room temperature for breakfast, lunch, or dinner."
Serves 6
Takes 60 minutes to make
Ingredients
salt
1½ pounds zucchini, thinly sliced (5½ cups)
pepper
4 eggs
2½ cups half-and-half
pinch of grated nutmeg
1 tsp chopped fresh thyme
a few torn basil leaves
2 Tbsp butter for greasing baking dish
4 oz grated cheddar and jack cheese or colby
2 Tbsp grated Parmesan cheese
Instructions
Heat oven to 375°F. Bring a large pot of salted water to boil. Add zucchini and blanch for 1 minute. Drain and spread zucchini out to cool on a paper towel. Pat dry with more paper towels. Season lightly with salt and pepper.
For the custard, beat eggs and half-and-half with ½ teaspoon salt, then add nutmeg, thyme, and basil leaves.
Butter a 2-quart low-sided baking dish and arrange blanched zucchini over bottom. Scatter the cheese over zucchini, then pour in the custard mixture. Sprinkle Parmesan over top.
Bake for 30 minutes or until custard is still a bit jiggly but an inserted knife comes out clean. Cool to room temperature before serving.
Photo by: Meg Smith
The addition of buttermilk adds a tart richness to this refreshing soup. "It's so good on a hot day," Shackleton says.
Soup (with buttermilk or yogurt) can be made 1 day ahead, chilled, and covered. (If making soup ahead, cooling in ice bath is not necessary.)
Makes 6 servings
Takes 50 minutes to make (includes cook and cooling time)
Ingredients
¼ lb shallots, thinly sliced crosswise (1 cup)
2 Tbsp extra-virgin olive oil
1½ lb zucchini (3 to 4 medium), peeled and halved lengthwise, then cut crosswise into ⅛-inch-thick slices
2 (2- by 1½-inch) strips fresh lemon zest
1 tsp salt
¼ tsp black pepper
1¾ cups reduced-sodium chicken broth (14 fl oz)
1¾ cups water
½ cup basil leaves
½ cup loosely packed fresh flat-leaf parsley leaves
1 tablespoon finely chopped fresh dill
½ cup well-shaken buttermilk or plain yogurt
garnish: you can use chopped scallops, chopped chives, or thinly sliced or torn zucchini blossoms
Instructions
Cook shallots in oil in a 4-quart heavy saucepan over moderate heat, stirring occasionally, until softened, about 5 minutes.
Add zucchini, lemon zest, salt, and pepper. Cook, stirring occasionally, until zucchini is softened, about 5 minutes.
Add broth and water and simmer uncovered until zucchini is tender, about 3 minutes.
Purée zucchini mixture, along with basil, parsley, and dill in a blender (in 2 batches if necessary) until smooth. (Use caution when blending hot liquids.) Transfer to a metal bowl, then set bowl into a larger bowl of ice and cold water to quick-chill. Cool, stirring occasionally, about 20 minutes.
Season with salt and stir well before serving. Ladle buttermilk or yogurt onto each serving for garnish.
Photo by: Meg Smith
HONEYED FIG AND GOAT CHEESE TART
Shackleton puts this in the oven when dinner is over and serves it very warm with a scoop of ice cream. "It could not be easier to make," she says.
Serves 6-8
Takes 50 minutes to make (includes cooking and cooling time)
Ingredients
unbleached all-purpose flour, for dusting
1 sheet (half of a 17.3-oz. package) frozen puff pastry, thawed overnight in the refrigerator
6 oz. fresh goat cheese, softened
¼ cup honey
10 ripe, fresh figs, preferably 5 black and 5 green, stemmed and quartered lengthwise
½ tsp finely chopped fresh thyme
kosher salt
Instructions
Preheat the oven to 475°F.
Lightly dust a sheet of parchment paper with flour. Unfold the pastry, place on top of the parchment, and lightly dust with flour. Roll out the pastry to a 10-inch square. Prick all over with a fork. Make a 3/4-inch border on all sides by pressing the edge of a ruler into the pastry to mark it. Fold the pastry over at the markings to make a double-thick rim.
Transfer the pastry to a rimmed baking sheet. (The pastry can be prepared up to this point a few hours ahead and kept in the refrigerator.) Bake until the center is golden brown and puffed, about 8 minutes.
Meanwhile, combine the goat cheese and 2 tablespoons of the honey in a medium bowl. Spread the cheese mixture inside the border of the puff pastry.
Arrange the figs on the cheese, alternating colors if you like. Sprinkle with the thyme and ⅛ teaspoon salt.
Bake until the rim of the pastry is golden brown, about 7 minutes.
Drizzle with the remaining 2 tablespoons honey and cool for about 15 minutes before slicing and serving.
RELATED: Summer Garden Party Ideas
This bonus content accompanies "Bearing Fruit"—an article about how a landscape was transformed into a prolific garden that feeds body, heart, and soul—in the Summer 2017 issue of Garden Design magazine.