26 IDEAS FOR A SUMMER GARDEN PARTY
Get the party started and celebrate summer in the garden with family and friends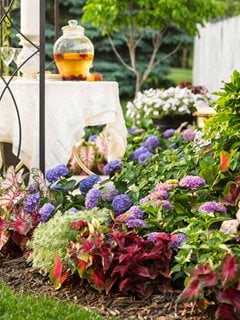 Photo: Proven Winners.
When summer heats up, it's time to sit back and relax in your yard. After all that hard work of weeding, planting and mulching, what better way to enjoy the season than to throw a garden party? Celebrate with these festive tips.
COZY UP THE BACK YARD
Get the yard ready by updating your accessories for a fresh look.
ACCESSORIZE WITH CONTAINERS
Dress up the yard with decorative containers brimming with colorful plants.
PICK A THEME
Host a party based on a flower that's in season—such as sunflowers.
SET THE MOOD
Design by: JJ De Sousa. Photo by Janet Loughrey.
Nothing says magic and romance more than twinkling lights at night.
CREATE A "HAPPY HOUR" GARDEN
Grow a medley of herbs, fruits and vegetables, and make cool drinks with ingredients fresh from your garden.
GROW YOUR OWN PARTY FOOD
Photo: Proven Winners.
Use fresh ingredients from your garden to whip up a delicious meal.
PLAY GAMES
After drinks and appetizers with your guests, set up some outdoor games and get active.
TAKE THE BITE OUT OF BUGS
Keep pests off your guests without using chemical bug sprays.
When you purchase products through links on our site, we may receive an affiliate commission. Thank you for your support.