Fresh Mint Chip Ice Cream
Gardener, cook, and forager Laura Silverman shares a recipe for fresh mint chip ice cream.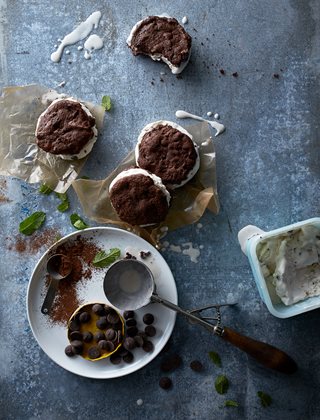 Photo by: Randazzo/Blau.
Are you wondering what to do with all of that mint in your garden? Nothing heralds the arrival or warm weather like ice cream sandwiches made with fresh garden spearmint and dark chocolate. Here's a recipe for fresh mint chip ice cream.
FRESH MINT CHIP ICE CREAM RECIPE
Makes 1 generous pint
Ingredients
2½ cups heavy cream
1 cup whole milk
2 cups fresh mint leaves (Silverman recommends spearmint)
1 cup sugar
5 large egg yolks
Pinch sea salt
3 Tbsp cacao nibs
Instructions
In a large saucepan, heat the cream, milk, mint, and sugar over medium heat, stirring to combine. Bring to a simmer, then remove from heat and cover.
Steep for at least 20 minutes and up to several hours, tasting until flavor has infused to your liking.
In a medium bowl, whisk together yolks and salt.
Slowly ladle in about a half cup of the hot milk mixture, whisking constantly to prevent the eggs from cooking.
Still whisking, slowly stir the egg mixture back into the saucepan.
Return to the pan and cook over low heat until the mixture lightly coats a spoon, about 5 minutes. (A finger drawn across the spoon should leave a clear path.) Don't let the custard boil or it will curdle!
Strain into a clean bowl and cool in an ice water bath, stirring occasionally to prevent a skin from forming.
Process in an ice cream maker, adding the cacao nibs during the last minute.
Transfer to an airtight container and freeze until firm, at least 3 hours or overnight.
This bonus content accompanies "Spring Surplus"—an article about how one gardener uses her surplus of mint and elderflower in her spring garden—in the Spring 2017 issue of Garden Design magazine.
RELATED: