Panicle Hydrangeas - A Growing Guide for Hydrangea Paniculata
Grow this showy large-flowered shrub for late season color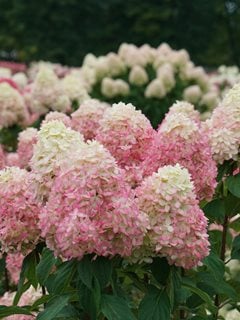 'Limelight Prime'. Photo by: Proven Winners.
Hydrangeas are one of the most popular garden shrubs, valued for their showy long-blooming flowers and ease of maintenance. Panicle hydrangeas have cone-shaped flower heads in colors of white or lime green that bloom for weeks in summer and fall. Flowers shift to hues of pink or red as they age, creating a captivating, ever-changing display.
These tough deciduous shrubs are the most winter-hardy hydrangeas, and are tolerant of a wide range of growing conditions. There are many dwarf varieties suitable for smaller yards and containers. Here's how to grow panicle hydrangeas and how to use them in your landscape.
On this page: Basics | Planting | Care | Pictures | Landscaping with Hydrangea
On this page:
PANICLE HYDRANGEA OVERVIEW
Botanical name:
Hydrangea paniculata
Zones:
3-8
Height/Spread:
Bushy or compact habit; 18 inches to 15 feet tall, 2 to 12 feet wide
Exposure:
Full sun to partial shade
Bloom time:
Summer to fall
Growth habit:
Panicle hydrangea is a multi-stemmed deciduous shrub with an upright, bushy, compact, or vase-shaped habit. This bush can also be trained into a tree form with a single trunk.
Flowers:
The large panicles, which can reach 12 to 16 inches long, are cone-shaped, with clusters of tiny flowers in colors of white, cream, or lime green that acquire hues of pink or red when temperatures cool in fall. Blooms occur from early summer to frost, depending on the variety. The long-lived flowers make an excellent addition to fresh or dried flower arrangements.
Foliage:
Oval-shaped pointed green leaves have pronounced veining with slightly serrated edges. Some varieties produce yellow, red, or burgundy fall color. Stems can be green, red, or dark burgundy/brown.
Are panicle hydrangeas poisonous?
Hydrangeas contain hydrangin, a cyanogenic glycoside that is toxic to pets and children if any part of the plant is ingested. If you suspect your pet or child has ingested any part of the plant, contact your doctor, veterinarian, or poison control center. Avoid bringing freshly cut or dried hydrangea flowers indoors if your pet is prone to chewing on plants. See more Common Poisonous Plants for Dogs and Cats.
Are panicle hydrangeas deer resistant?
All hydrangeas are susceptible to damage from deer grazing. Deer are especially partial to the tender flower buds and flowers. If you live in a deer-prone area, provide protection, use deer repellant, or plant other more deer-resistant shrubs.
PLANTING PANICLE HYDRANGEAS
When to plant:
Plant panicle hydrangeas during milder months in spring or fall to avoid transplant shock from extreme cold or summer heat.
Where to plant:
Place in a spot that receives at least 4 to 6 hours of direct sun during most of the growing season. More light is preferable to insure robust growth and more prolific blooms. In hotter climates, provide afternoon shade to prevent leaf scald.
How to plant:
Loosen soil in the planting area and amend with compost or other rich organic matter. Dig a hole twice as wide and slightly deeper than the root ball. Remove plant from the nursery container and loosen roots if potbound. Place in the hole so the top of the root ball is level with the surrounding soil. Fill in the hole with soil, tamp down gently to remove air pockets, and water thoroughly. Provide regular water until plants are established.
Planting hydrangeas in pots:
Use a bagged potting mix rather than garden soil.
Mix in a slow-release fertilizer.
Leave 1 to 2 inches between the top of the soil and the rim of the pot for watering.
Make sure the pot has drainage holes and has room for the plant to grow.
Learn more about growing hydrangeas in pots.
PANICLE HYDRANGEA CARE
How to prune panicle hydrangeas:
Panicle hydrangeas bloom on the current season's growth. Plants look best when allowed to grow into their natural shape and size. If desired, plants can be pruned back by up to one-third of their size in early spring as new growth is emerging. Remove dead, diseased, or errant branches and shape as needed. Cut branches to just above a leaf bud. For panicle hydrangeas trained into a tree form, avoid cutting into the trunk. (Read more on how to prune tree form hydrangeas.)
Temperature:
This shrub performs best in cool to moderate temperatures. Flowers may turn brown in hotter climates when nighttime temperatures are consistently at 70 degrees F or above.
Soil:
Panicle hydrangea is tolerant of a wide range of soils including clay, though good drainage is essential to prevent root rot. Soil pH can be slightly acidic to alkaline. Unlike bigleaf hydrangea (H. macrophylla), the flower color is not sensitive to soil pH levels. Amend soil with compost or other rich organic matter at the time of planting. Plants are shallow rooted and will benefit from several inches of bark mulch applied around the base each spring to keep roots cool, suppress weeds, and retain moisture.
Amendments and fertilizer:
Panicle hydrangea needs little or no supplemental fertilizer. To promote vigorous growth, apply a slow release granular fertilizer in spring that's especially formulated for trees and shrubs according to instructions.
Water:
Panicle hydrangea prefers moist conditions. Don't allow the soil to dry out, especially during bloom time, as flowers may turn brown. Provide supplemental water during prolonged heat or dry spells. Avoid overwatering, as panicle hydrangeas can develop root rot with too much water.
Pests and diseases:
When grown in the right conditions, panicle hydrangeas are free of most pests and diseases. Pests can include aphids, mites, scale, slugs or snails. Diseases include bacterial wilt, bud blight, leaf spot, powdery mildew, and rust.
TYPES OF PANICLE HYDRANGEAS
LANDSCAPING WITH PANICLE HYDRANGEAS
For borders and landscapes: Grow in a mixed border, woodland garden, foundation planting, as hedging or screening, in mass plantings, or as a stand-alone accent in a lawn.
For slopes and hillsides: Mass along a slope, hillside, or steep bank to help stem erosion.
For containers: Smaller specimens including bush or tree types can be grown in containers on a deck or patio, or as a focal point in the landscape.
There are many ways to use panicle hydrangeas in your landscape. Here's how:
Use a taller variety as a background plant in a mixed border.
Plant a larger showy specimen in an island bed to break up a large expanse of lawn.
Plant a smaller to medium sized variety as hedging to divide garden rooms.
Grow a small to medium-sized variety in a foundation planting with other shrubs that bloom at different times for season-long color.
Plant a larger specimen at the end of a pathway as a focal point to draw the eye through the landscape.
Line a pathway with a small or medium-sized variety for a long-lasting showy display.
Place a dwarf or tree form in a decorative container and display on a deck, patio, or near an entryway for a dramatic focal point.
Plant a medium to large variety in a row as screening along a fence or property line.
MORE ON HYDRANGEAS
RELATED READING