Botanic Notables: Texas Bluebonnets
The bluebonnet is a smart, strong flower, and, thanks to a state's embrace, a true Texan. And because they love them so, there are six bluebonnets recognized as state flowers.
Historians enjoy recounting a heated battle that played out in the Texas Legislature in 1901. The debate was over a flower—specifically, deciding on one that was emblematic of the state, and appropriate for its official flower. One legislator argued for the cotton boll, another for the cactus blossoms. But, fortunately for anyone who has enjoyed the blue rolling hills of a springtime in Texas, a group of women on the floor—representing the National Society of Colonial Dames of America—were ardent advocates of the bluebonnet (Lupinus subcarnosus). The women won.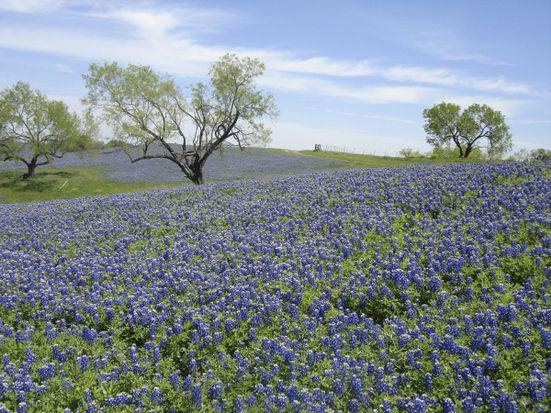 Photo by: Ennis Convention & Visitors Bureau.
Everyone was happy with the demure emblem (the bluebonnet is named for its resemblance to a sunbonnet), but no one could agree on which bluebonnet species was fairest of all—Lupinus subcarnosus was dainty and tidy, while Lupinus texensis was robust and bold. For the next 70 years, the people of Texas encouraged lawmakers to amend the decision, and rename the state flower to L. texensis. In 1971, a compromise was proposed: the state flower would include both species, plus "any other variety of bluebonnet not heretofore recorded."
"Blue Bonnets, the Texas State Flower." Photo by: Seawall Co.
As it turned out, there were four more Texas species of bluebonnets: L. havardii, L. concinnus, L. perennis, and L. plattensis. And all enjoy the honor of state flower, although only the original pair, L. subcarnosus and L. texensis, are native to Texas.
Today, there are even more bluebonnet species, as plant breeders nurture new colors of blossoms. 'Abbott Pink' was named for naturalist Carroll " Mr. Texas Bluebonnett" Abbott, who initiated the first bluebonnet seed-propagated cultivar—a rosy-colored strain that he hoped would be useful in cultivating an enormous Texas state flag, designed entirely with bluebonnets, for the 1986 Texas Sesquicentennial. In 1994, Texas A&M University hosted a ceremony naming a new bluebonnet—a lavender-colored cultivar named 'Barbara Bush.'
Carroll Abbot. Photo by: Texas AgriLife at Texas AM.
Thriving in wild prairies and cultivated public spaces, the bluebonnet is an emblem of civic pride in Texas, and a flower of botanic interest. Some species—for example, L. texensis—have evolved a visual signifier to pollinators. Younger blossoms have a white center, which is a visual cue to pollinators. After pollination, the center turns purple—a color that pollinators don't see as well.
The bluebonnet is a smart, strong flower, and, thanks to a state's embrace, a true Texan.
Lupinus texensis. Photo by: Randy Heisch.
Get more spring gardening ideas